Tri-Ply Stainless Steel 10-Piece Set
Tri-Ply Stainless Steel 10-Piece Set is rated out of 5 by 15.
Experience the even heating of a layer of aluminum between two layers of stainless steel. This Tri-Ply Stainless Steel set includes: 8" Skillet, 10" Skillet, 1.5-Quart Saucepan with Lid, 3.0-Quart Saucepan with Lid, 3.5-Quart Sauté with Lid, 8.0-Quart Stockpot with Lid
Stainless Steel Finish - KC2TS10ST
Features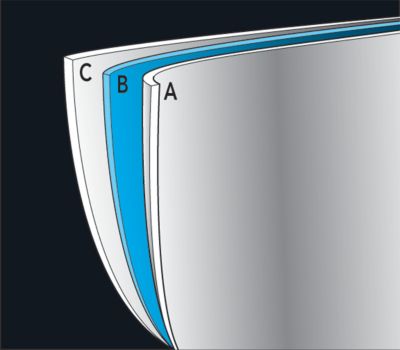 3-Ply Stainless Steel
Our 3-Ply Design gives you efficient even heating. The layers include: ##A. 18/10 Stainless Steel; ##B. Aluminum; ##C. 18/0 Magnetic Stainless Steel.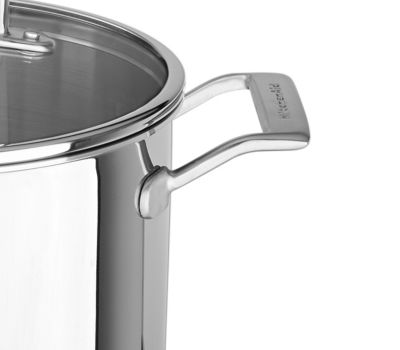 Welded Stainless Steel Handle(s)
These sturdy, welded handles let you take cookware from stove to table with ease and make cleaning trouble-free.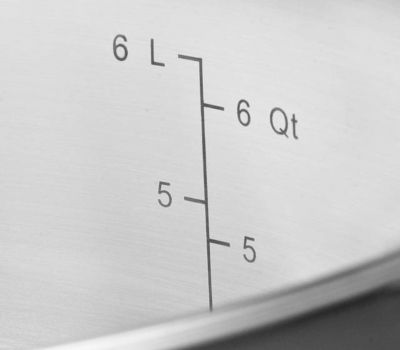 Etched Measurement Markings
Simplify measuring quantities or reductions.

Dishwasher Safe
Designed to stand up to rigorous dishwasher use.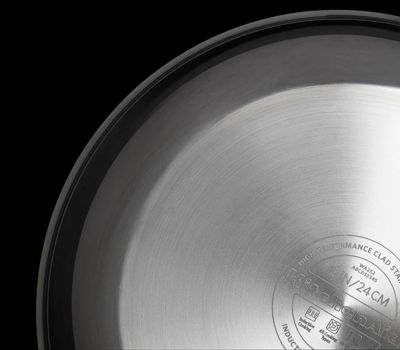 Stainless Steel Base
The 18/0 magnetic stainless steel base stays flat on all cooktop surfaces, including electric, gas, and induction.

Domed Tempered Glass Lid(s)
Seals in moisture and allows you to monitor cooking at a glance.

Oven Safe up to 500°F
To prep, finish or reheat food in the oven.
Specifications
Features
Handle
Welded Stainless Steel
Interior Finish
Stainless Steel
Laser Etched Logo
Laser Etched
Lid Type
Domed Tempered Glass
Reviews
Rated 5 out of 5
by
Ron_
from
Best cookware we ever owned
High quality, sturdy, good looking, Tri-Ply Stainless yields very efficient cooking results. I am very happy with set of cookware.
Date published: 2018-03-16
Rated 1 out of 5
by
lLpaul
from
Everything you fry sticks!
Terrible pan frying,tried different oils different heat ,nothing helps. For the money spent very poor quality with frying surfaces. Heavy pan construction and good lids pros.Poor rating given due to pan surface sticking..
Date published: 2018-02-04
Rated 1 out of 5
by
Buttertart
from
Sticking and Pitting
I have owned this set for less than 4 months, besides it sticking to the bottom most of the bottoms have all pitted. Have tried to find customer service but no replies...We also bought ALL new appliances, I am holding my breath these perform better
Date published: 2018-01-14
Rated 5 out of 5
by
Dene
from
Colors
I would love to have this set of cookware, but I await my color! I would also like for the set to include a steam basket and a basket for making pasta!
Date published: 2017-07-03
Rated 5 out of 5
by
The cookie lady
from
I have used for last 3 years. Wonderful set of cookware.
This cookware is like no other. If heated properly food does not stick, and very easy cleanup. I do not put in dishwasher as I was told it would discolor although rinsing with vinegar would remove. I just wash by hand. It is easy to clean so no problem. Cooking is a breeze also. These pans are worth every nickel you put into them.
Date published: 2017-05-07
Rated 5 out of 5
by
Cathy
from
Cookware that "sparks joy"
There's that book by the decluttering lady who says to get rid of anything that does not "spark joy" in your life. Sure, I've had some lovely pieces of cookware, but I am besotted with my new Kitchen Aid set. There was a free deal if we registered our new KA induction range, so I figured I'd keep a few pieces to replace our old non-magnetic ones and then give the rest away. I ended up keeping *all* the KA cookware and giving the rest away. I am absurdly happy every time I use this cookware! The pans feel so SOLID, so RIGHT every time I pick them up. The surface is smooth and beautiful. I haven't really needed the markings in the pans, but I like that they are there. The rivets are sturdy so there is zero wiggle room on the handles. And with the induction top, the handles on the pans and lids don't get hot! Also, they two pots and the three pans stack very nicely so I have more space in that cupboard, even though I have more lids in there now. We splurged on good cookware at Williams $onoma with our wedding money a long time ago. I was sad to part with every one of those pieces. But I love my new KA set so much more! It's really a joy to cook with. I'm thinking about asking for more pieces in the series for Christmas. A+ to the designers!
Date published: 2017-04-28
Rated 5 out of 5
by
Rose
from
By far, the best cookware I have ever purchased!
I bought this tri-ply cookware a couple of weeks ago; every single pot and pan is just perfect; cooks evenly, easy to wash, pans stay up perfectly on my glass-top stove, and the pots and pans don't tip like my old set and the bottoms are very flat which means the pots don't swivel. I particularly love the saute pan it's perfect for making creamy chicken pasta, it is very deep and has a lid. The small frying pan is excellent for making pancakes. I'm actually thinking of buying this set for my son's wedding in April. Obviously, I recommend this cookware.
Date published: 2016-09-30
Rated 5 out of 5
by
goldrushgal
from
Great Quality Stainless Steel Set
This is a wonderfully complete set, big enough to cook most any meal. I cook most of our meals from scratch, so my pans get a lot of use. They maintain their shiny new look with just a little car, easy to keep looking like new. Great strength and stay cool handle that is welded for extra piece of mind. Good design in the glass lid. Keeps moisture in for faster, moister cooking. Makes it simple to watch your food cook without removing the lid. Ease of use handle on lid also makes lifting lid more comfortable. Easy to clean by hand or in dishwasher. A little gourmet cooks hint: For ease of use and to help to keep food from sticking in any type of pan always throughly heat pan before adding any oil. Then heat oil before adding food. Makes clean up a breeze in most cases. I don't use non stick pans, no need with proper heating of pan. The small skillet was really good for cooking eggs. The large skillets second handle makes it easy for lifting when filled with food. Also love that these pans are oven safe. And I can't say enough about the convenient measurement markings on the inside, really useful for adding liquids to the stock pot for for soups and stews. I especially love the fact that I can use this set on my glass top range and well as my induction burner with equally good results. Pans heat quickly and maintain the heat. All views where mine after using the pans.
Date published: 2016-03-01
Rated 5 out of 5
by
Kickiweeze
from
A Cook's Delight
Quality three ply construction with measurements, great for cooking all type of food. Browns/sears beautifully, cleans easily with a variety of methods (scour, Barkeepers Friend, cloth). Caramelizes onions to perfection, squash soup with citrus without pocking (acid), heavy enough to make caramels, hot fudge, chocolate candies and corned beef. A gourmet cook's dream. Love the handles on the pans & lids, which stay cool - lids are clear so you can see what is happening. Much better than non-stick for health and cooking reasons.
Date published: 2016-02-26
Rated 5 out of 5
by
Best cook
from
We're delighted with this beautiful set of pots and pans
My husband and I enjoy home-cooked meals at least five nights a week and we prepare special meals for family and friends at least three times a month. In addition, I make soups from scratch for our lunches during the week. We are delighted with this elegant set of cookware. The three ply construction ensures very even heating, yet the pans are not too heavy to lift. The handles are welded onto the pans so that we won't have to worry about screws coming loose and trying to find replacement handles! They fit our hands perfectly and stay cool better than any other cookware that we've used. The glass lids allow us to see the food as it cooks, and the handles on the lids are a delight. Not only do they stay cool, but they allow the cook to get a good grip, in contrast to those on some brands that are simply a knob. Another feature we're finding very useful are the lines on the inside of the saucepans and the stock pot in both liter and quart measurements. It's so easy to fill the pot to the desired amount instead of using an additional measuring device. The pans are easy to clean with a nylon scrubber and some Bon Ami or Barkeeper's Friend so that they retain their shine. This set of KitchenAid cookware has joined my KitchenAid stand mixer and my KitchenAid food processor as our favorite kitchen items. We've cleaned out our cabinets and donated our old cookware since we know that this new set will last forever and enable us to cook healthy and delicious meals for years to come.
Date published: 2016-02-25
Demos & Guides
guides
Use & Care Guide
Comprehensive information about your new appliance - from getting started to cleaning and maintenance.