Tri-Ply Stainless Steel 12" Nonstick Skillet
Tri-Ply Stainless Steel 12" Nonstick Skillet is rated out of 5 by 13.
One of the most used pans in any well-equipped kitchen, this versatile skillet is ideal for cooking omelets, pancakes, and quesadillas, as well as sautéing vegetables and searing meat or fish. And our durable Teflon™ Platinum Plus coating ensures maximum life nonstick performance.
Stainless Steel - KC2T12NKST
Features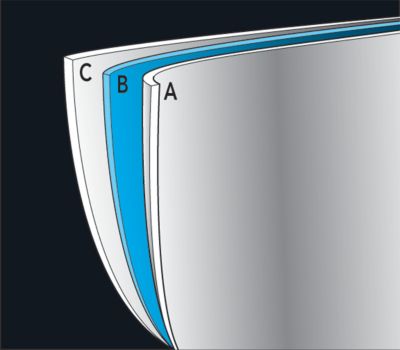 3-Ply Stainless Steel
Our 3-Ply Design gives you efficient even heating. The layers include: A. 18/10 Stainless Steel; B. Aluminum; C. 18/0 Magnetic Stainless Steel.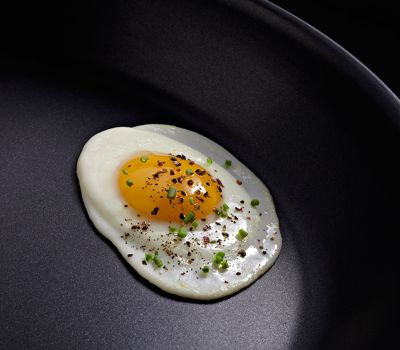 Teflon™ Platinum Plus
Maximum Life and Scratch Resistant. Metal Utensil Resistant. Outlasts "ceramic" nonsticks 7 to 1. Patented technology. Made without PFOA.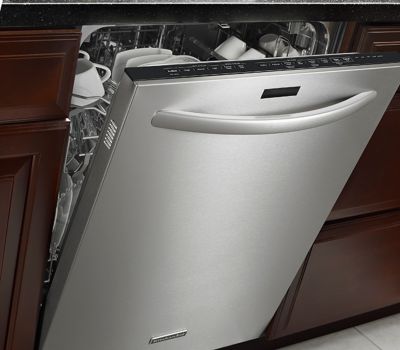 Dishwasher Safe
Designed to stand up to rigorous dishwasher use.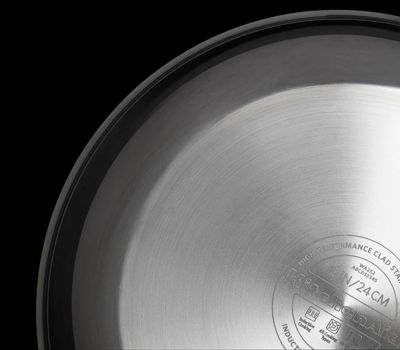 Stainless Steel Base
The 18/0 magnetic stainless steel base stays flat on all cooktop surfaces, including electric, gas, and induction.

Oven Safe up to 500°F
To prep, finish or reheat food in the oven.
Specifications
Features
Handle
Welded Stainless Steel
Interior Finish
Teflon™ Platinum Plus
Laser Etched Logo
Laser Etched
Lid Type
Domed Tempered Glass
Reviews
Rated 5 out of 5
by
Sandy the Cook
from
Excellent Skillet
This skillet cooks everything evenly, perfectly ànd quickly with it's balanced temperature distribution system.
Date published: 2017-01-16
Rated 5 out of 5
by
Cat-Wm
from
A very useful and high-quality non-stick skillet!
Overall, it is a very nice non-stick skillet. I don't use non-stick very often, but when I want the easy-release feature, this is a dependable pan.
Date published: 2016-04-09
Rated 5 out of 5
by
Nanny
from
High quality skillet
This skillet has been used 3 to 4 times a week and has performed very well. The materials are high end and the non stick surface performed very well with easy clean up. The only suggestion would be a small handle on the opposite end because of the weight and a lid, unless it is available as an accessory. We have had very good luck with Kitchen Aid brand product, especially a 40+ year old, well used stand mixer. We would also like to see these products manufactured in the USA.
Date published: 2016-04-09
Rated 5 out of 5
by
NA
from
kitchen aid tri-ply stainless steel 12" nonstick skillet
Easy cleaning due to rounded bottom than the usual disk shape. The skillet is a bit heavy, especially when full of food. I would recommend putting a second handle on the opposite of the skillet for ease of handling. Stainless steel is the way to go. My Caliphon nonstick skillet, made of aluminum, warped under high heat. I have used the kitchen aid pan for every meal since getting it. Great nonstick surface. Only has to be wiped clean ( I do use soap with a sponge).
Date published: 2016-02-11
Rated 5 out of 5
by
Webby
from
Love this pan
I like to cook for groups of 6-8 people.this pan handles it all
Date published: 2016-02-10
Rated 5 out of 5
by
Casual Cook
from
Wonderful versitle pan
I first thought that this pan was going to be too big, but it is perfect. When I cook I can brown meat or saute vegetables and keep them crisp as you can spread the ingredients out in the pan so steam does not build up and make things gummy. I also like it as I can make a one pot meal in this pan, just keep adding ingredients. It is now my favorite pan.
Date published: 2016-02-10
Rated 5 out of 5
by
Ntvnyr
from
Another great product From Kitchen aid
This pan is made very well a great size and the cleanup is a breeze and i like that its lightweight too.like I said before Kitchenaid Makes products built to last.Thanks for opportunity to allow me to try out this product
Date published: 2016-02-10
Rated 5 out of 5
by
BUNNYMAN3496
from
IT'S GREAT ! WISH I GOT IT SOONER. I'D BUY IT OVER AN OVER !
IT'S GREAT! MAKES COOKING QUICKER AND EASIER.CLEAN UP IS A BREEZE.
Date published: 2016-02-10
Rated 5 out of 5
by
The Captain
from
Very nice pan
I received this pan as a test sample in interest of full disclosure. Upon receipt of this pan I noticed it has very nice easy to open packaging. The pan itself is a little hefty with a very nice finish. I wish the handle was a little longer but that's just my preference for a pan of this size. I made several meals with pan and they all cooked beautifully and evenly. I started out with grilled cheese and worked my through fajitas and chicken piccata. On breakfast food such as pancakes or french toast they cooked quickly and evenly just as my dinner meals. My last test was scrambled eggs with cheese which in my usual go to pan is a total pain to clean, well with this pan I cleaned it mostly with a paper towel wipe. Needless to say I was impressed and now have a new go to pan. In closing I would say I was very impressed with the cooking performance and ease of cleaning with this pan and if you are considering it, stop and just buy it you won't be disappointed.
Date published: 2016-02-10
Rated 5 out of 5
by
Chopped Chef-wannabe
from
Excellent Heat Distribution
LOVE this non-stick large frying pan. I've used it for typical "frying" but with the depth of this nearly perfect pan, I like it best for one-pot meals. It literally wipes clean. Only suggestion to KitchenAid is to provide a nice domed lid.
Date published: 2016-02-10
Demos & Guides
guides
Use & Care Guide
Comprehensive information about your new appliance - from getting started to cleaning and maintenance.