Stainless Steel 8-Piece Set
Stainless Steel 8-Piece Set is rated out of 5 by 7.
Enjoy the durability of stainless steel in three contemporary color choices. This dishwasher safe Stainless Steel set includes: 8" Skillet, 10" Skillet, 1.5-Quart Saucepan with Lid, 3.0-Quart Saucepan with Lid, 8.0-Quart Stockpot with Lid.
Polished Stainless Steel - KCSS08LS
Features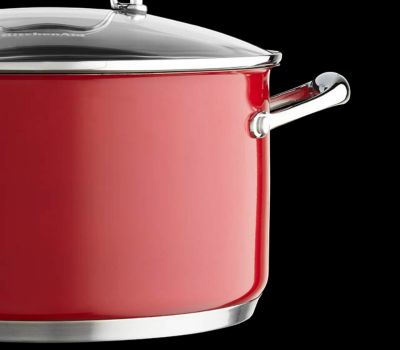 18/10 Stainless Steel with Colorfast Finish
Resists fading and discoloring.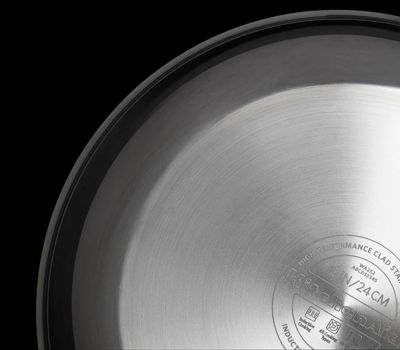 Stainless Steel Base
The 18/0 magnetic stainless steel base stays flat on all cooktop surfaces, including electric, gas, and induction.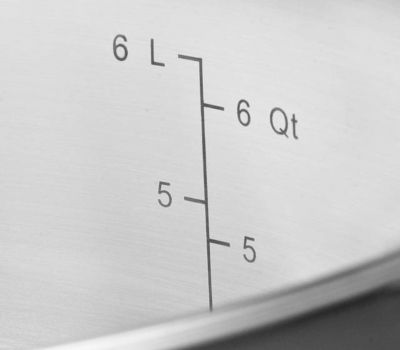 Etched Measurement Markings
Simplify measuring quantities or reductions.

Riveted Cast Stainless Steel Handles
For positioning and removing cookware with ease.

Domed Tempered Glass Lid(s)
Seals in moisture and allows you to monitor cooking at a glance.

Dishwasher Safe
Designed to stand up to rigorous dishwasher use.

Oven Safe up to 500°F
To prep, finish or reheat food in the oven.
Specifications
Features
Handle
Riveted Stainless Steel
Interior Finish
Stainless Steel
Lid Type
Domed Tempered Glass
Reviews
Rated 1 out of 5
by
Mr.Steve
from
cooks well but thats it
I bought this set at Sam's Club and saw the "Lifetime Warranty", HA! The set is losing its outer coating and even with hand washing is becoming cloudy. I called customer service and was limited Lifetime means at the discretion of the company. So I have no recourse fpr the expensive set that now looks cheap. I use only plastic tools and have a smooth glass top stove with no exposed edges that could damage anything. So because of all of this I would not recommend this cookware set mainly for the price it should look better, especially a "Lifetime Warranty" product!
Date published: 2018-01-17
Rated 1 out of 5
by
Negrita4242
from
May have good features till you start using them
What a waste of money. Followed directions on how to clean after using and you still get a cloudy film. The food sticks to the pan even after following directions to avoid food from sticking to cookware.
Date published: 2017-12-02
Rated 1 out of 5
by
kelsey
from
So disappointed
I bought these thinking I could trust the KitchenAid brand. Instead, the red paint burned and chipped off the first time I cooked on an electric range over low heat. More importantly, each time I cook anything, the pans become scorched and I have to scrub and scrub with Barkeeper's Friend to get them anywhere close to clean. I have seasoned the pans with oil, hoping it would help, but nothing does.
Date published: 2017-10-24
Rated 5 out of 5
by
Wichita
from
The 8" skillet (WQ426), SS so no PTFE!, nice & shiny
Got only the 8" skillet (WQ426) of this set . Want to get away from PTFE pans - no good comes from eating that stuff that gets into food. This is SO nice and professional looking and thick base to get even heat. It does take more soaking and bit of scrubing to clean compared to PTFE Tefllon pans; but about same as cleaning moms Cast Irons did. The base which is also SS gets a bit stained with use - but could be cleaned with appropriate cleaning potion. Handle is Superb! Waiting on my Induction cook top to arrive to use it with. (got in dec 2015, 1 year 4 mo ago)
Date published: 2017-04-05
Rated 2 out of 5
by
CBNM
from
Colorfast. Chip-proof , absolutely not!
I bought this at Costco for my vacation home and have used the 8" skillet perhaps a dozen times. The gray outer coating is already chipping off. Food easily burns around the edges and is very difficult to clean off. I do like the substantial base, but am really not happy with the quality.
Date published: 2016-11-13
Rated 3 out of 5
by
Rkov
from
good, but...
Have always used kitchenaide cookware. Good quality, good price. but i recently bought a new induction stove to replace my old heating element stove, and not a single piece out of my entire cookware set (pots, pans, skillets, wok, etc.) works. The induction stove does not recognize any of them.
Date published: 2015-04-03
Rated 5 out of 5
by
scnannie
from
Stainless Steel is the way to go
You do not have to worry about these not lasting. Use wooden utensils and clean with salt and soda and polish not every day but several times a year and you will have these to past down to your grands
Date published: 2013-11-09