Professional Hard Anodized Nonstick 10-Piece Set
Professional Hard Anodized Nonstick 10-Piece Set is rated out of 5 by 16.
Enjoy the long-lasting durability of Hard Anodized nonstick cookware. This professional-grade set includes:; 8" Skillet; 10" Skillet; 1.5-Quart Saucepan with Lid; 3.0-Quart Saucepan with Lid; 3.5-Quart Sauté with Lid; and 8.0-Quart Stockpot with Lid.
Black - KCH2S10KM
Features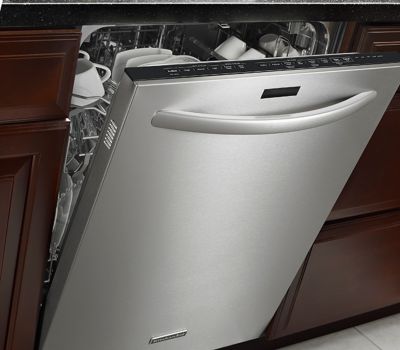 Dishwasher Durable with Nonstick Colorfast Finish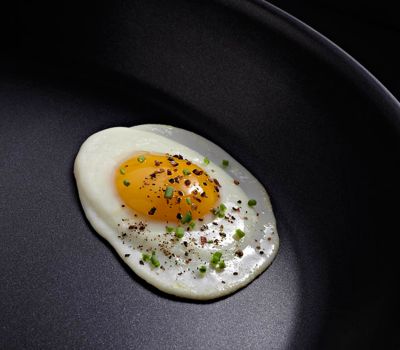 3-Layer Nonstick Interior
The extra durable interior coating provides labor-saving cleaning and long-lasting nonstick performance.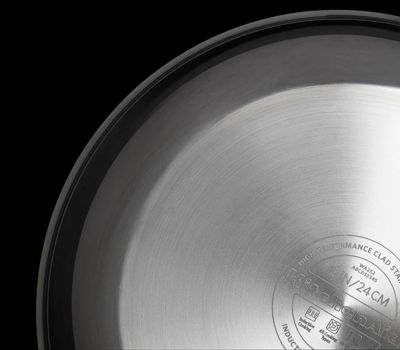 Stainless Steel Base
The 18/0 magnetic stainless steel base stays flat on all cooktop surfaces, including electric, gas, and induction.

5.5 mm Hardened Aluminum
The 5.5 mm professional grade thickness provides long-lasting durability.

Riveted Cast Stainless Steel Handles
For positioning and removing cookware with ease.

Domed Tempered Glass Lid(s)
Seals in moisture and allows you to monitor cooking at a glance.

Oven Safe up to 500°F
To prep, finish or reheat food in the oven.

PFOA Free
Specifications
Features
Handle
Riveted Stainless Steel
Interior Finish
Three-Layer Nonstick
Lid Type
Domed Tempered Glass
Reviews
Rated 4 out of 5
by
Cook
from
GREAT Set
We love our set but there is one problem. The glass lids get water in them that is next to impossible to remove. We would love help getting this fixed or a different set of non-glass lids. Tried contacting support but no response email as of now.
Date published: 2017-01-13
Rated 2 out of 5
by
Nohardboiledeggs
from
Not for Induction
We wanted some different sized pots and pans for a convection stove and this set seemed to fit the bill. Great sizes, lids for pots and fit the pans. However, they should not be advertised as appropriate for convection as I have had to switch out to my old pots many times to continue cooking or boiling to the point where I regret the purchase of this set. Would love the set otherwise but very disappointed they are not working as advertised.
Date published: 2017-01-03
Rated 5 out of 5
by
Ann
from
Love these pots
Love the look, the weight and the easy cleaning of these pots. Would like to purchase a 2 quart saucepan
Date published: 2016-12-13
Rated 5 out of 5
by
Cook
from
Unbeatable!
I bought kitchen aid professional hard anodized nonstick pot not quite long. I am so glad I did. After reading through beautiful reviews online about this pot, I knew I was in the right place. This set of pot is everything I need to make the family's meal without stress. No effort is required to clean after cooking.
Date published: 2016-08-19
Rated 3 out of 5
by
DONNER
from
Miscommunication of Usage
I made a previous review that lids did not fit my skillets. Kitchen Aid informed me that the lids are for the pots, saute pan and dutch pot (stock pot). I was not aware the lids are not used for skillets. So after some communication with Kitchen Aid, I must say that my prior review was inaccurate. I do love the cookware, will recommend it and will continue to purchased it in the future.
Date published: 2016-06-17
Rated 4 out of 5
by
DONNER
from
SLIGHTLY DISAPPOINTED
Love the cookware, but my lids for the fry pans do not fit.
Date published: 2016-05-31
Rated 5 out of 5
by
Kat
from
I would buy this pot & pan set again & give it as a gift
these pots & pans are great, easy cleanup, glass lids are a plus you can see what is going on in the pan
Date published: 2016-04-14
Rated 5 out of 5
by
Pattikeets
from
I wish I had this product years ago really love them.
I like to make lots of soups and chilies also fry pans work great when cooking eggs. Very easy clean up.
Date published: 2016-03-11
Rated 4 out of 5
by
Aljkur
from
Made to last
The set is made to last. As soon as you pick up an item you can feel it is quality. All the pots and pans are made from anodized material so none of them stick and are all easy to wash. Because of the anodized non stick surface you can reduce the amount of butter or oil needed to fry making the Kitchenaid pots and pans a healthy choice. I would say you could fry with water for the real health conscious. The one draw back is the lack of a steam hole in the lid. Boiling causes steam to escape in all directions including towards the handle. The handle can get hot because of this, hands can be burnt if holding the handle when the steam is escaping. This is the reason for the four star rating.
Date published: 2016-02-10
Rated 5 out of 5
by
Fi_diddy
from
Makes my cooking easy.
The pans are easy to clean, even after preparing foods that have a tendency to become stuck on. Making omelets and pancakes was easy with the nonstick surface. I use an electric range and the pans heated nicely with the cooktop. I am happy with the set and would highly recommend this set.
Date published: 2016-02-10