Hard Anodized Nonstick 12" Skillet
Hard Anodized Nonstick 12" Skillet is rated out of 5 by 14.
One of the most used pans in any well-equipped kitchen, this versatile skillet is ideal for cooking omelets, pancakes, and quesadillas, as well as sautéing vegetables and searing meat or fish.The everyday durable Teflon™ Select nonstick, made without PFOA, ensures longer life performance.
Midnight Black - KC2H112SKKD
Features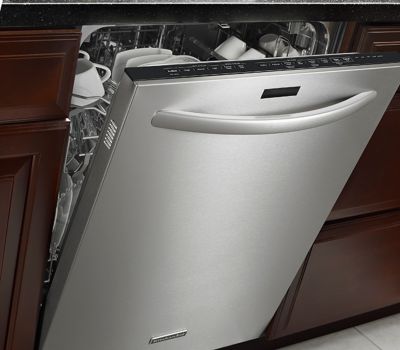 Dishwasher Safe
Designed to stand up to rigorous dishwasher use.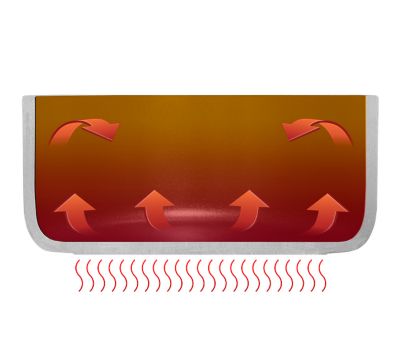 Heavy-Gauge Hard Anodized Aluminum
Heavy-gauge 4.5mm Hard Anodized Aluminum ensures increased durability and even heating.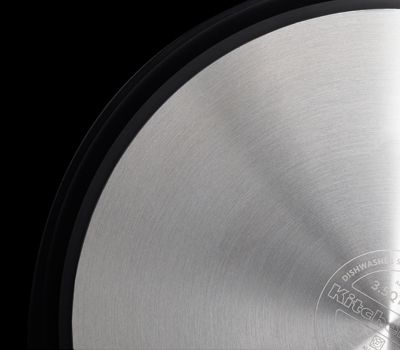 EvenInduct Stainless Steel Base
EvenInduct Stainless Steel Base, an edge-to-edge magnetic stainless steel base maximizes induction and prevents warping.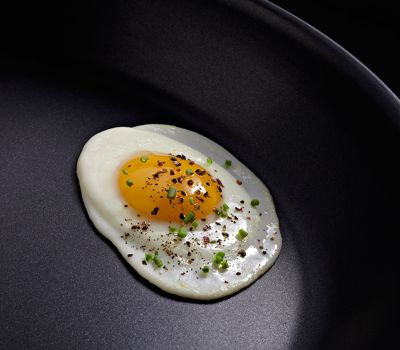 Teflon™ Select Nonstick
Everyday Durable and Easy Clean. Engineered to resist flaking, chipping or peeling. Patented technology. Made without using PFOA.

Domed Tempered Glass Lid(s)
The domed tempered glass lid seals in moisture and lets you monitor your cooking at a glance.

Oven Safe up to 400°F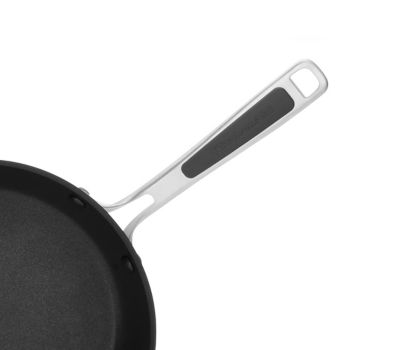 Cast Stainless Steel Handle(s) with Silicone Insert
These sturdy handles let you position and remove cookware with ease. They also feature matching silicone inserts to ensure comfort and stability.
Specifications
Features
Handle
Riveted Stainless Steel with Silicone Insert
Interior Finish
Teflon™ Select
Laser Etched Logo
Laser Etched
Reviews
Rated 5 out of 5
by
Andy and Bobbi
from
Keep up the good work
Would of been great if a lid came with it but perfect pan ok keep up good work
Date published: 2016-04-09
Rated 5 out of 5
by
DarkCyd
from
This is a great non stick skillet
I use this product to cook just about everything. It's great for meats because I can sear on the stove and then finish in the oven. It worked great for eggs. It's well constructed and doesn't feel flimsy like some other brands. It's my new go-to pan.
Date published: 2016-04-09
Rated 5 out of 5
by
Ben
from
Great Skillet
This skillet is incredible. It's big enough to fit a decent amount of food, but it's not too heavy. It has incredibly even heating, which is good since my stove doesn't do a great job of evenly dispersing heat. The handle is comfortable even though it's a little on the small size, and it didn't get hot when I used it. The best part is the nonstick. I cooked some very sticky food which usually makes for difficult cleaning in my other pots and pans, but it just washed away with minimal effort in this skillet. I was extremely impressed!
Date published: 2016-02-29
Rated 5 out of 5
by
The Cooking Lawyer
from
Versatile with great heat distribution
I have had numerous non-stick pans and generally have had to move the food around the pan for better heat distribution. This pan did the best job of any non-stick pan to date. Had no hot spots. Did have to use the lid from another 12" pan I had for cooking that required a lid, such as with hamburger helper, and this worked well due to the even heating of the pan. I noted that the pan coating was very durable, and I did not see any scratches even though I used the pan "roughly" to see if it would scratch. The coating did not require "seasoning", especially after cleaning in my dishwasher. It was nice to use the pan in my oven and not worry about breakdown of a phenolic handle or knob. Having the right tools makes cooking easy and fun. I really loved this pan!
Date published: 2016-02-09
Rated 5 out of 5
by
Dobie
from
Very Nice pan
For the most part this is a great pan. The heft is a plus for even heating but a "helper handle" would be a good addition when moving a full pan of heavy food. The handle is quite comfortable and remains cool to the touch
Date published: 2016-02-06
Rated 5 out of 5
by
Mom Mumf
from
Great Product!
Everything about this pan is great. Non stick surface is truly non stick. The comfort grip makes handling the pan a breeze. Great for egg, meat, sauces; we've used it for a variety of recipes and proteins. Perfect results every time.
Date published: 2016-02-05
Rated 5 out of 5
by
Dawn the baker
from
This skillet performs well and is easy to clean
I love the higher sides and stay cool handle. It does not scratch easily, not to heavy for me to handle. It cleans up easily without any scrubbing, as a matter of fact it can easily be wiped clean. It is fast becoming my favorite skillet.
Date published: 2016-02-03
Rated 5 out of 5
by
Beverly
from
Superb!! Love this pan!
Love this frying pan. It heats evenly and cleans so easily.
Date published: 2016-02-02
Rated 5 out of 5
by
Geo
from
I would buy this product again!
I use the pan for everything from frying chicken and eggs! Not one thing has stuck to the skillet!
Date published: 2016-02-02
Rated 5 out of 5
by
Mlfquilter
from
Wow! This skillet is a keeper
This skillet has quickly become my go-to piece for stove top applications. It's Eveninduct base makes it perfect for use on induction plates. While I have an electric stove, it would also work well with gas elements. I like the size and depth of the skillet. I even used it to cook paella with great results. The skillet cooks evenly as well. Overall, it is my best skillet, even compared to some high end skillets I have had for a long time.
Date published: 2016-02-02