Professional Cast Iron 6-Quart Casserole
Professional Cast Iron 6-Quart Casserole is rated out of 5 by 11.
Enjoy the high-temperature cooking that cast iron provides with this versatile casserole. It's ideal for slow-cooking stews and braised dishes on any cooktop, as well as roasts and baking in the oven. Also perfect for cobblers and cornbread. The lid doubles as a grill pan and can be used for grilling steaks, burgers, chicken, or vegetables. Plus, the porcelain enamel interior coating doesn't require seasoning. Safe up to 500°F
Fiesta Blue - KCPI60CRFU
Features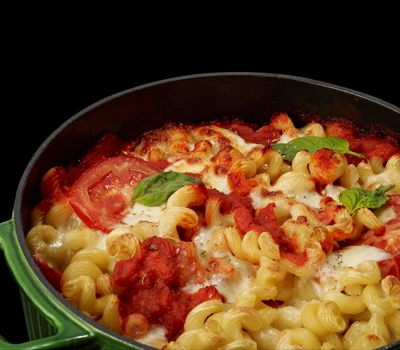 Porcelain Enamel Interior
The dark-colored interior provides better browning, resists staining, and doesn't require seasoning.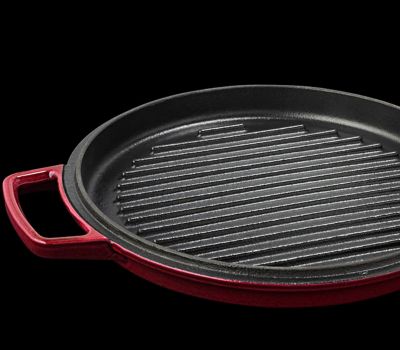 Dual-Use Lid
The Professional Cast Iron Lid doubles as a grill. Flip over the lid and you can grill meat, fish, or vegetables right on the cooktop.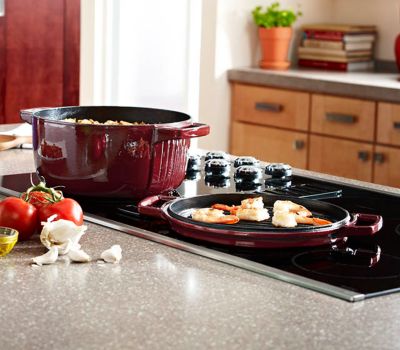 Cooktop Versatility
Cookware can be used on all cooktop surfaces, including electric, gas, and induction.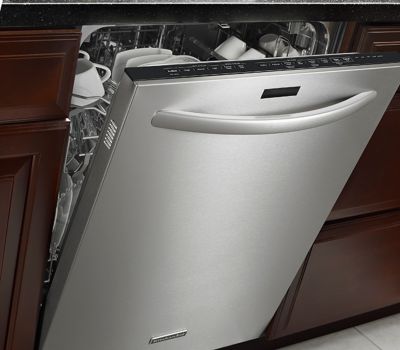 Dishwasher Durable

Oven Safe up to 500°F
To prep, finish or reheat food in the oven.
Specifications
Features
Handle
Cast Iron Side Handles
Interior Finish
Porcelain Enamel
Lid Type
Enameled cast iron
Reviews
Rated 1 out of 5
by
teabag
from
Worst ever
Everything I cook in this pot burns as it sticks to the bottom. Perhaps on a gas stove it is fine but when you put it on a glass top range even on the low setting it sticks.
Date published: 2017-11-26
Rated 4 out of 5
by
auntiejanette
from
Beautiful and sturdy
I love how sturdy this pan is. It holds on to heat. I'm not a big fan on the textured interior. It makes it a little hard to clean and even harder to dry off. I do love the grill top that comes with it, it's a handy extra to have. The design of the pot and lid are great! I will say that I like a smoother interior textures for ease of cleaning
Date published: 2016-04-09
Rated 4 out of 5
by
Kathy M
from
Good cast iron Dutch oven.
I really like this pot. I have used it to brown meat, make soups, braise chicken and made a roux in the oven. It handled all these jobs without any problems. It has a dark surface that does not show stains, but it does make it difficult to see when you are deglazing the pan. The interior has a slightly rough finish that takes getting used to, I would have preferred a smooth finish. The lid also serves as a grill pan which I used it to cook hot dogs, chicken and pork chops. But with the lid doing double duty you loose the knob to lift the lid off easily and I worry about discoloration of the beautiful red finish by having directly on the stove top. Overall I have been happy with this pot.
Date published: 2016-02-12
Rated 5 out of 5
by
Sherah
from
Amazing Cookware
Great pot for all home cooking. From soups to braising. Amazing quality and durability
Date published: 2016-02-11
Rated 5 out of 5
by
Mimi
from
This is a MUST have!
This is the best pot I have. It's beautiful red color is perfect! The post itself is amazing. I made a casserole and popped it in the oven with the lid on for 45 minutes. Came out Perfect! I also made soup. Was perfect again. Really easy to clean. This would be a fantastic wedding gift. Very classy.
Date published: 2016-02-10
Rated 5 out of 5
by
pickures
from
The first piece of KitchenAid cookware with more to follow!
This was sent to me to use and give my honest opinion after doing so. Is it heavy, yes! But it's weight is part of why it works so well. It it a great size.. It is heavy duty as well as being practical. Both the top and the bottom can be used separately or together. It can be used on the stove top, in the vein, and on a grill! I have used it numerous times since I received it. It is easy to use, easy to clean, and still looks great even after many uses and washing so. Soups, casseroles, bacon, fish, grilling veggies, the list goes on and on of what can be made with this dual cast iron cookware.
Date published: 2016-02-10
Rated 5 out of 5
by
cooking mom
from
I would buy this cookware again and again
The cast iron cookware is a great addition to my pantry. I have cooked stews, chicken soup, saute vegetables and grilled pork chops and one pot pasta using this cookware, It is so versatile
Date published: 2016-02-10
Rated 4 out of 5
by
DrDawn
from
Kitchen aid quality
I made several soups, a stew and a ettoufee. Great for browning and sautéing. Cooks and holds heat evenly. I had to get used to the slightly rough interior finish but nice there is no noticible staining like the enamel coated pots. I did notice that after cleaning, the interior holds a slight previous smell but does not affect the next dish. I dry the pot after washing on the stove as I would a cast iron pan and this prevents any rust. I do miss a knob on top to peek and although the ridged lid would be a nice browner, personally I probably wouldn't use it. Overall color and look is very nice, love kitchen aid red.
Date published: 2016-02-10
Rated 5 out of 5
by
Memory the mom
from
I will use this cookware.
I used this to make a casserole. The heating was even. I used the lid to cook strip steak in the oven and it turned out perfectly.
Date published: 2016-02-10
Rated 4 out of 5
by
kristen's too-too-sullied flesh
from
cooks consistently, lives up to the name
i have a vintage descoware cast iron enameled pot that i've used for years, and i think i just might replace that with this. it cooks beautifully; meat browns evenly without sticking to the bottom and burning to a crisp. as a stew pot it does wonders, not overheating right in the middle where the heating element tends to burn hottest on my electric stove. i actually prefer the cooking utility of this pot to my trusty ole descoware. as for the BEST feature of this pot: it is DISHWASHER SAFE. i tried it. totally lives up to it. there's a clear coating on the inner cast iron that does not get ruined in the dishwasher. amazing! and it doesn't require seasoning like my seventy-year-old cast iron skillets do. now, this thing is heavy; both the pot and the lid. i'm a clutz; i'm terrified of dropping the lid on my foot. but i mean, it's cast iron; of course it's heavy. that's why it's so perfect for slow and low heavy duty cooking. the fact that it's got a double-handled side lid rather than the easy top-grip is the only reason i give this pan a four-star rating. the grill function of the lid is cool, but honestly? i have a grill pan i like better. this one is nice if you're making yourself a panini or a single burger because it's small. definitely not something you could grill more than one thing at a time with, though. maybe sliders. it's nice that you can use it on the bbq, too; it withstands heat up to 500 degrees F. the lid fits nice and snug, no steam leaking out the sides. oh, and this cookware works well in the oven. do a beef bourguignon in this pan, you won't be sorry. clean-up is a dream; while it's rad that it can go in the dishwasher, i like to baby the good cookware, and this one cleans up beautifully with nothing more than a sponge and some warm water. honestly, other than my weird lid preference, i love this piece. it's a workhorse, and there's no reason this can't be a piece of cookware that will be coveted by my children when i'm dead and gone.
Date published: 2016-02-10
Demos & Guides
guides
Use & Care Guide
Comprehensive information about your new appliance - from getting started to cleaning and maintenance.