Hard Anodized Roaster
Hard Anodized Roaster is rated out of 5 by 5.
This 16 x 13 x 3 hard anodized roaster ensures faster heating and more evenly cooked meals, for everything you want to cook, including your holiday turkey. And, it's durable, non-stick, rust and corrosion resistant for easy cleaning and every day use.
Other - KC2H116RP
Features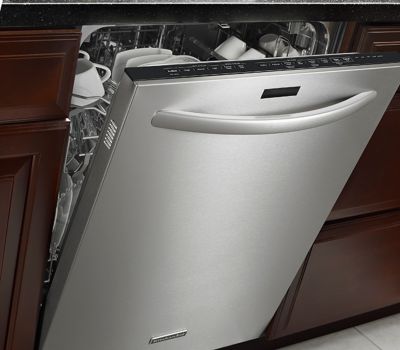 Dishwasher Fearless
Wash this roaster in the dishwasher as often as you like. We rigorously test our roasters so you can rely on it for carefree, dishwasher-safe cleaning after every meal.

Three-Layer Nonstick
Three-layer, PFOA-free nonstick coating covers entire interior surface including rivets for easy cleaning.

Removable Roast Rack
Sturdy, nonstick and easy to clean removable rack is abrasion resistant to prevent scratching or flaking. Rack rests at the ideal height within the roaster, keeping the food cooking out of oils and excess juices and has upright handles to allow for easy oven mitt removal from the heated roaster.

Crisp Browning
Nonstick U-shaped rack allows for even heat circulation around the entire roast, for crisp browning.

Oven, Stovetop and Broiler Safe to 500°F/260°C
Great for heavy duty holiday use or every day, and its cooking and heat retention can be used in ovens up to 500 degrees. It's also wonderful for broiling and stove-top finishing of those tasty roast juices.

Limited Lifetime Warranty
Your KitchenAid Roaster purchase is warranted to be free of defects in material or workmanship under normal household use when used according to the instructions furnished with the product.
Specifications
Features
Interior Finish
Teflon™ Select
Reviews
Rated 4 out of 5
by
cols
from
very easy to handle
I purchased the the roster in macy's be the carry kitchen aid items like blender mixer coffee pots. over the years this is where i purchased all of my kitchen aid items and kitchen aid always stands behind the products.
Date published: 2018-02-09
Rated 5 out of 5
by
Kat
from
I want this Roaster but...
I need to know, can this roaster be used on an induction cooktop? My cooktop has a flex induction burner, which is one long burner on the left side. I purchased your 10 piece set of the Professional Hard Anodized cookware and I absolutely love them. They not only look good but the functionality is awesome! I am really looking forward to adding some more pieces to my set...hope I can start with this roaster.
Date published: 2016-12-01
Rated 5 out of 5
by
AJ
from
Great Pan
Great multi-purpose roasting pan. Handles make lifting easy, even for the Thanksgiving turkey!
Date published: 2016-10-20
Rated 5 out of 5
by
MB
from
Can't wait for Turkey Season!
A well designed roaster that will hold a very large bird or roast such as a pork shoulder or leg of lamb. Rounded corners make gravy making with pan drippings a breeze and also makes cleaning easy.
Date published: 2016-09-15
Rated 4 out of 5
by
Kathy H.
from
Sleek look
I received this roaster about a month ago and am very happy with it. Not only did I roast meat in it but I made salads in it for a large family gathering and i kept it in the pan. Very nice looking and easy to clean up.
Date published: 2016-09-10