Streamline Cast Iron 4-Quart Casserole
Streamline Cast Iron 4-Quart Casserole is rated out of 5 by 10.
Enjoy the high-temperature cooking that cast iron provides with this attractive contemporary-styled casserole. It warms evenly and holds heat, which is ideal for slow-cooking stews, braised dishes, and roasts. Also perfect for cobblers and cornbread, and can be used on both the cooktop and in the oven. Plus, the porcelain enamel interior coating doesn't require seasoning.
Curacao Blue - KCLI40CRCC
Features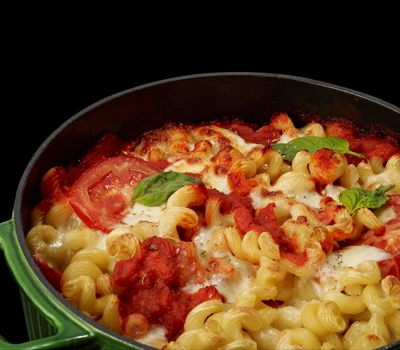 Porcelain Enamel Interior
The dark-colored interior provides better browning, resists staining, and doesn't require seasoning.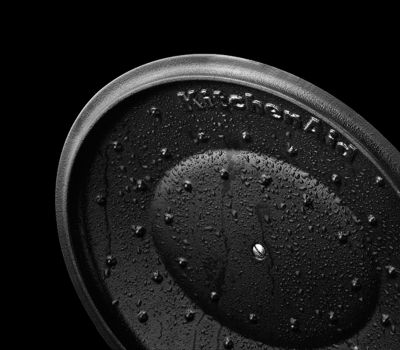 Basting Dots
Interior lid features Basting Dots to help keep food moist by sealing in steam and basting food naturally during baking process.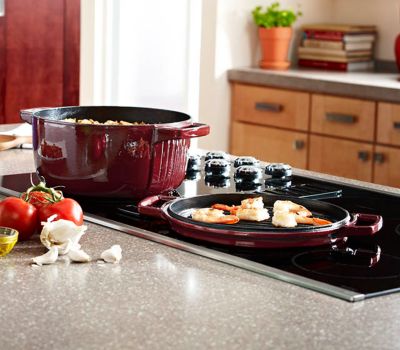 Cooktop Versatility
Cookware can be used on all cooktop surfaces, including electric, gas, and induction.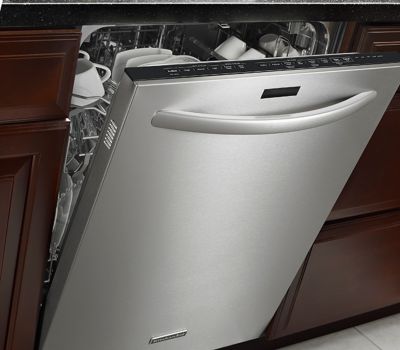 Dishwasher Durable

Oven Safe up to 500°F
To prep, finish or reheat food in the oven.
Specifications
Features
Handle
Cast Iron Side Handles
Interior Finish
Porcelain Enamel
Lid Type
Enameled cast iron
Reviews
Rated 3 out of 5
by
PurpleMoon
from
Beautiful color
I fell in love at first sight when I saw the color, such a beautiful bright teal/turquoise. The design of it is awesome and I love the smaller size. Like most said, it's very heavy, which is not a deal breaker for me, but what was is how quickly the enamel chipped. Had it no more than 3 days, used once in oven (cooked beautifully btw) and once on stovetop. Noticed after second time using a chip on the corner of the handle. Also, after the second washing the enamel was flawed on lid, best I can describe is if someone put super sticky tape then pulled off the gloss coating, there was few dots of this dullness on the pot. After 2 uses, this should NOT happen. Did not use harsh cleaning soaps or abrasives. Disappointed in enamel quality. Wish it was more durable.
Date published: 2017-10-27
Rated 5 out of 5
by
Lynnie
from
I Love, Love the size!
I really enjoy the size. Food comes out moist and meats are moist and tender. The only thing that I would change is the weight of the top. It weighs almost as much as the bottom! Love your products!
Date published: 2016-04-26
Rated 5 out of 5
by
Ebouc
from
Wonderful Dutch Oven
This dish is perfect in size. I find I pull it out for my baking more often then any other dish.
Date published: 2016-04-09
Rated 5 out of 5
by
Carol, the Baker
from
this is a great cookin pan
made a pork roast w/green beans & potato wedges. Turned out excellent. The led of the pot held the right amount of moisture, kept the roast juicy, not dried out. The lid fits very tightly sealing the juices & heat in.
Date published: 2016-03-12
Rated 4 out of 5
by
Joy
from
Almost 5 Stars
My first time using this product I thought my only complaint would be that it needed to be bigger (which really is only wishing for another/additional product). I loved how all the meat and vegetables browned perfectly and the meal turned out better than I could have hoped for. It was upon serving the meal that my only real complaint developed when I noticed a chip out of the red enamel on the handle ... luckily I spotted it on our tile floor and had zero fear anyone would be eating it. I will definitely continue using it ... but will very carefully watch for any additional chipping. I will also check into whether there is any type of "repair/treatment" I can do to keep the chip from getting worse.
Date published: 2016-02-14
Rated 4 out of 5
by
PrincessDi
from
Best of iron and easy clean ceramic
It cooked even on the stove or oven. Casseroles were moist with the lid on and looked beautiful to serve in also. On the stove browned meat but did not burn. The only problem was the weight. It is so heavy. Even the lid is heavy. My husband brought it in from the porch asked what was so heavy and he strong. I also had guests look at it and they said the same thing too heavy especially the lid. They loved the look and ceramic inside which makes it much easier to clean than just iron. Great otherwise from cooking to table without non stick chemicals.
Date published: 2016-02-10
Rated 5 out of 5
by
Deb the Baker
from
Deb the baker
This 4 quart cast iron casserole dish is extremely well made. The roast I prepared was very moist, and I believe that the moisture pockets built into the lid really worked, when I lifted up the lid the moisture was tripping back onto the roast. I would definitely recommend to my friends and family.
Date published: 2016-02-10
Rated 5 out of 5
by
Evonne
from
Love this
I have used this a few times to make casseroles. I used it on the stove top and in the oven, and love the way the food was cooked.
Date published: 2016-02-10
Rated 5 out of 5
by
di
from
Great upgrade to a "Old Time Classic"
I have always loved cast iron pans but was never consistant with seasoning them. This casserole has a very attractive easy clean exterior with a "preseasoned" interior. I don't need a lot of butter or oil to fry anything in it. When you clean it the pan, it looks clean! The old fashioned cast iron never had a "clean" look or feel to them like this does. It cooks evenly and the drip dots (at least that's what I call them) on the interior lid was a brilliant idea. It works with the heavyness of the lid to keep the moisture in the pan. It is such a versitile pan. I can use it in the oven as well as the stovetop. Very happy with this upgrade on the cast iron pans of old!
Date published: 2016-02-10
Rated 5 out of 5
by
Baker Deb
from
Great Product
Excellent product, Well constructed, the basting dots inside the lid work wonderfully keeping the meat moist. Cleaning the casserole dish was easy and it maintained its beautiful color. Love this product.
Date published: 2016-01-28