Displaying 1 out of 1 items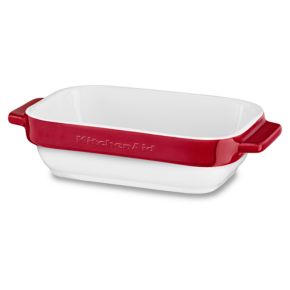 Top Features:

Close

Ultra Durable Non-Porous Construction:

KitchenAid ceramic bakeware is made of non-porous vitrified porcelain. It's the end result of a proprietary blend of materials put through a ultra-high heat firing process, creating an elegant glass-like surface made to withstand everyday abuse.

Close

Microwave and Freezer Safe:

This bakeware is safe for cooking or reheating food in the microwave. You can even use it for storing prepared meals in the freezer for reheating or cooking at a later time.

Close

5-Year No Chip Warranty:

Never worry if your ceramic bakeware is built to last. KitchenAid stands behind the product by offering a no-hassle 5-year chip resistant warranty for every ceramic bakeware piece.
Displaying 1 out of 1 items