NEW
30-Inch 5 Burner Electric Double Oven Convection Range
30-Inch 5 Burner Electric Double Oven Convection Range is rated out of 5 by 292.
This beautiful electric double oven range produces flawless cooking results with Even-Heat™ True Convection. The unique bow-tie design and convection fan ensure the inside of the entire oven is heated to, and stays at, the perfect temperature. The ovens are a combined 6.7 cu ft., providing an extra-large capacity and separate temperature environments. The cooktop features five heating surfaces, including a dedicated warming zone, allowing you to do more on your range.
Stainless Steel - KFED500ESS
Features

Even-Heat™ True Convection
Produces flawless results. The unique bow-tie design and convection fan ensure the inside of the entire oven is heated to, and stays at, the perfect temperature.
6.7 Cu. Ft. Total Capacity
Provides an extra-large combined cooking capacity for preparing multiple dishes at once and gives you the flexibility of separate temperature zones.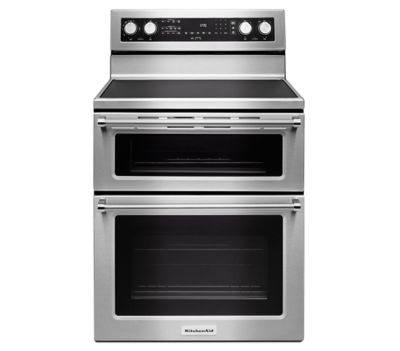 Professionally-Inspired Design
Combines a bold blend of professionally-inspired styling with sleek touches for the home. This double oven range features Satin Textured Handles and the KitchenAid® Badge, a symbol of uncompromised quality.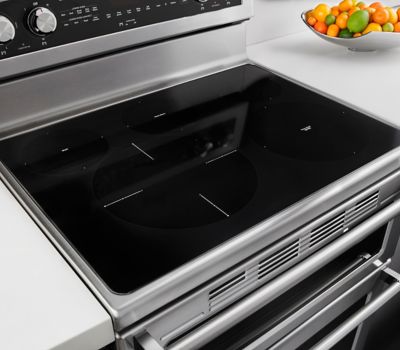 5 Cooking Elements Including a Warm Zone
Provides five independent cooking surfaces that allow you to do more on your range. It features a triple cooking zone of 6, 9 and 12 inches, one 10 inch zone and two 6 inch cooking zones, plus a dedicated warming zone.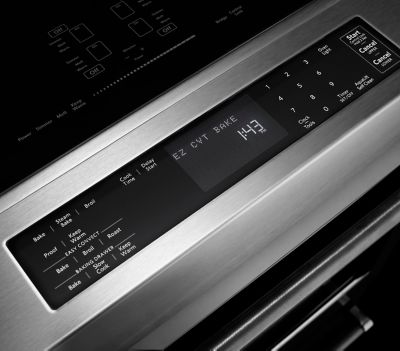 EasyConvect™ Conversion System
Takes guesswork out of convection cooking by ensuring you can get exceptional results when experimenting with new or familiar recipes.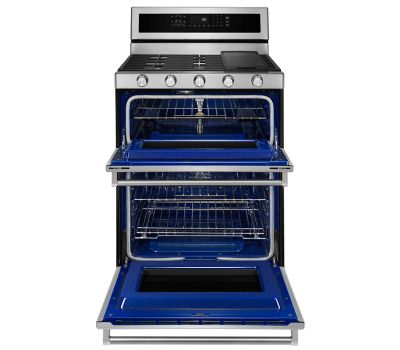 SatinGlide® Rack
Move smoothly in and out, allowing effortless loading and unloading, even with large or heavy dishes.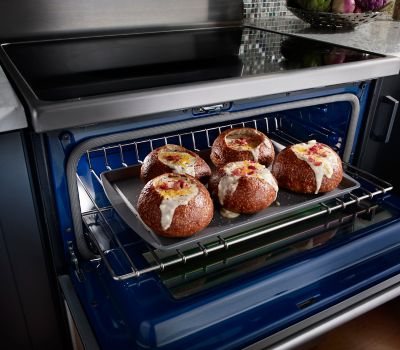 Hidden Bake
Covers up the baking element, making it easier to wipe away spills.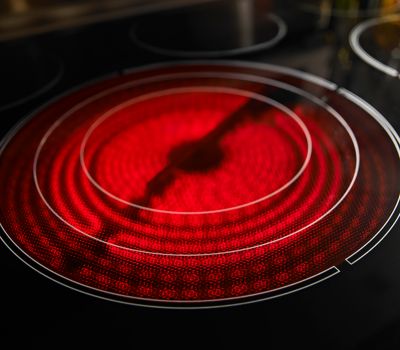 Triple-Ring Element
With three element sizes at one location, you get the versatility to match cooking surface to cookware size.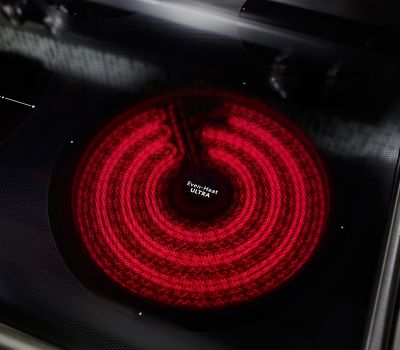 10" Even-Heat™ Ultra Element
Delivers consistent heat across the cooktop, including fast boils, precise simmering and exceptional melting.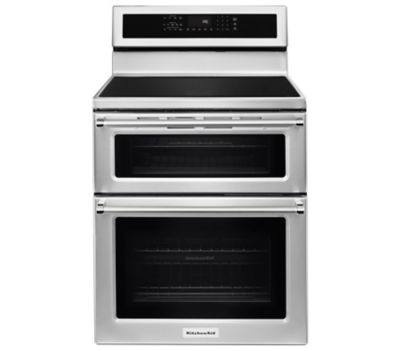 Stainless Steel Cooktop Trim
Provides a seamless transition to other surfaces and enhances the look of edges around stainless steel cooktops.
Specifications
Configuration and Overview
Range Type 
Freestanding Double Oven
Cooktop Features
Cooktop Element Style
Radiant
Cooktop Surface Color
Black
Cooktop Surface Material
Ceramic Glass
Number of Cooking Element-Burners
5
Center Rear Element-Burner Power
100W
Center Rear Element-Burner Size
6"
Center Rear Element-Burner Type
Warming
Left Front Element-Burner Power
2700W/1950W/1050W
Left Front Element-Burner Size
12"/9"/6"
Left Front Element-Burner Type
Triple
Left Rear Element-Burner Power
700W
Left Rear Element-Burner Size
6"
Left Rear Element-Burner Type
Single
Right Front Element-Burner Power
3200W
Right Front Element-Burner Size
10"
Right Front Element-Burner Type
Radiant Hyper
Right Rear Element-Burner Power
1200W
Right Rear Element-Burner Size
6"
Right Rear Element-Burner Type
Single
Oven Features
Automatic Convection Conversion Temperature Adjust
Yes
Heating Element On Indicator Light
Yes
Hot Surface Indicator Light
Yes
Power On Indicator Light
Yes
Oven Rack Type
1 Gliding Roll-Out, 2 Heavy Duty
Self-Cleaning 
Self-Cleaning
Oven Cooking System
Thermal Upper-Convection Lower
Bake Element Power
2000W Both
Broiler Element Power
3600W Both
Broiler Location
Top of Oven
Convection Element Power (watts)
1600
Convection Element Type
Fan
Convection Functions
Bake, Broil, Roast
Lower Oven Capacity (Cu Ft.)
4.2
Upper Oven Capacity (Cu Ft.)
2.5
Number of Oven Racks
1 Upper-2 Lower
Number of Rack Guides
2 Upper-5 Lower
Controls
Selections
Control Lock, Cook Time Indicator, Delay Start, Easy Convect Conversion, Keep Warm Setting, Proofing, Sabbath Mode, Slow Cook
Show More Specifications
Reviews
Rated 5 out of 5
by
wlbuck4
from
Great Features!!!
I am a diehard fan of everything KitchenAid. So when it came time to replace my range, I went with what I knew. The double ovens save a significant amount of time, especially when cooking for large family get gatherings.
Date published: 2018-03-20
Rated 5 out of 5
by
KellR
from
Beautiful and works perfectly!!!!
We absolutely love this stove/oven. Top and bottom oven cook the same. We had another oven previously and the top one seemed much different then the bottom.
Date published: 2018-03-15
Rated 5 out of 5
by
Meegs
from
Double Oven- Great Features
Purchased in January. Easy to use, love the blue color inside. Easy to clean
Date published: 2018-03-08
Rated 5 out of 5
by
Mary B
from
Great design. Easy to use
We bought this for a rental apartment in our home. It is the perfect size and made it feel like a whole kitchen make over. Works great too and the two oven chambers are unique.
Date published: 2018-03-07
Rated 4 out of 5
by
Runt
from
Good unit
Love, the double oven and enamel surface. The 3 size burner is great. Can be difficult to get heat adjusted right. Power boil is a nice feature
Date published: 2018-03-06
Rated 5 out of 5
by
Veronical
from
Love the double oven!
I've used this oven since November! I LOVE the double oven feature!! It was GREAT for making Christmas goodies with my family!
Date published: 2018-03-06
Rated 5 out of 5
by
Boone
from
Beautiful
Love the double ovens, and just how beautilful the stove is overall!
Date published: 2018-03-01
Rated 5 out of 5
by
Bennypoo1
from
Love it
I love this stove so so much always wanted double oven with a bad back I use the top oven all the time I couldn't be more happy thank you very very much
Date published: 2018-02-28
Rated 4 out of 5
by
katahart
from
double oven
this is a very good product with excwllent featers enjoy and easy to clean
Date published: 2018-02-24
Rated 5 out of 5
by
Lbrn
from
Love it !
I bought this about a month ago and love it, it's not only beautiful but it's such high quality and cooks so evenly and well. I mainly use the upper oven since its only me and my spouse and its nice because i don't have to heat up the whole kitchen. I love the top burners too, as they heat up fast and makes it easy to control the temp any way I want. I'm not sure why I waited so long to upgrade my appliances but I'm very glad I did.
Date published: 2018-02-22
Rated 5 out of 5
by
boji
from
Beautiful addition!
Our range was going out. The convection oven is great!
Date published: 2018-02-20
Rated 5 out of 5
by
Mike112
from
Great Double Over
My wife loves her new double oven which is great for me!
Date published: 2018-02-15
Rated 4 out of 5
by
Kstrobel92
from
Beautiful piece, stands out in the kitchen
Purchased this range about two months ago and it's extremely useful to have, there is much more space for baking with the two ovens as well as stove top cooking with the four burners and the warming burner. The only downside to the unit we received is that the rubber seal between the glass cooktop and the metal of the oven is not done very well. When cooking we have to be carful from letting food get in there as it's difficult to clean it out of the crevice.
Date published: 2018-02-12
Rated 5 out of 5
by
Karinj1965-4
from
Best oven ever
Cooks beautifully. Baking is perfect with convection
Date published: 2018-02-08
Rated 5 out of 5
by
Dee de
from
Love top oven use it daily!
Absolutely the best appliance i have ever owned! Love the double oven! We entertain frequently & I am looking forward to our next party & the pleasure of cooking everything at once regardless of the different food & required temperatures. The exterior is beautiful, I like the brushed back splash & the ease of the controls safely situated in the back The interior is gorgeous, cleans up easily with self cleaning & the time options are so sensible. Unfortunately I have a galley kitchen & I cook everyday & the heat in the kitchen previously was terrible, but with my Kitchen Aid there is no excess heat & it's so quiet, just wonderful!
Date published: 2018-02-06
Rated 5 out of 5
by
Laurie B
from
Oven in awesome, heats up fast, love the 5 burners
Had my oven almost 2 months now, I love everything about it, I researched pros and cons and so glad I decided on this double door oven.
Date published: 2018-02-06
Rated 5 out of 5
by
Irena
from
Best ever! we
I've had my stove for about 2 months. There is nothing that I dislike about it. That top oven is the handiest thing ever. I find I use it more than the bottom one. However, when I've needed to bake two things at different temperatures it was ideal! There is but one thing that I wish that was included is a timer for both ovens. Right now there is a timer for just one. Other than that it's superb!
Date published: 2018-02-06
Rated 4 out of 5
by
yourmusicmom
from
Great double ovens
Love that it has two ovens that are a different size. Burner placement is awkward with a very large burner in the center and the others so close to the edge. The only small option in the front is in the middle of the largest burner making it hard to use with other larger pots. Otherwise you have to reach over the large pots to get to your small pots or have a large pot on a small burner. So far it seems to heat evenly and baked cookies nicely.
Date published: 2018-02-05
Rated 5 out of 5
by
Sherie25
from
Double ovens, you must have!
I had a double oven before. This is a gem! Everyone should have one
Date published: 2018-02-01
Rated 4 out of 5
by
Bloomco
from
Versatile
We have had the stove for a month now. Love the double oven flexibility of cooking at different temps at the same time. Settings easy to use. Cook top easy to clean. Not sure I like the multi-burner on the left front, but still getting used to it.
Date published: 2018-01-31
Rated 5 out of 5
by
Tomcat
from
Quality
Two ovens are great,high quality finish,very quiet and so well insulated it does not warm the kitchen at all.very satisfied
Date published: 2018-01-30
Rated 5 out of 5
by
Shelly18
from
Love this stove!
The double oven is fantastic. Wish my condo unit was gas compatible as I prefer that to electric. Nevertheless, love the ease of using the stove and oven.
Date published: 2018-01-29
Rated 4 out of 5
by
Katarra
from
Looks Classy
If you want the truth... the range looks great and performs just fine. I am in love with the double ovens and would never go back. Could things be better? Yes. The control knobs stick out over the cooking pots on the back burners and get steamed badly. The burner placements are awkward. The ones we use the most are to the back and under the control knobs. The black cooktop shows every, little smudge. The beautiful, blue interior seems pretty delicate. Maybe it will harden with use. My main gripe would be that the clock numbers are way to small and much dimmer than those on the VERY bright, matching over the range microwave so they seem mismatched. Still, I would buy the set again.
Date published: 2018-01-29
Rated 1 out of 5
by
Steve_R
from
Not working correctly out of the box!
I purchased this because it had everything I was looking for in a Range. But man, has it not delivered on its hefty price tag. First thing I noticed on the day of delivery that there is silicone (or whatever material that goes around the cooktop) on the cooktop along the back. It looks terrible, you would think that in the QA process someone would say, "hey, that looks bad, fix it." But I guess not. So my wife made a bunch of cookies, in both ovens. She pre-heated the ovens to the necessary temperature and started baking. At first she needed to add a few minutes to the cooking time, no big deal as it's new ovens. But as she continued to do more trays of cookies they started to burn pretty badly, we were at a loss as to what could have happened. A few days later we had stuffed chicken breasts for dinner and the packaging said pre-heat oven to 400 and cook for 30-32 minutes or until the internal temperature is 165 degrees. 32 minutes later the internal temperature of the chickens were between 100-110 degrees. Finally, at about 65 minutes, the chicken was done. This prompted us to buy an oven thermometer and call to the store where we bought the range. The tech came out checked to make sure it was getting the necessary power and decided it needed some new board. Replacing the board may have helped a little, but we made more stuffed chicken and it still took way too long. I think the ovens are still not right. Not only that it takes 25 minutes to boil a medium saucepan half-full of water on the front left burner. Something is wrong with this range and I don't have the time to have a tech out every week to try and fix it.
Date published: 2018-01-15
Rated 4 out of 5
by
mojo777
from
Above average but not great
The biggest disappointment about this range is the primary cooktop "Triple Zone Element" which seems to work only on high or nothing. If I set it on medium, it's as though nothing happens which I've never experienced on a range cooktop. This is the cooktop element most used so very important. I've read & re-read the user manual to no avail. I do notice almost the same problem with the rear small element - either cook on high or your food won't cook. On the other hand, the "Even Heat Ultra Element" on the righthand side of the cooktop works very well but I don't use it as often as the left side. I wanted to try a double oven and waited to see if my electric bill would go down after much cooking & baking over the Thanksgiving & Dec holiday period, but my electric bill has gone up considerably instead (and we have solar PV panels on our roof). Using the upper side of the double oven is very useful but haven't seen the difference in my utility bill. So far the roasting using the lower oven has worked well -- I just don't like having to bend a lot in order to remove something extra heavy from the oven ... takes getting used to since most people are used to a single oven. One more thing of note when using the smaller upper oven: you can't see how your cake is baking because the rack is a bit too high to peek sufficiently through the window, and this is in spite of the oven light being on, and this is the recommended level you have to set your rack for the cake so there's nothing much you can do. The timer sound is not loud enough if you're in the next room. Additionally, when you turn on the oven light, it goes on for both the upper & lower oven, even though you only have the upper oven on ... somewhat annoying. I had an inexpensive range which was about 15 years old, but that cooktop worked better and was much easier to keep clean - spills would wipe clean much more effortlessly, unlike this one, and it was still working good. The reason I decided to purchase a new one was that smoke used to come out of the oven vent when in use and it used to scare me that something would happen someday soon so decided to buy a new one. I waited to review this range after a couple of months' use in order to rate it after a good amount of use. Overall, this range is well made and beautiful & I believe it'll last a long time, but not that functional for basic needs. Although I marked "yes" that I'd recommend this range for purchase by a friend, my real answer is that I'm not sure I would recommend this range & give them the positives & negatives and they can decide on their own.
Date published: 2018-01-12
Rated 5 out of 5
by
beckysue12
from
industerial strength!! at least it seems like it.
needed a new stove and wanted one that will stand up to a lot of use.
Date published: 2018-01-01
Rated 5 out of 5
by
GReneeC
from
Great features and love all it can do
Was given this as a Birthday/Christmas present love everything about it. All of the extras to the extra large burners to the fifth warmer burner and the bread proof feature on the bottom oven. Love this stove
Date published: 2017-12-31
Rated 5 out of 5
by
Pinger
from
Love the look, the feel, the features. So durable.
I saw one in white and had to have one is Stainless for my kitchen. I was so impressed by the features. Love the cooktop!!
Date published: 2017-12-30
Rated 5 out of 5
by
Anonymous
from
Fabulous
Purchased thanksgiving week! Cooked everything perfectly. The convection option made the best cheesecake I have ever made!
Date published: 2017-12-29
Rated 1 out of 5
by
Just Want a Quality Range
from
Cooktop scratched with first use and poor quality
The cooktop burner is all scratched up after the first use. Checked the pan bottoms and they are smooth stainless steel. Never had any problems on our GE cooktop and used them all the time. There are fingerprints on the inside of the glass panes for the ovens that we will never be able to get rid of. What the heck is wrong with their assembly process that they aren't wearing gloves???? Not sure I would purchase again and I will be contacting the company when I have time to deal with it.
Date published: 2017-12-29
Demos & Guides
guides
Warranty Information
A complete description of your warranty coverage, and contact information for service and support.
Use & Care Guide
Comprehensive information about your new appliance - from getting started to cleaning and maintenance.
Installation Guide
Instructions for unpacking and installing your appliance, including electrical requirements and necessary tools.
Dimension Guide
Detailed dimensions of your new appliance with space requirements for the area surrounding it.
In order to read a PDF file, you must have Adobe Acrobat reader installed on your computer. You can download the latest version at the Adobe website.
Show More Guides