Pro Line® Series 4-Slice Automatic Toaster
Pro Line Series 4-Slice Automatic Toaster is rated out of 5 by 7.
Meet our most advanced 4-slice toaster ever. This toaster is equipped with a host of smart features for effortless toasting, like our exclusive Keep Warm function, which automatically keeps toast warm even if you're not there.
Frosted Pearl White - KMT4203FP
Features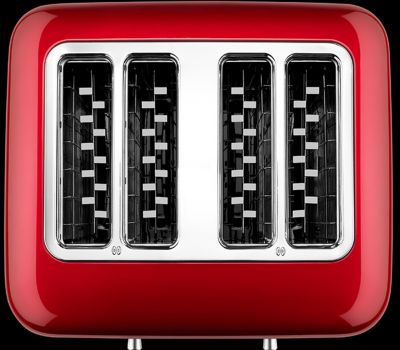 Extra-Wide and Long Slots
To easily toast bread, bagels and English muffins up to 1 1/8" thick.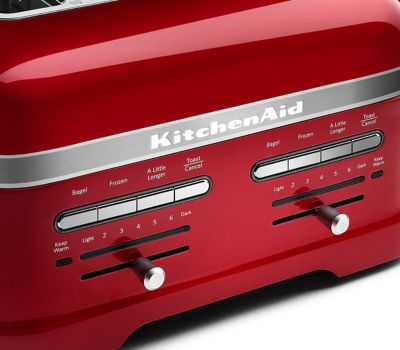 Dual Independent Controls
Allow you to select different toasting settings for each pair of slots.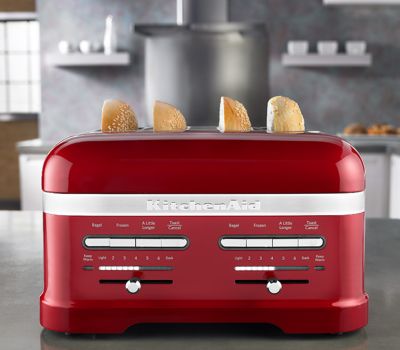 Automatic Lift and Lower
Lowers bread into the self-centering racks upon sensing bread in a slot, then lifts once it has reached the selected shade.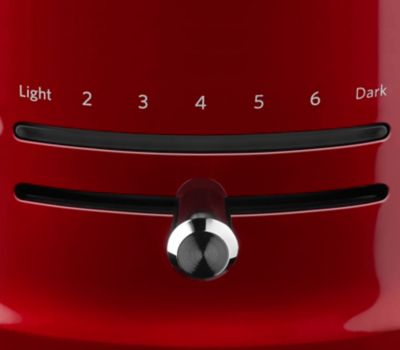 7 Shade Settings
To choose precisely how light or dark you want your toast.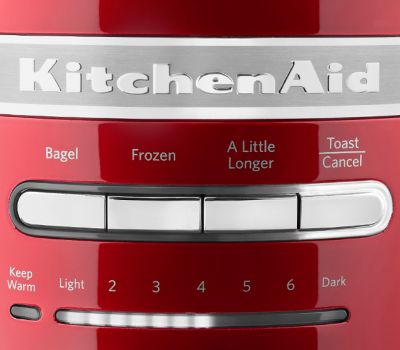 4 Toasting Functions
Including bagel, frozen and "A Little Longer" function for your perfect bagel, bread and more.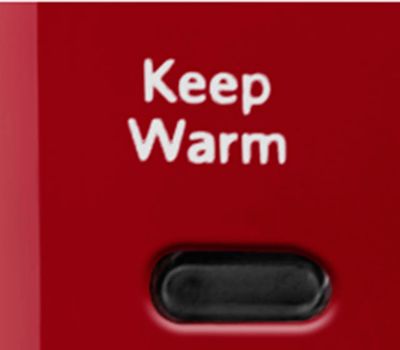 Auto Keep Warm
Initiates when toast hasn't been removed from the toaster within 45 seconds, and automatically lowers to keep warm, for up to three minutes.
Specifications
Configuration and Overview
Number of Shade Settings
7
Show More Specifications
Reviews
Rated 4 out of 5
by
redrobin
from
Awesome toaster
This was a warranty replacement. My first toaster stopped working on one side. Customer service was very helpful and got me my replacement in a timely manner. Everything went smoothly. I love the toaster and hope it continues to work well.
Date published: 2018-02-06
Rated 3 out of 5
by
Her-In-Doors
from
Looks Good
This is a great looking toaster with some great features; special settings for frozen bread or for bagels. However even when set to the darkest setting it does not result in nice brown toast. There is a 'little longer' button to get a darker toast but the unit is basically inconsistent in what it produces.
Date published: 2018-02-06
Rated 5 out of 5
by
Bouviér
from
GREAT TOASTER
AMERIKA IS GREAT BECAUSE AMERIKA IS GOOD :D . . . .
Date published: 2018-01-25
Rated 1 out of 5
by
rjstx
from
Toaster or Dehydrator? Does not toast
I bought this toaster as an upgrade to my old one and thought for the money and the brand that it would be a good toaster. Wow, I am sorry I did. It couldn't toast a bagel on the highest setting whereas the previous brand toaster had no problems. The bagels took so long in the highest setting that they were not tasted by dried out. See the pictures of two examples both on the highest setting. Needless to say, after wasted time we took it back for a refund and purchased a new one of the same toaster we had before. Really disappointed that for $400, it can't produce the heat needed to toast bread.
Date published: 2017-12-31
Rated 5 out of 5
by
Alex
from
perfect toaster
It's perfect toaster for big family, I bought it a year ago and I'm still happy. Yes, the price is high for toaster, but it works perfect - toasts, sandwiches are so crispy.
Date published: 2017-06-26
Rated 5 out of 5
by
Babss
from
Great features and Looks fantastic
I bought this Pro Line Series 4-Slice Toaster a year ago. It is wonderful, works great and I have had no problems since I bought it. It is expensive, but well worth the price. I have the color Sugar Pearl Silver and it is beautiful. I love this toaster and it cooks all breads to perfection. The only negative comment I have, is that it is a little heavy, but you can tell it is made to last.
Date published: 2016-04-24
Rated 5 out of 5
by
Jane the Kitchen Master
from
In love with my toaster!
I have had my toaster since May and am thrilled with its performance as well as its looks. The bagel toasting feature is fantastic, no more hard or burned bagels in our house.
Date published: 2015-10-13