Sausage Stuffer Kit
Sausage Stuffer Kit is rated out of 5 by 40.
Make homemade breakfast sausage, brats and more with the KitchenAid® Sausage Stuffer Kit, made to work exclusively with the Food Grinder Attachment (Model FGA, sold separately).
Other - SSA
Features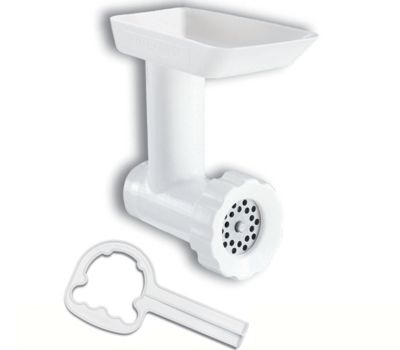 Designed for the Food Grinder Attachment
To make small or large sausages from scratch (Requires model FGA, sold separately).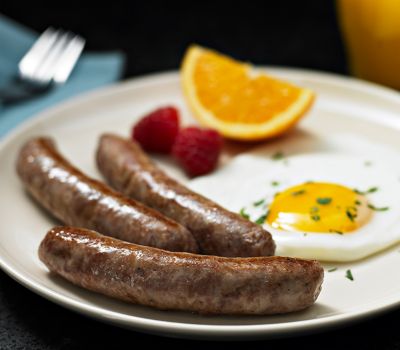 3/8" Stuffing Tube
For breakfast and other smaller sausages.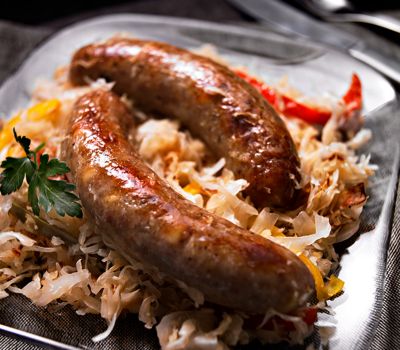 5/8" Stuffing Tube
For larger varieties, such as Bratwurst, Italian or Polish Sausage.
Reviews
Rated 4 out of 5
by
joe p
from
pasta stuffer
bought mine years ago and the large tube finally broke. i use it for stuffing pasta. works great! the plasic feeder should be replaced with a tube. it collects more filling on top of it than under it.
Date published: 2018-04-14
Rated 4 out of 5
by
Tanktonic
from
Good tool.
I make a lot of home made sausage. In about 5lb batches. I replaced the pusher with an oak dowel, as the plastic pusher gathers as much meat as is passed through. I enjoy this device immensely and use it often. In fact I have worn out the tubes and will be replacing them.
Date published: 2018-03-23
Rated 1 out of 5
by
Magofa
from
HORRIBLE
I have tried to use this several times and it just stinks. It doesn't work. It took by husband and I over 2 hours, we stuffed about 2.5 lbs, and we finally gave up.
Date published: 2018-03-18
Rated 5 out of 5
by
HeatherH
from
great attachment
Not sure why bad reviews. This was my first time for sausage and casings and the biggest issue I had was trying to open the very small sheep casing. I watched a video prior to purchase to see how it went and had only a couple issues. One being working with sheep casing as first time, I had two areas where the casing was ripped and sausage was popping slightly out and slightly uneven plumpness on first casing which I think was from me pulling on the sausage coming out. The second and third casings were almost perfect. Yes the first casing went slow as I tried to figure things out but once I got to my second all went smoothly. I used coconut oil on the tube and kept my hands and the casing wet with warm water. I've only recently purchase this so I can't address how it holds up over time but I'm pleased at this point in time
Date published: 2018-01-07
Rated 4 out of 5
by
Ben K
from
First Time Sausage Maker
I made my first sausage ever with this today and had no problems. The price is right. I didn't have any issues with cracks or any physical issues. This was my first time making sausage and we made 3 pounds. I would say that any issues I had with air bubbles came from being new to this skill, rather than any problems with the equipment, with some practice, I was able to prevent air bubbles. I found it a little difficult to work the meat through the grinder tray and pull the sausage at the same time. But with some practice, I was able to do both tasks by myself. I would recommend this. For the price, you can't really go wrong.
Date published: 2017-12-30
Rated 1 out of 5
by
northstar8713
from
Poor design
I too bought this stuffer kit a number of years ago, I have struggled over and over again with the plunger design and now both stuffing tubes have cracked around the opening and have broken off. I continued to struggle with this set up until they both broke. Now I want to replace the tubes but unsure if I wouldn't be better off with another brand if there has been no improvement.
Date published: 2017-12-13
Rated 5 out of 5
by
Chen
from
For Better Speed: Add Water to Sausage Mix
I see many people writing negative comments on this sausage stuff because they are having problems feeding the meat through the apparatus and the solution is to add liquid to the mix like water or cider. I have had the same problem many here describe on other sausage stuffing equipment not made by Kitchenaid but through lots of trial and error found the secret to good sausage making is adding water to the mix. When the mix is too lean the problem becomes worse and more water is needed. Meat will dry out quickly after it is ground and this is the reason for fresh meat being preferred. The nearer the time after slaughtering the animal the better the performance of the meat mix. If you are worried about too much water in the mix then expirament by incrementally adding water to the mix until the proper flow through the sausage stuffing tube is achieved. You may even need to add more after the mix sits for a time. I hope this helps everyone!) BTW Kitchenaid is owned by Hobart, which is a highend manufacturer of industrial food processing equipment.
Date published: 2017-12-02
Rated 1 out of 5
by
Ed S-J
from
Slow, Slow, Slow
My wife and I tried to do approx. 30 lbs. (I know it's alot). However, the speed of the sausage stuffer was ungodly slow. We finally had to put some in freezer bags so we could get some sleep. Maybe the sausage stuffer is good for very small batches but that is it.
Date published: 2017-11-25
Rated 5 out of 5
by
cfomahm
from
First Time Sausage Maker Success
I read all the reviews of this product and was really worried it would not work properly. WRONG. I never made sausage before. In fact I had never even used a meat grinder before. I looked at numerous videos of sausage making before I tried for the first time and paid attention to 1) keeping the meat cold, 2) not trying to force the meat down the feeder - let gravity and the machine do the job, and 3) greasing the horn before putting the casings on it. Neither the grinding or the stuffing is lightning fast. You have to have patience. Don't try to push the meat down the feeder too hard and do not set your speed too high (I used #1). It will all get there and you do not have to watch it every moment, especially during the grinding process. It was actually pretty easy. Just keep putting your meat back in the fridge to keep it cold between loads on the feeder tray. I added my spices after the first grind, put the meat through again on fine and then fried up a sample to test for taste. I did not need a second pair of hands to deal with the link as it came off the stuffer. If you keep the machine on low, the sausage will not come out so fast that you can't control the fill. No problem at all with air in the casing. I made 5# of Italian last night and 5# of breakfast this morning. As I said, I never did this before and it was EASY. (Except for turning it into links. It was hard to get them the same size but that is user error, not the KitchenAid. I need some experience under my belt to get better at it.)
Date published: 2017-10-10
Rated 1 out of 5
by
DTCJEM
from
Kitchen Aid Grinder Stuffer
Bought the Grinder and Sausage Stuffer. Don't waste your time. Feed neck is small, and plunger design is a mess. Much smaller than opening so meat gets caught around it when going through a second grind. Does okay on first bring is the mead is really cold but worm gear doesn't want to grab the meat. Be prepared to work hard and be very frustrated. Stuffing Sausage.....forget it! Lots of air from bad plunger design.
Date published: 2017-07-03
Demos & Guides
guides
Use & Care Guide
Comprehensive information about your new appliance - from getting started to cleaning and maintenance.