Precise Heat Mixing Bowl
Precise Heat Mixing Bowl is rated out of 5 by 15.
Temper chocolate, proof bread dough, make fondue, soups, yogurts and more with the KitchenAid® Precise Heat Mixing Bowl. (Designed exclusively for use with KitchenAid® Household Stand Mixer bowl-lift models KD2661, KL26M, KP26M1, KP26M8, KP26N9, KF26M2, KV25G, KV25M, KB25G, KSM652X and KSM75XX, or as a standalone unit).
Other - KSM1CBL
Features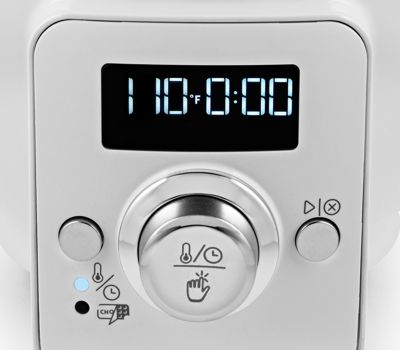 Precision Temperature Technology
Select any temperature from 70° to 220° F (21° to 104° C) in two degree increments.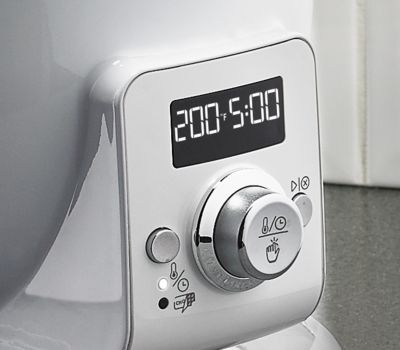 Digital Display with Timer
Shows temperature and timer for up to 10 hours.

Easy View Glass Lid
To monitor progress while in process.

Easy to Clean
Removable cooking bowl and lid are dishwasher safe while the base should be wiped clean with a cloth. The flex edge beater, wire whip and dough hook should be washed by hand in hot, soapy water.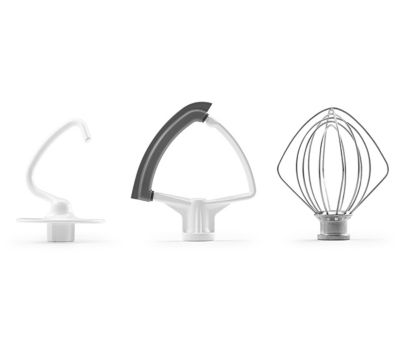 Model KSM1CBL includes
(1) Flex Edge Beater, (1) Wire Whip, (1) Dough Hook
Specifications
Configuration and Overview
Stand Mixer Type
Bowl Lift
Stand Mixer Capacity
5 Quart
Reviews
Rated 5 out of 5
by
Lj1300
from
Wonderful addition to the Kitchenaid family
I bought this for chocolate tempering. I couldn't be more please. No more temp guessing. And will hold the temp for 10 hours along with being stirred. Lovely. Candy makers delight. I can't wait to try other things in the Precise Heat Mixing Bowl. Very happy with my purchase.
Date published: 2018-03-15
Rated 5 out of 5
by
catslove65
from
great item
i am so happy with my purchase. i love kitchenaid products.
Date published: 2018-02-06
Rated 5 out of 5
by
Glenn G
from
Where have you been?
I am a chocolatier and have been using the big, bulky machine that runs on light bulbs and fans. It has always been off my a few degrees which is critical in tempering chocolate. Along came this Precise Heat Mixing Bowl and I ordered it immediately! First time using it I had perfectly tempered chocolate. Quickly, easily and was able to hold the precise temperature throughout my working day. My goal is to get two more bowls so I can have all my milk, dark and white chocolates ready at any time. Outstanding attachment! Bravo, Kitchen Aid!
Date published: 2018-01-27
Rated 4 out of 5
by
Bearmandan2
from
Helped make my holiday meal prep so much easier!
I usually try to come up with something different every year during our family holiday get together. This year I decided to make homemade bread bowls with a few different fillings to choose from. The Kitchenaid Precise Heating Bowl made making bread dough a breeze, especially when it came to proofing the dough which I haven't always had the best results in the past since my house can be on the cool and drafty side at times but this year I didn't have to worry about that since the dough rose up perfectly in the heated bowl. I also used the Kitchenaid Precise Heating Bowl to make a broccoli and cheese soup as one of the fillings for the bread bowls and it turned out perfect. The only reason I gave the bowl 4 stars instead of 5 is because of how long it takes to reach its target temperature.
Date published: 2018-01-01
Rated 5 out of 5
by
Silver Nana
from
Everything about it is fantastic!
It makes bread so much easier to make. I can knead it in the bowl and let it rise, then put knead it again and put it in a regular bread baking pan and get really nice loaves of bread.
Date published: 2017-12-19
Rated 5 out of 5
by
Publiceye
from
Great for Candy & Carmel Apples
I just bought this and tried chocolate covered strawberries and Carmel apples; superb!
Date published: 2017-11-25
Rated 5 out of 5
by
Geoffrey
from
Great tool for the baker.
Gave as birthday gift for my wife and she loves it.
Date published: 2017-10-09
Rated 4 out of 5
by
jim
from
great features
i bought a month before and i m happy..................
Date published: 2017-09-26
Rated 5 out of 5
by
Newbaker
from
Double Boiler??? Say what?
This has made my baking so much easier especially when it comes to preparing icing and fondues. Am so glad I am a proud owner of it.
Date published: 2017-08-01
Rated 4 out of 5
by
Joe
from
love it, but...
I bought this very recently, mainly to temper chocolate. I have used it twice for this and it works great. I absolutely recommend it for this use. It's easy, it works well, and the chocolate came out perfect. Now the but... it is also supposed to heat liquids up to desired temperatures while stirring. I tried to make homemade ricotta which requires the milk to be heated to about 200 degrees. I set the machine up, filled it to just below the fill line and set it going. IT TOOK FOREVER! After a little over an hour, it reached just 185 and wasn't moving. I gave up. It didn't work. The milk was hot but never got to the temperature I needed. This will be an expensive gizmo if I can only use it for chocolate.
Date published: 2017-04-11
Demos & Guides
guides
Use & Care Guide
Comprehensive information about your new appliance - from getting started to cleaning and maintenance.