Ravioli Maker
Ravioli Maker is rated out of 5 by 31.
Make your favorite fresh ravioli tonight. Easy to use and simply attaches to the hub of your stand mixer. Recommended for use with the KitchenAid® Pasta Roller attachment (Model KPSA, sold separately).
Other - KRAV
Features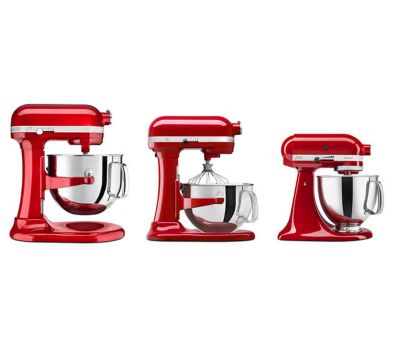 Compatible with Any KitchenAid® Stand Mixer
Transform your stand mixer into a versatile kitchen appliance that can help you tackle even more culinary tasks.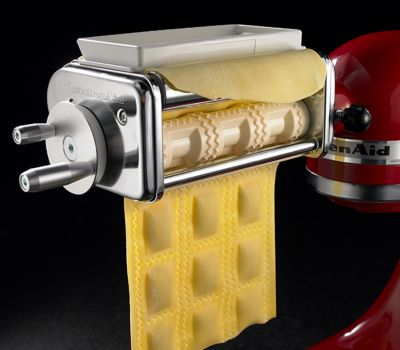 Easy to Use
Simply connect to your attachment hub and hand crank fresh ravioli in quickly and easily.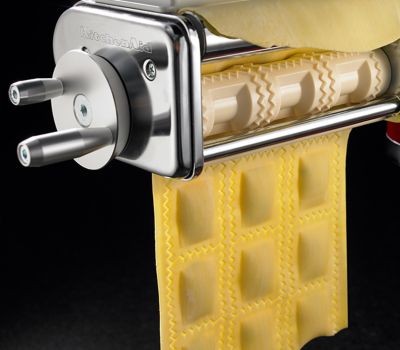 Wide Roller
Processes 6 inch wide pasta sheets to make 3 rows of large pocket ravioli. Works best with pasta sheets created from the pasta roller (KSMPSA, sold separately).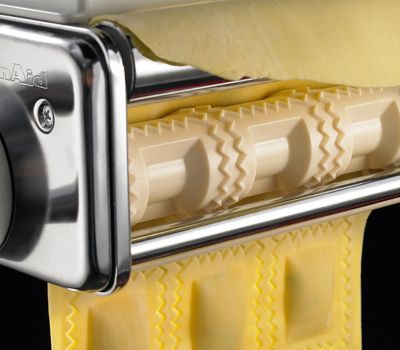 Rollers Crimp and Seal Ravioli
Fill with meat, cheese, spinach and more, then rest assured it's going to stay in place as the rollers pinch and seal the filling into each and every pocket.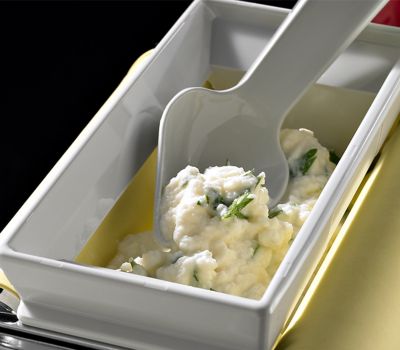 Filling Scoop
Spreads filling into the corners of the hopper for even distribution in each pocket.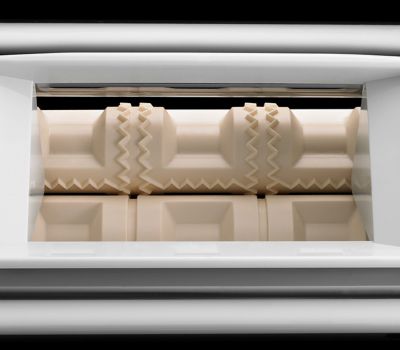 Easy to Clean
With the included cleaning brush to remove bits of flour and pasta from the attachment.
Reviews
Rated 5 out of 5
by
Kathie72
from
Simple to use
We love the ravioli maker as it streamlines the whole process so you can make it any time. The recipes in the book that comes with it are excellent.
Date published: 2018-02-05
Rated 5 out of 5
by
jovogt
from
Works well, but use different pasta recipe
Have been working with this and found that the following dough works great: (this is different from the standard KitchenAid recipe) 10 oz All purpose flour 2 large eggs (wt ~ 2 oz/egg) 4 large egg yolks 1 tsp Kosher Salt 0-1 tblspn water (depends on humidity of kitchen -cold here in Maine) Mix in mixer the usual way (30 sec mix, 2-3 min with dough attachment) Then knead for 2-3 minutes Rest for 30 minutes-1 hour Roll the dough on following settings: Roll out on #1 with 3-4 folds (kneading) Roll out on #2 with 3-4 folds (kneading) Roll out on # 3 Roll out on #4 Run through Ravioli Maker: Sprinkle with flour as needed Fold dough in half and crease the fold. Remove hopper, insert folded end and give it a quarter turn Open folded pasta so that it is draped over both sides Replace hopper Then, SLOWLY, turn the crank. Voila --works fine. Just be patient and be sure to knead the dough and let it rest before using this attachment.
Date published: 2018-01-10
Rated 1 out of 5
by
Klaus
from
Very disappointed. Wanted this to work...
I am an experienced cook and love my KitchenAid mixer. I have worked in restaurants and made lots of raviolis in my life. All I can say is that I tried... I made 3 different consistencies of dough and although they came out ok, I couldn't get the ends to properly seal. I did just purchase the pasta arm and I am hoping that maybe that will help... Any suggestions?
Date published: 2018-01-07
Rated 1 out of 5
by
Mikemike0221
from
Just make them by hand and save your money
I bought this attachment thinking I would be able to crank out huge quantities of ravioli with little effort, but what I found was that hand making them was similarly time consuming and more forgiving than using this attachment. I even took a ravioli making class that included a module that utilized the rollers to make sure I was making the dough correctly. In the course, I asked the instructor about using the ravioli maker and he told me the best way to use the ravioli attachment was to put it in the box on the highest shelf in the basement and use it as a dust collector. so thats where it will stay. Handmade raviolis are the way to go.
Date published: 2017-10-14
Rated 2 out of 5
by
Jescot
from
2/5 ravioli make it out
I've tried the roller time and again and it seems to end up a big mess every time. I'd say only 2/5 ravioli make it through. I've been quite disappointed in the product.
Date published: 2017-10-12
Rated 1 out of 5
by
Flo
from
Not working as intended
The ravioli don't come out neat. I have tried differnt ways of feeding the filling but it will always get some filling in between raviolis once you cook them the ravioli burst. As an owner of multiple Kitchenaid I was expecting much more from this attachement. Not worth the investment.
Date published: 2017-09-17
Rated 5 out of 5
by
ralphb
from
Works perfectly well
Guys, don't rate your own inability. This attachment works perfectly well and produces gorgeous ravioli if you are capable to do a proper pasta dough. And nothing is easier than producing full-size sheets with the Pasta Roller attachment.
Date published: 2017-08-05
Rated 1 out of 5
by
Jccwc
from
A waste of time, energy and momey. Hand crank them? Really?
I tried many times to get this work, but I was wasting too much time in making the sheets (which needed to be the perfect width of the ravioli maker to have a chance at working), and cost of products to make this pasta. There needs to be a way to automatically feed in the filling making it more exact. Also, why have a mixer attachment if I have to turn it by hand instead of using the mixer's power to turn it? Returned it. If this was redesigned to fix its many flaws I would buy it again to give it another shot, until then I'll keep making by ravioli by hand.
Date published: 2017-07-09
Rated 1 out of 5
by
Mark Nic
from
Horrible attachment
This is the only bad kitchenaid product. The ravioli just bunches up at bottom even after following all their instructions waste of over 100$
Date published: 2017-05-06
Rated 1 out of 5
by
Edtheed
from
No go!
I was really excited to get this as a gift and try it as I love all the other attachements that I have. But sadly this fell short. So badly that it really needs to be reinvented. I couldn't find the right technique even with following the instructions! I ended up doing it by hand
Date published: 2017-05-04
Demos & Guides
guides
Use & Care Guide
Comprehensive information about your new appliance - from getting started to cleaning and maintenance.