Pasta Drying Rack
Pasta Drying Rack is rated out of 5 by 7.
Dry up to 4 lbs. of fresh pasta quickly and evenly with this KitchenAid® Pasta Drying Rack.
Other - KPDR
Features
Promotes fast, even drying
For up to 4 lbs of fresh pasta.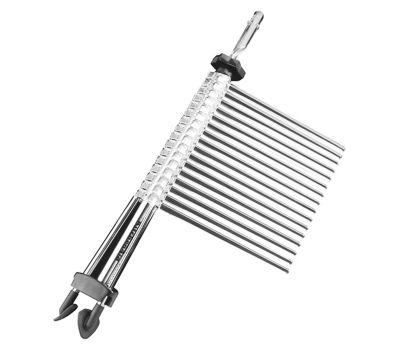 Folds flat for easy storage
When not in use.
Specifications
Configuration and Overview
Stand Mixer Type
Bowl Lift, Tilt Head
Stand Mixer Capacity
4.5 Quart, 5 Quart, 6 Quart
Reviews
Rated 5 out of 5
by
Reynolds56
from
Great Campanion to Pasta Attachments
Easy to set up for homemade pasta! The rack folds flat for storage.
Date published: 2017-11-16
Rated 5 out of 5
by
Damichcoop
from
Awesome Tool
I received this for a Christmas gift, and it comes in so handy. I made my first batch of pasta and it was so easy to us. I just wish there was a little more information on it, such as a user guide. I know it's a simple thing to use, but I didn't realize there was a transfer rod, or anything. Some more explanation would be nice. Over all, it's a great.
Date published: 2016-12-29
Rated 5 out of 5
by
Torben
from
Love it!
Love it! Even more easy to use than I expected. But tell me please how to clean it?
Date published: 2016-06-09
Rated 4 out of 5
by
SG
from
Useful tool
Generally very good and useful tool. Pros: Easy to use. Easy to clean. Stable. Holds "reasonable" amounts of pasta. The concave transfer rod is a very good idea as it properly fits on the hanging rods when transferring pasta. Folds nicely for easy storage. Cons: Not enough room if you want to dry extra amounts of pasta for later use. The lower rods are too close to the countertop, and are not suitable for hanging longer noodles. A telescopic vertical rod to adjust the the rack heigh would have been a good solution. Very useful accessory for small/medium batches of pasta.
Date published: 2016-05-11
Rated 5 out of 5
by
Em
from
A must have
I tried my first batch without rack and learned rack kept pasta from sticking together!
Date published: 2015-12-08
Rated 5 out of 5
by
SAbadir
from
Best style and model out there
I have a couple other pasta drying racks. All hang the pasta next to each other. Sometimes the pasta sticks to the pasta on other racks. This design is far superior. It keeps the pasta away from other pasta that is drying. It also comes with a special wand so you dont bump the other pasta by accident.
Date published: 2014-06-12