Fruit/Vegetable Strainer Set
Fruit/Vegetable Strainer Set is rated out of 5 by 22.
Strain and puree fruits and vegetables quickly and easily. The fruit and vegetable strainer uses the help of the food grinder to break down ingredients, while the strainer cone removes any peels, leaving you with finely pureed fruits or vegetables.
Other - FVSFGA
Features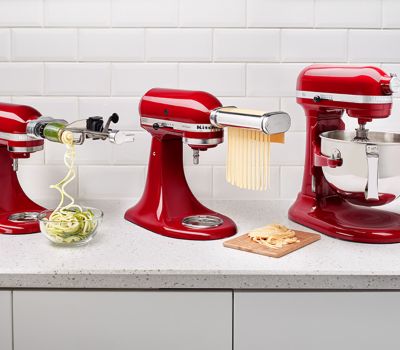 Attaches to Power Hub
Of your stand mixer and uses the power of the motor to run the attachment. Fits all Household KitchenAid® Stand Mixers.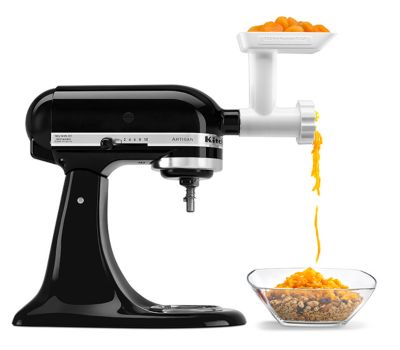 Food Grinder
With Fine Plate to grind meats and dried breads and coarse plate to grind firm fruits, vegetables and cheeses.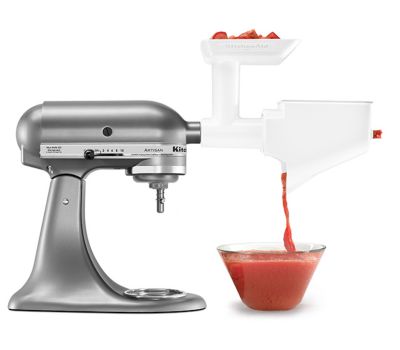 Fruit and Vegetable Strainer Parts
For the Food Grinder Attachment to strain or puree fruits and vegetables for jams, sauces, baby food and more (Requires model FGA, included).
Reviews
Rated 5 out of 5
by
Williams
from
Great product
I bought this about a month ago. It works great, I have made apple sauce, speghitti sauce.
Date published: 2018-01-31
Rated 4 out of 5
by
MCS80
from
Very helpful
This is great for making tomato sauce, however I wish that the reservoir on top was bigger so you didn't have to pay constant attention to refill it. It makes multitasking difficult.
Date published: 2017-12-21
Rated 5 out of 5
by
Grandmom05
from
Tossing my Foley Food Mill!
Just received my fruit/vegetable strainer attachment and used it to make applesauce. I have always used a food mill for this but decided to purchase this attachment for my mixer after my son, who is a chef and owner of a catering company recommended I buy one. I was a little wary of doing this since I am very old school when it comes to my kitchen applications. I can't tell you how pleased I am with this attachment. The whole process took very little time and the end product was the best I have ever mad My only wish is that the hopper itself was a little bit bigger. Other than that, I love this attachment and will be using it again and again. Can't wait to try out the other attachments as well. If my children are reading this review, I would love some additional ones for Christmas!
Date published: 2017-10-22
Rated 5 out of 5
by
Country Gal
from
Best kitchenaid attachment ever!!
Big gardeners and love to can homemade tomatoe sauce with homegrown produce. This attachment is a god send. Does an absolutely awesome job in separating the skin and seeds from the juice and pulp. Anyone who has done this the old fashion way with a hand crank strainer will appreciate the ease of using the kitchenaid attachment! This recommendation is also the opinion of my siblings who also have purchased and use for making tomatoe juice. Highly recommend!
Date published: 2017-09-13
Rated 1 out of 5
by
Ellen the caterer
from
BIG Disappointment
I admire Kitchenaid for the quality it has brought towork in the kitchen. I have bought and used with great pleasure numerous standmixers, blenders, attachments, etc. So, I received my fruit/vegetable strainer set today. i tried to puree apples. BIG DISAPPOINTMENT:(( Design is very confusing. You either need 2 person to hold or, you have to mess up your kitchen. Cleaning the cone took me soo long, I even wanted to throw it in the bin. Today I keep it since I paid big money, but never never never will use again. Big NO.
Date published: 2017-08-30
Rated 5 out of 5
by
homemaker
from
great invention.
I use this attachment to make homemade tomato soup. Saves so much time straining by hand and it gets a lot more juice. Also the meat grinding attachment is great for grinding eggs for eggsalad, ham or bolgna to make sandwich spread, and use it every Thanksgiving to grind my onions, celery and gizzards for dressing. Absolutely love it.
Date published: 2017-06-23
Rated 5 out of 5
by
msdldavies
from
What a time saver!
I can (process) 3 large boxes of Roma tomatoes every fall to make my own homemade spaghetti sauce. I have to say, before I purchased this attachment, I would spend literally HOURS boiling, peeling, coring and seeding the tomatoes and that was even before I did the canning. It was probably a 24 hour process, literally, just to prep them. Now, it takes seriously about 3 hours to prep with this attachment, it does all the work, all I have to do is quarter the tomatoes. I also made applesauce for the first time this fall using a bushel. I cooked the apples, seeds, core and skin (just quartered them) and then ran them through the fruit strainer and it removed everything and I was left with a delicious batch of applesauce. Would highly recommend this attachment. For those that complain about making baby food, I wonder if they were cooking the baby food prior to processing through the attachment?
Date published: 2016-12-25
Rated 3 out of 5
by
Vannie
from
Bring back the sieve/colander
I do not have this attachment but inherited the older sieve/colander attachment from my mother that you discontinued in the '80's. It does what this does it sounds like much better. I can make massive quantities of applesauce quickly. It's like a hand-crank food mill but attaches to the kitchenaid. I love it and my kids borrow it. I've done berries and tomatoes on it. Please bring it back!
Date published: 2016-11-19
Rated 4 out of 5
by
Bouncinbetty Hot Sauce
from
1987 K5SS
I bought a K5SS in 1987 with all the attachments. Since 1990 I have used the fruit strainer to separate the liquid and pulp from the skin and seeds on about 90 to 120 gallons of hot sauce per year. I am getting ready to order another fruit strainer set, my 3rd. It would be really nice to be able to special order parts of the strainer assembly, I have only used the metal meat cutters twice. A couple of observations the material used is of the highest quality, the design however could use some updating. The hopper size is way too small for all but the smallest jobs. This is my biggest beef as I usually process 5 to 15 gallons at a time. It would also be nice to have the option of ordering different size screens(available from other makers) to fit around the auger. I am going to get my machine serviced this year for the first time. Thanks for a great product. I use a Kitchen Aide Food Processor to grind the chiles before they go into the barrels Gary.
Date published: 2016-10-04
Rated 5 out of 5
by
Gwen
from
Strainer Attachment
Love the strainer attachment for doing tomato's and peaches for peach jam. I would LOVE it if you would come out with BERRY SCREEN attachment as we make massive amounts of seedless Black Raspberry and Red Raspberry jam. We have to use Victorio handcrank strainer that takes forever.
Date published: 2016-09-20
Demos & Guides
guides
Use & Care Guide
Comprehensive information about your new appliance - from getting started to cleaning and maintenance.