Pro Line® Series 2-Slice Automatic Toaster
Pro Line Series 2-Slice Automatic Toaster is rated out of 5 by 9.
Meet our most advanced 2-slice toaster ever. The toaster is equipped with a host of smart features for effortless toasting, like our exclusive Keep Warm function, which automatically keeps toast warm even if you're not there.
Candy Apple Red - KMT2203CA
Features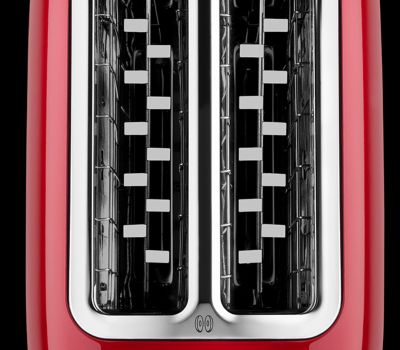 2 Extra-Wide and Long Slots
To easily toast bread, bagels and English muffins up to 1 1/8" thick.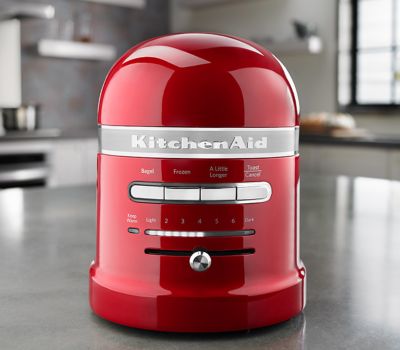 Automatic Lift & Lower
Lowers bread into the self-centering racks upon sensing bread in a slot, then lifts once it has reached the selected shade.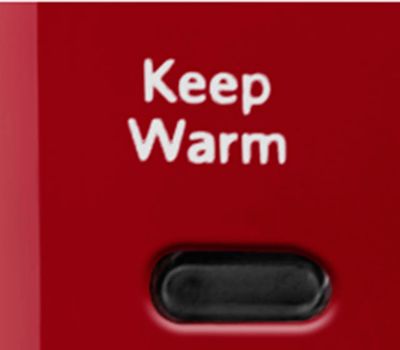 Auto Keep Warm
Initiates when toast hasn't been removed from the toaster within 45 seconds, and automatically lowers to keep warm, for up to three minutes.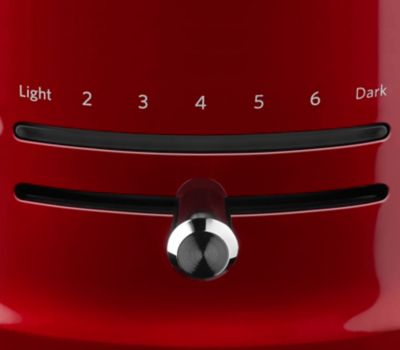 7 Shade Settings
To choose precisely how light or dark you want your toast.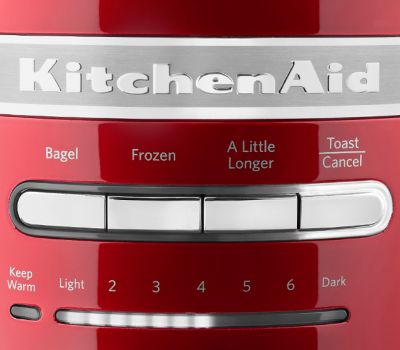 4 Toasting Functions
Including bagel, frozen and "A Little Longer" function for your perfect bagel, bread and more.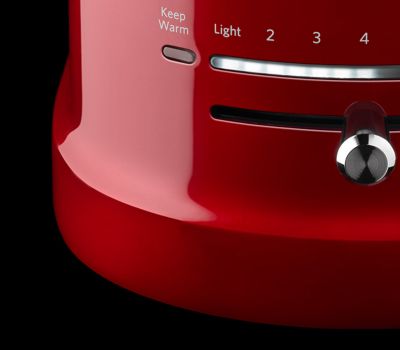 Durable Sturdy Design
With an aluminum die cast body and premium chrome accents.
Specifications
Configuration and Overview
Number of Shade Settings
7
Show More Specifications
Reviews
Rated 5 out of 5
by
Gooch
from
Great Everything
I have had mine almost 2 years. I love everything about it especially toasting buns and bagels
Date published: 2018-04-06
Rated 5 out of 5
by
dsalem
from
It's Great what a fun toaster
Really love KitchenAid products. I have the Toaster. Nespresso machine and the Soda Stream and my larger appliances are all by Kitchen Aid. Very classy and well made products
Date published: 2018-04-03
Rated 5 out of 5
by
Happy in Ohio
from
Love this toaster!
This toaster is wonderful!...It makes the best toast we've ever had....My husband loves it...He said it's the first toaster to make bread "toasted" all the way through....not just toasted on the outside and soft on the inside....It is beautiful to look at...I got medallion silver to match our mixer...We love the all the features and they do just what they say they will!
Date published: 2018-03-30
Rated 5 out of 5
by
Betty Boop NM
from
Best toaster EVER!
I love that the toast will go back down with the warmer option. Great idea!! :-)
Date published: 2018-02-23
Rated 5 out of 5
by
blong
from
Wow
If you are looking for a toaster that wows you this is the one. I love this toaster, it is made of metal not plastic like most are. the toaster can truly mad you the preface toast. you set your setting to how dark you want and it does the rest. place your bread in the toaster & it takes the bread for a ride just watch. if you leave and the toast is done, no worries it automatically sends the toast back down into the toaster to keep it warm. Simple fantastic. I never would have thought that some one would build such a wonderful toaster like this one. you have to see it to believe it.
Date published: 2018-02-11
Rated 5 out of 5
by
Jazzy 598
from
Slick Cherry Red Toaster
Slick and innovative. The automatic and warming feature are great. Easy to keep clean and love the cherry red color.
Date published: 2018-01-29
Rated 4 out of 5
by
Ana R.
from
beautiful design but.....
I am spending $250 in a toaster in frosted pearl to match my new kitchen with white cabinets and marble backsplash and countertops. I am so disappointed the wire and plug for the toaster is so thick and black. Whoever works on those designs leaves serious flaws. Even those cheap white toasters from Walmart have white plugs and wires to match...
Date published: 2017-12-08
Rated 2 out of 5
by
Doug W
from
Automatic features stopped working within1 year
I loved this toaster when I got it, but the automatic features stopped working. Now it's less than a regular manual toaster.
Date published: 2017-09-13
Rated 5 out of 5
by
hank
from
ease of use
i love it
Date published: 2017-09-12