Pro Line® Series 16-Cup Food Processor with Die Cast Metal Base and Commercial-Style Dicing Kit
Pro Line Series 16-Cup Food Processor with Die Cast Metal Base and Commercial-Style Dicing Kit is rated out of 5 by 30.
Slice, dice, shred, knead, chop and more. This Pro Line® Series 16-Cup Food Processor is our largest capacity and features the first, residential, hands-free, commercial-style dicing kit. It also features the exclusive Exactslice™ System with optimized speeds and an external adjustable slicing lever. The base is die cast metal for added stability and easy cleaning.
Medallion Silver - KFP1642MS
Features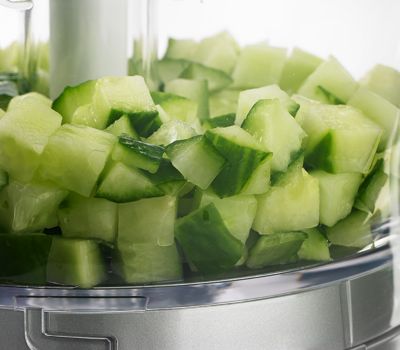 Industry's First Hands-Free Commercial-Style Dicing Kit
Slices then dices soft and hard fruits and vegetables.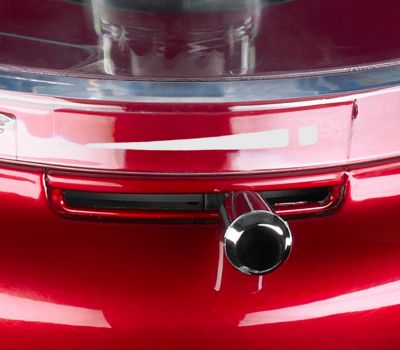 ExactSlice™ System
The ExactSlice™ System features optimized speeds, and an externally adjustable lever that allows you to go from thick to thin with one slide of the external lever.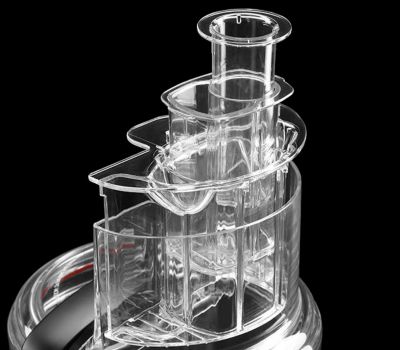 Exclusive 3-in-1 Ultra Wide Mouth™ Feed Tube
Allows for horizontal and vertical slicing and accommodates food of all shapes and sizes, including larger items like tomatoes, cucumbers and potatoes.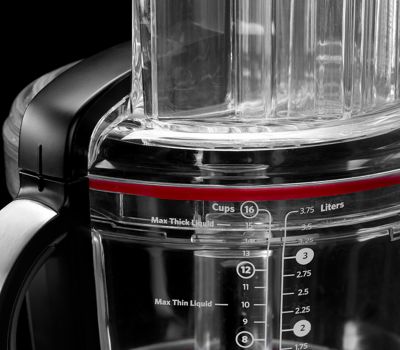 16-Cup Work Bowl with UltraTight™ Seal
To process large batches. The bowl features a specially designed locking system with leak-resistant ring that allows you to fill the bowl to capacity.

Model KFP1642 includes
(1) 16-Cup Work Bowl, (1) 10-Cup Work Bowl, (1) 4-Cup Work Bowl with Multipurpose Blade, (1) Dicing Kit, (1) Adjustable Slicing Disc, (1) Reversible Shredding Disc, (1) Multipurpose Blade, (1) Dough Blade, (1) Spatula, (1) Storage Case
Specifications
Includes
Accessories
4 Cup Mini Bowl w/ Mini Blade, Dough Blade, External Adjustable Slicing Disc, Mulitpurpose Blade, Reversible Shredding Disc, Spatula, Storage Case
Accessories Included|Work Bowl (Cups)
16
Features
Feed Tube Type
Wide Mouth
General
Power Cord Length (ft.)
3.0
Show More Specifications
Reviews
Rated 3 out of 5
by
Jannakp
from
Food Processor
I bought this when they first came out. A blade broke and Kitchen Aid handled that issue very quick and professionally. Love the machine, although I find the dicing aspect difficult to use. Now, a piece inside the black handle on the lid is broken and finding parts on your website is impossible. I guess the high price equates to not needing repairs!
Date published: 2018-04-24
Rated 5 out of 5
by
Fango
from
Excellent, regardless of other reviews!
I got this because I wanted the biggest, baddest processor I could find, to handle the huge amounts of produce that I process and can all year. Power and durability was my first concern, and the big 16 cup capacity was a nice bonus. I am convinced that there is NO other option with anywhere near the smooth, quiet power. I am posting this review due to the many other ridiculous negative reviews by what must be incompetent users. I have many razor sharp kitchen knives that I am very proficient with, whether butchering, boning, trimming, slicing, dicing... I also dislike gadgets. Two days ago, I first used the adjustable slicer attachment to make a massive salad including rainbow carrots, radishes, turnips, gold and red beets, cucumbers, brussels sprouts and so much more. Hard or soft, small or large, this machine handled everything perfectly, and so much faster than even I could by hand. Clean-up is a breeze no matter what else you may read in other reviews. My wife loves this for pastry dough, which she says turns out better than with our stand mixer. She also says clean-up is quick and easy. I have only used the dicer for some zuccini, and that only so I could comment on it here. It worked just fine, although I find the small size (8 mm) to be impractical for most applications I have. On this subject I would defer to the many positive video reviews on YouTube. My only possible criticism would be initial cost, and two items not included that I would definitely use (parmesan disk and egg whisk). $600 is a large investment that many may find hard to justify. Whether it's in the kitchen, shop or jobsite, my tools work hard, and quality costs. I'd rather pay upfront rather than replacement. If you are like us, this is a great investment. If you don't do much processing, perhaps it's not. Either way, this is a high quality, high power, smooth working appliance, and that's a fact, have no doubt!
Date published: 2018-03-06
Rated 2 out of 5
by
Pier
from
Broken blade
I had to blade 1 cup raw almonds, ¾ cup raw hazelnuts, 2 Tbs all-purpose flour, 60 gr dark chocolate and 1 ¾ sugar and suddenly I hear a boom and the blade just broke!
Date published: 2018-03-01
Rated 3 out of 5
by
BravoBaker
from
I almost love it
I got this food processor about 1 month ago, it dices quickly, cleanly with not too many issues, shreds cheese well, purrees great, slices efficiently, and kneads dough to my immense satisfaction, however there is one flaw that concerns me, the dial that operates the pulse/on functions always felt a little sticky. Over the month that I've used this the dial has gotten stiffer, when I pulse instead of flinging back the dial stays stuck for a few seconds. When you move the dial to on it squeaks a lot and feels stiff. I really like this food processor but I am concerned, since it is so stiff to turn the dial I am scared that I will force it and that it will break. I own several kitchenaid products and love the pro line series, however I also had a problem with my mixer, its upsetting that given how expensive the pro line products are. I want to recommend this food processor but the problem with the dial is concerning.
Date published: 2018-02-01
Rated 1 out of 5
by
Paxson
from
Big and powerful, visually appealing. Not worth it
Haven't used as much as we thought we would, it is just so heavy and we don't want to leave it up on the counter all the time. Just used it for the second time yesterday (in over a year). Had just as much trouble with the dicing kit as the first time. It is confusing and difficult to assemble. After processing 2 onions, it was jammed up. It took a lot of hand strength (and fear of cutting myself) to open up the dicer assembly, then a ton of time to clean it up. I decide to do the rest of my chopping by hand. Then when I was washing it up, I realized the center part of the lid had a little metal piece fall off, the area that it was attached to melted. I've seen other reviews with issues on melting. Also, the parts holder should have a more detailed diagram...it is not easy to get everything in there and actually close the lid. "Pro Line" equipment should not be this time consuming to prepare to use, to use, and to clean up. Actually, it should be the opposite. I have a Vitamix that I also spent close to $600 on and I can pull that out, use it, wash it and put it away in no time. Not this KitchenAid Pro Line food processor. I would rather do everything by hand. It might take longer, but isn't nearly as stressful and aggrevating. I know KitchenAid has great support and warranty, but it requires a receipt and buying this online...I don't know if I will be able to find the receipt.
Date published: 2017-12-23
Rated 1 out of 5
by
Rick S
from
Horrible dicing kit will rune whole machine
Big and very expensive which is fine except the best feature doesn't work. The dicing kit melts the plastic on the blade at center shaft. This has happened twice. Not worth losing a whole shelf for this large machine and accessories just to have it melt down. Easier and faster to chop by hand. I do love the stand mixer.
Date published: 2017-12-23
Rated 2 out of 5
by
Susan31161
from
Difficult to use
I received this processor as a gift from my husband. I love to cook and he was so excited to replace my 30 year old processor with this professional processor. The good news is that the processor is so quiet and so fast. I really like the outcome. But . . . the blade is so difficult to remove. It gets stuck and I literally have to pull it from the base with all the strength I can muster while holding down the base. It's equally as hard to get on. Very frustrating. And now the shaft on the blade is broken and I have to shell out $ to buy a replacement. Too bad because I really want to love this processor. I'm giving it an average of 3 for ease of use because everything with exception to removing the blade shaft is a 5. Ease of use removing and replacing the blade shaft is less than a 1. Same for features, innovation and performance. If it weren't for that dang blade I would give it a 5 across the board.
Date published: 2017-11-29
Rated 4 out of 5
by
Chefbora
from
Love the versatility!
I love my KitchenAid pro, my only complaint is that for the money it did not come with all the blades it stores in the container. And some are very important, I called to see what they could do for me and basically it was nothing.So for me who uses all KitchenAid small appliances this was the first time I was disappointed in KitchenAid.My other food processor lasted 16 years, and believe me when I say it got a workout, but when I purchased that one it was missing a blade and they sent it to me no charge. So be ready to pay a lot more than just the price of the unit.
Date published: 2017-11-02
Rated 1 out of 5
by
Bear
from
center turning shaft twisted
Bought this a year ago and was very excited about dicing feature. Worked fairly well. If I did too much would pop out the grate and I would just push it back in. As I've used it the attachment had a more difficult time pushing onto the center shaft and removing. Hard to use,
Date published: 2017-10-16
Rated 1 out of 5
by
Christy
from
Very Disappointed
I have had this machine for over a year and found that it poorly performs for slicing (doesn't evenly slice), dicing (does not work at all, jams and inconsistent) and blending (my dips end up grainy regardless of blending time). The 4 cup processing bowl leak and extra bowl leak into the base work, requiring me to wash every piece of the equipment with every use. I strongly recommend not purchasing this expensive piece of equipment!
Date published: 2017-08-12