6-Quart Slow Cooker with Solid Glass Lid
6-Quart Slow Cooker with Solid Glass Lid is rated out of 5 by 329.
Make everything from classic weeknight dinners to festive favorites, easily and cooked to perfection, with features like 24-hour programming, a digital display, automatic keep warm mode and more.
Stainless Steel - KSC6223SS
Features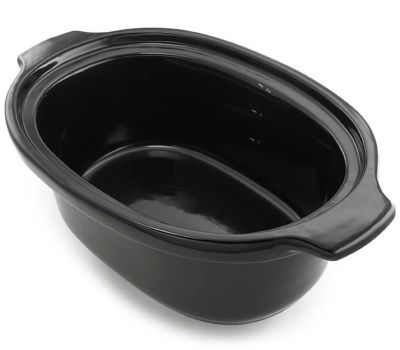 6-Quart Removable, Oval-Shaped Ceramic Vessel
Perfect for small and large recipes, from soups to roasts.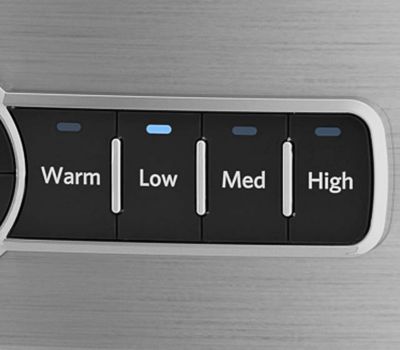 4 Temperature Settings (Low, Medium, High, Keep Warm)
For cooking everything from soups, roasts, stews and so much more. After the programmed cooking time elapses, it automatically defaults to Keep Warm Mode for up to 4 hours.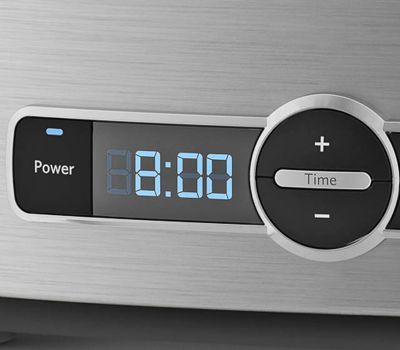 24-Hour Programmability
Program the slow cooker for a specific cooking time up to 24 hours in 30-minute increments. After the time ends, the slow cooker automatically goes into keep warm mode for up to four hours.
Specifications
Features
Number of Temperature Settings
4
Temperatures
High, Keep Warm, Low, Medium
Electronic Temperature Sensor
Yes
Food Temperature Alert
No
Show More Specifications
Reviews
Rated 1 out of 5
by
grneys
from
Disappointed
I love Kitchenaid products and I just knew this crock pot would not disappoint. I was very wrong. I have tried several dishes in this crock pot and it is always the same. They will never fully cook everything is always undercooked.
Date published: 2018-04-21
Rated 2 out of 5
by
Barentru
from
I guess It's OK, But ...
I finally had to abandon my 7-quart KitchenAid Slow Cooker which I had used for years and which worked perfectly because the "crock" insert developed a leak and for some unfathomable reason KitchenAid no longer provides parts for slow cookers. So I had to buy this one. The countdown timer is a real pain – does anybody ever cook something for twenty-four hours? Previously the maximum time was nine hours, so it was pretty quick to press the minus tab to get the timer to the desired time. Now you have to count down from twenty-four hours. Why??? Also, this model has three temperatures which is a good thing because the low setting doesn't seem to cook as "fast" as the low setting on my previous slow cooker. It's very attractive to look at and I'm glad I don't have to deal with the silicone band around the lid, but I really miss my old slow cooker. This one makes a barely audible beep when the cooking time has finished – first time I used it I didn't hear the end-of-cycle beep and I was less than three feet away from the unit. And I miss KitchenAid's customer service which used to be really helpful. No more. The person I was chatting with online about a replacement crock actually hung up on me!
Date published: 2018-04-18
Rated 4 out of 5
by
Kbkeys
from
Nice improvement
Replaced an earlier model that crapped out. This one has better features.
Date published: 2018-04-16
Rated 5 out of 5
by
jalva
from
Very stylish and easy to use!
This is the best slow cooker ever and its very stylish and beautiful to bring to office!
Date published: 2018-04-16
Rated 5 out of 5
by
MJune
from
Best Crock
I purchased this upon recommendation of America's Test Kitchen and so glad I did. The best crock slow cooker of all!
Date published: 2018-04-12
Rated 5 out of 5
by
meredithalum
from
THE BEST
Other cooking bloggers/reviewers said that the Kitchen Aid is one of the best and they were right! Cooks evenly and stays the same temp for the duration of the cooking time! THANK YOU!
Date published: 2018-04-06
Rated 5 out of 5
by
golfncat
from
Great features
We have really enjoyed cooking with it. I will admit it took getting used to this one after using a 20-year-old crock pot, but we really like the new one.
Date published: 2018-04-06
Rated 5 out of 5
by
Leeeleee
from
6-Quart slow cooker
Big enough to cook one meal that lasts two days for two people -- so 4 meals all together. I don't like to cook at all, so this is a dream come true for me. Bonus points: it"s easy to use!
Date published: 2018-04-03
Rated 4 out of 5
by
chief buddy
from
Make sure you test it
I had to go through 2 of these to get one that worked properly. The electronics were not working properly on the first. I wouldn't have noticed it except that I made sure that I tested it with several thermometers and the temperatures never got up to where they should have been. KitchenAid customer service was excellent and sent a new one out and I had it in about 9 or 10 days. This one works perfect. So make sure you test yours if you do get one. Having said that, the slow cooker is great. It Cooks at lower temperatures than what you might be used to with a typical slow cooker, which is a good thing. I would say the medium setting on this unit is closer to the low setting on most other slow cookers and the high setting is closer to medium so keep that in mind and do some testing. Don't freak out like some people because the unit Cooks lower and slower. Just work with it and it will cook perfectly, better than most. Experiment a little and I think you will be Satisfied. It's a really good-looking unit as well. Have made bone broth, vegetable stock, ribs so far and has worked excellent. I recommend this product but I also recommend you test it when you get it. According to KitchenAid customer service, the low setting should cook right around 203 degrees, the medium setting should cook right around 208 degrees and the high setting should cook around 212 degrees, with the warm setting it should be right around 165 degrees. The interior of the unit may not be exactly at these temperatures as the heating elements will shut off when they reach the proper temperature, but inside the cooker it should be very close to these temps according to KitchenAid customer service. I let my chicken bone broth go well over 24 hours on medium and it turned out excellent. Same with the vegetable stock.
Date published: 2018-03-30
Rated 5 out of 5
by
grandmajackie
from
I can't live without it!
I absolutely love my slow cooker. My grandchildren get a slow cooked meal every Sunday.
Date published: 2018-03-28