3-Speed Hand Blender
3-Speed Hand Blender is rated out of 5 by 439.
There are so many things you can do with this 3-Speed Hand Blender, every day. Blend up your favorite smoothie; Puree a savory harvest soup; Crush ice for a light light refreshing beverage; Chop up a variety fruits, vegetables, nuts and more; Whip creams to fluffy peaks.
Contour Silver - KHB2351CU
Features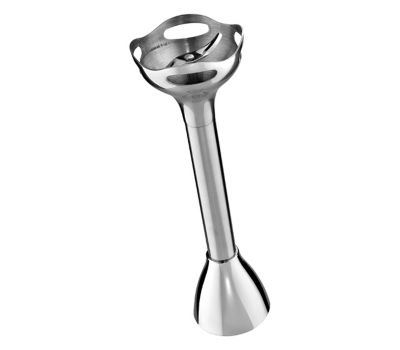 Removable 8" Blending Arm with Fixed S-Blade
To quickly blend ingredients for smoothies, milk shakes, soups, hummus and so much more.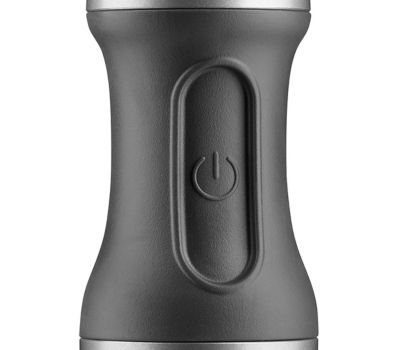 Soft Grip Handle
Offers a non-slip and comfortable grip when continuously blending ingredients.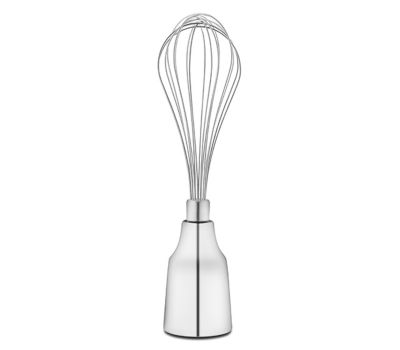 Whisk Attachment
For whipping egg whites to fluffy peaks or emulsifying vinaigrettes and mayonnaise.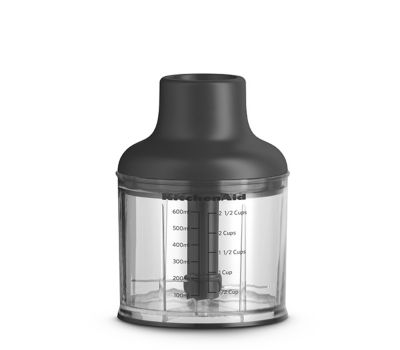 2 1/2-Cup Chopper Attachment
For chopping herbs, nuts, cheeses and more. BPA-Free.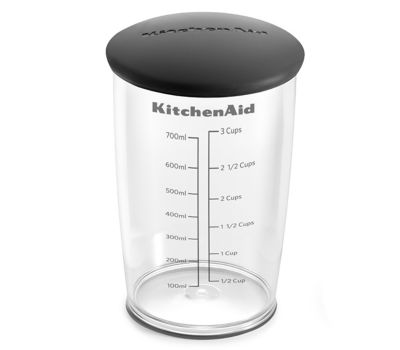 3-Cup BPA-Free Blending Jar with Lid
Great for individual blending jobs, to serve or store for later.

Model KHB2351 includes
(1) 8" Blending arm with fixed s-blade, (1) Whisk attachment, (1) 2.5 cup chopper attachment with lid, (1) 3 cup blending jar with lid, (1) Storage bag
Reviews
Rated 5 out of 5
by
Guidd
from
New but great
This is very new and I haven't used much. Very impressed so far.
Date published: 2018-04-06
Rated 5 out of 5
by
NDNancy
from
Works great!!
I had one of these years ago and gave it to my son. I finally bought a replacement hand blender and I love it! It works great and is so easy to use. I love the extra attachments too.
Date published: 2018-04-03
Rated 5 out of 5
by
SP39
from
We love our upgrade!
We bought this around the holidays as a replacement to a very basic hand blender. We are so happy with our upgrade! Sleek, powerful, and easy to clean. The shape also reduces splatter while blending. Would definitely buy again.
Date published: 2018-03-22
Rated 5 out of 5
by
shirty
from
Outstanding hand blender!
After considerable research because my two previous hand blenders broke, I arrived at this choice. What a great product. It handles my vegetable soups and chops nuts equally well. The motor is quiet, efficient, strong and powers through all I set it to.This is a praise-worthy appliance I can happily recommend to anyone for home use.
Date published: 2018-02-28
Rated 5 out of 5
by
Rosamunde
from
Very satisfied
I use this handy blender for everything. Including whipped cream, pureeing my soups and sauces, this blender is kept handily on my kitchen counter, simply it is used almost daily.
Date published: 2018-02-27
Rated 5 out of 5
by
Chef Edward
from
Fine immersion blender.
Have been using immersion blenders for many years. My Braun lasted fifteen years. This product seems equally good. I like the heavier connection fittings; it is easy to snap various components together. There is ample power. Verry pleased with my new immersion blender.
Date published: 2018-02-22
Rated 3 out of 5
by
Seitzinger
from
Lid holds water
I loved using the tiny food processor attachment. It was easy to chop up anything quick. The lid to the attachment holds water. At first I thought it was my fault cause I washed it but then I read the reviews and realized it wasn't my fault. My warranty has expired so now to buy a new lid it's going to cost me $30-$40. I can't decide if I should by a new lid or just go with a different brand that won't break. Very upset that kitchen aid made something so cheap.
Date published: 2018-02-21
Rated 4 out of 5
by
Birddles
from
handy device
This hand blender has a lot of great features. It is quicker to pull out and use than my mini-prep, and can do a lot more. cleaning is simple with almost everything going in the dishwasher.
Date published: 2018-02-15
Rated 5 out of 5
by
Charlee
from
Love it!
This is great for making sauces smooth! Haven't tried the food processor cup yet.
Date published: 2018-02-13
Rated 5 out of 5
by
FoodDoctor
from
Great versatile immersion blender
Have used it both in the immersion mode to make soup and used the chopper attachment to chop almonds to make toffee. Good ergonomics and balance.
Date published: 2018-02-06