1.7 L Electric Kettle
1.7 L Electric Kettle is rated out of 5 by 171.
Quickly and quietly boil water in minutes with this electric kettle. And the variable temperature control allows you to select the exact temperature you desire to help you achieve optimal results.
Empire Red - KEK1722ER
Features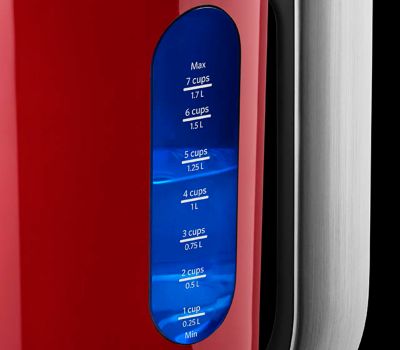 1.7 L Capacity
With the option to heat a minimum of 250ml of water.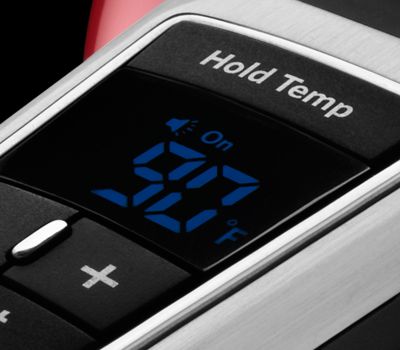 Variable Temperature Settings
To easily adjust from 122° F to 212° F for the temperature you desire.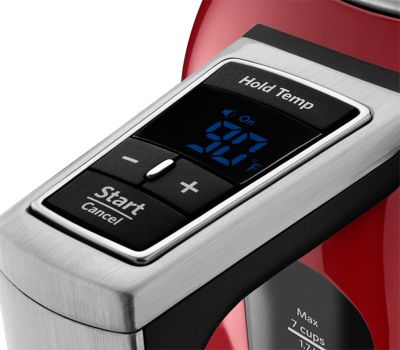 Digital Temperature Display
Located on the top of the handle, displays selected settings.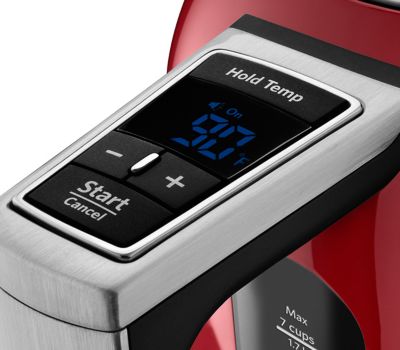 30 Minute Hold Temp Function
Maintains the temperature while on the base.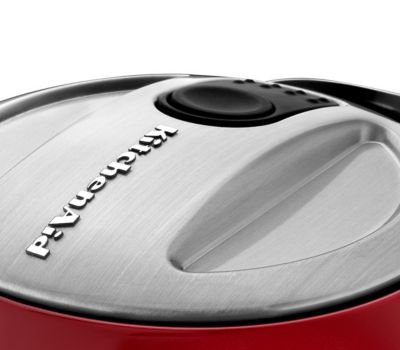 Lid Release Button
To easily fill the kettle with just the right amount of water.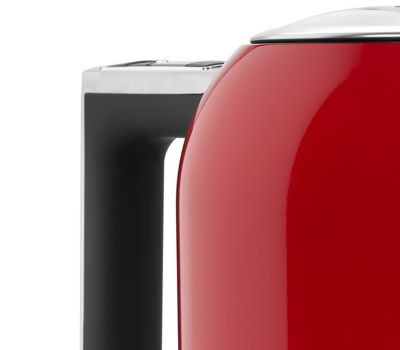 Soft Grip Handle
Designed for comfort and secure handling.
Specifications
Show More Specifications
Reviews
Rated 5 out of 5
by
telfryn
from
Best Kettle Ever!
Bought this kettle four years ago. Just received a surprise replacement due to a recall. Whilst surprised, I was delighted to receive the free upgrade, which is clearly even better. Fast boil, great set up.
Date published: 2018-04-13
Rated 5 out of 5
by
Nancy 25
from
Great tea kettle!
I love this kettle! It not only looks great on my countertop, but it also is so easy to use! I love the fact that I can control the temperature of the water for the perfect cup of tea!
Date published: 2018-04-13
Rated 5 out of 5
by
Sabcia
from
Great
I am so happy with that kettle! It boiled the water so quick.
Date published: 2018-04-12
Rated 5 out of 5
by
Nitz
from
Tea time
I've had this for a few years and recently learned it was being recalled for a possible faulty handle. I was so happy with the replacement process. I had a brand new tea kettle within a week. Gkad they had a replacement. I use this daily and love it. It heats up so fast
Date published: 2018-04-12
Rated 5 out of 5
by
deeblue
from
Love it!
I have it for over a year and just got the newer model and love it even more. Quiet and heats up quickly.
Date published: 2018-04-12
Rated 5 out of 5
by
BabySal
from
"Saved the life of many tea kettles"
Before I purchased this appliance, I had burned up more tea kettles on the stove than I can remember. Zero since this appliance arrived. Convenient, quick & has keep warm setting I have many KitchenAid appliances, both big & small. I am extremely happy with them all.
Date published: 2018-04-12
Rated 3 out of 5
by
Kellster
from
Third kettle's a charm
Our recently recalled kettle worked great for 4 years. Replacement one had a faulty top (wouldn't open) and then fritzed out all together. Replacement for the replacement seems ok so far. Kitchenaid can't seem to get it together in regards to sending the faulty ones back.
Date published: 2018-04-07
Rated 5 out of 5
by
Beth down the road
from
Perfect Kettle
I have two, one in the house and the other in the RV and use them both routinely. I love them and would be lost without them
Date published: 2018-04-06
Rated 5 out of 5
by
TopazSue
from
Makes my morning tea beautifully!
I used a teakettle for years to make tea and after seeing a friend's electric teakettle, I made the switch. Hers is a different brand, but after reading the reviews, I chose the KitchenAid. Great decision! I have the stainless steel. Looks great in the kitchen, easy to keep clean and working like a charm. Hot water of variable temperatures very quickly.
Date published: 2018-04-04
Rated 5 out of 5
by
BetteW
from
Great on form and function
This is a beautiful looking kettle, and works very efficiently. It is much better than earlier versions and all other electric kettles we have ever used over the past 40 years.
Date published: 2018-03-27