1.5 L Pro Line® Series Electric Kettle
1.5 L Pro Line Series Electric Kettle is rated out of 5 by 15.
The Pro Line® Series Electric Kettle is sure to make a statement on your counter, while it boils water quietly and quickly, at just the temperature you need, with the variable temperature control. And your water stays hotter, longer, with the dual wall construction.
Sugar Pearl Silver - KEK1522SR
Features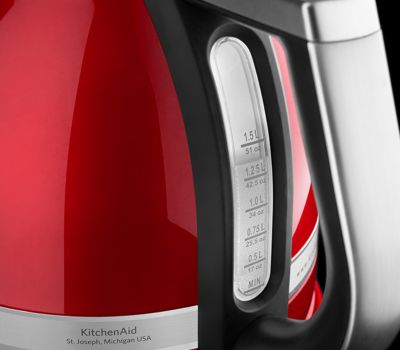 Water Level Gauge
Fill and instantly gauge the desired water for heating.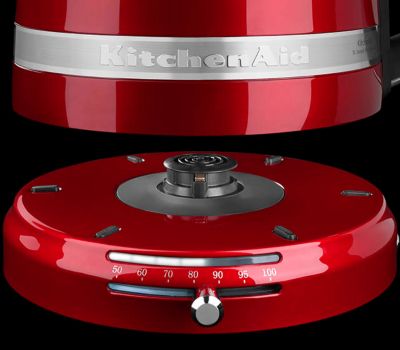 Removable Base
To easily transfer your kettle once the water is heated to your desired temperature.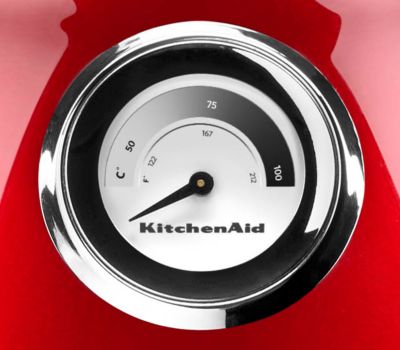 Temperature Control and Gauge
Simply slide the lever on the base to your desired temperature setting between 50 and 100 degrees Celsius for precise results. The temperature gauge rises as it heats and provides a precise reading as water comes to a boil, even when removed from the base.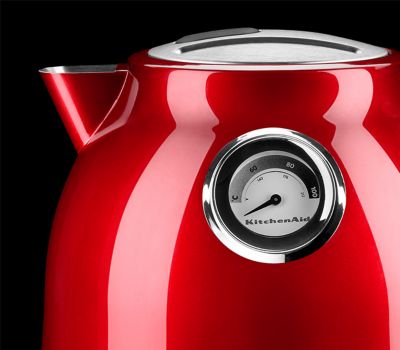 Dual Wall Construction
Provides insulation to help keep the water temperature hotter for longer, while keeping the outside of the kettle cool to the touch.
Soft Grip Handle
Designed for comfort and easy handling.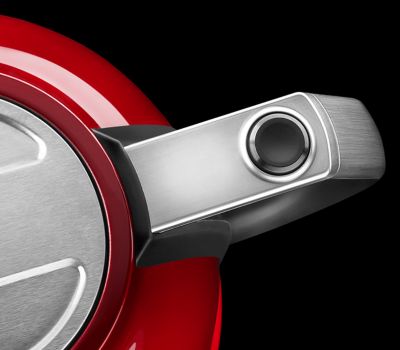 Lid Release Button
For quick and convenient filling of water.
Specifications
Show More Specifications
Reviews
Rated 5 out of 5
by
Jenncoh
from
Just perfect
I Have had this one for 4 years. When it broke, they replace it right away, and paid for shipping. Best customer service ever and best products!
Date published: 2018-04-13
Rated 5 out of 5
by
Mason 90210
from
Great variable temperature kettle.
Stylish and functional, supported by amazing customer service.
Date published: 2018-04-12
Rated 5 out of 5
by
Cook123.123
from
Love It!
KitchenAid Pro Line is a cut above the rest in quality and durability. Their customer service is unmatched.
Date published: 2018-04-05
Rated 5 out of 5
by
GeorgeW
from
Great product
Great kettle to replace stove-top kettle. Heats quickly and safely shuts off.
Date published: 2018-03-26
Rated 5 out of 5
by
Alii
from
Excellent product
I bought the kettle a few weeks ago and I love it, very happy with this purchase
Date published: 2018-03-05
Rated 4 out of 5
by
Deejei
from
Works as advertised
Boils water, as a kettle should, easy to use, keeps water temperature for about 15 minutes.
Date published: 2018-02-27
Rated 1 out of 5
by
Rodolfo
from
Easy to use but not reliable.
I bought this kettle in July 2016 and by August 2017 the kettle started to beep after a few seconds of plugging it in. In back then contacted info@kitchenaid.com by e-mail but nobody responded. As the kettle comes with 5 years warranty, could somebody from KitchenAid advise how to get an exchange? The thermostat feature is very useful, however it is not well calibrated. According to it water boils under 90C, however once you learn how to set it for your purpose, it is not a deal breaker. Design is nice, a bit bulky for a small kitchen countertop. For the top price I would have expected better quality, something that would last more. I would not recommend it as you have to invest time to get a return after around a year of use, however I love the thermostat feature.
Date published: 2018-02-19
Rated 4 out of 5
by
Sylvain!
from
Works well, easy to use
The water heats up fast. The kettle is not as bulky as I thought it was from the photos. The temperature selector is easy to use. The thermometer is clear. The look is nice. The only part that could be improved is the gauge that is inconveniently located behind the handle, which makes it hard to read. It is not a dealbreaker though.
Date published: 2018-02-06
Rated 5 out of 5
by
Jim7463
from
Amazing!
I bought this so my wife and I can heat up water for our green tea. We travel a lot and I take this into the hotels with us. I have it for about 2 years now and it works perfectly!
Date published: 2017-12-11
Rated 5 out of 5
by
ev2255
from
Best kettle ever!
This tea kettle takes the gold medal prize! I love everything about it. The thermonitor
Date published: 2017-11-16