12" Convection Digital Countertop Oven
12" Convection Digital Countertop Oven is rated out of 5 by 87.
Enjoy gourmet full-size oven performance on your kitchen counter with the KitchenAid® 12" Convection Digital Countertop Oven. Nine pre-programmed functions for exceptional cooking results, including Asado Roast that adjusts temperature for superior roasting performance and Pizza to deliver optimal crisping of crust.
Cobalt Blue - KCO275BU
Features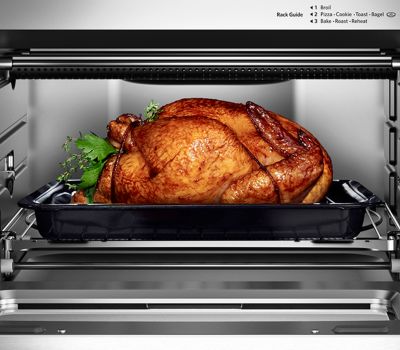 Gourmet Full-Size Oven Performance
Use your countertop oven to bake pizza, broil a side dish, keep an already cooked dish warm or toast bread.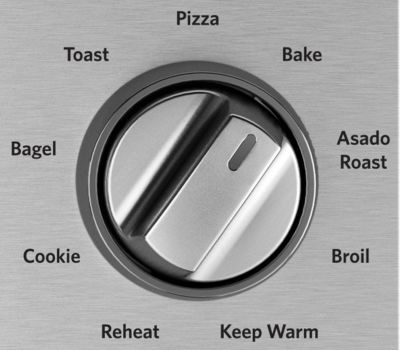 9 Pre-programmed Functions: Bake, Pizza, Asado Roast, Toast, Broil, Cookie, Bagel, Keep Warm and Reheat
Serve the perfect Beef Roast, perfectly cooked from the inside out. Enjoy crispy pizza and more with great results, broil the top of baked pasta until it's perfectly browned, keep cooked food warm or toast up to six slices of bread at once.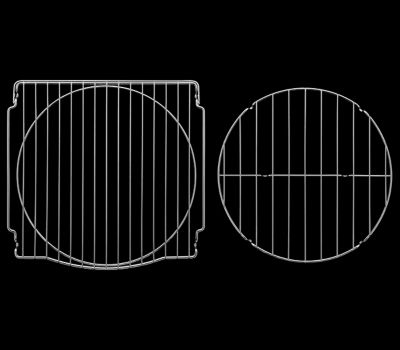 Model KCO275 Includes
One 12" non-stick multipurpose pan, (1) 12" broiling rack, (1) cooling rack, (1) non-stick drip tray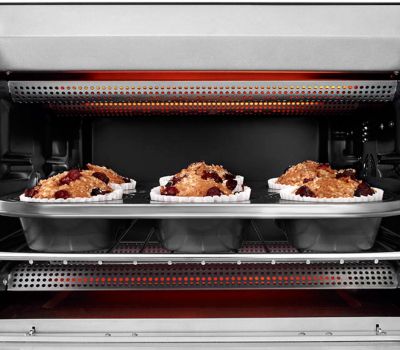 12" Capacity
Offers enough room to cook 2-12" pizzas, or cornish hens. The oven cavity also features a non-stick coating for easy cleaning.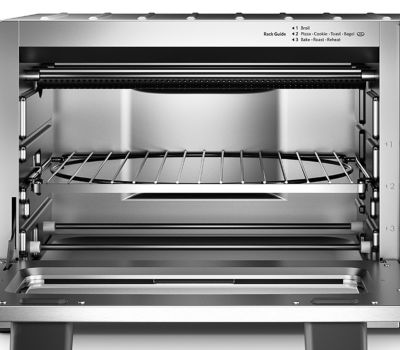 Interior CeramaShield™ Coating
Non-stick, scratch resistant and PTFE/PFOA free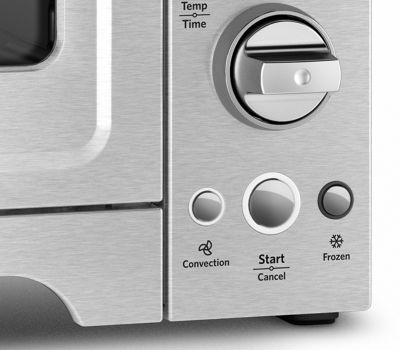 Convection Mode
Evenly bakes food and provides faster results.

120-Minute Timer
Can be set to remind you when a dish is finished and offers plenty of time for the requirements of most recipes.
Specifications
Configuration and Overview
Features
Power On Indicator Light
Yes
Show More Specifications
Reviews
Rated 5 out of 5
by
Deno
from
Very user friendly and intuitive
Used one in a rented condo while on vacation and liked it so much that we bought one upon returning home.
Date published: 2018-04-11
Rated 4 out of 5
by
Fredderf
from
Nice oven
I wish it was larger but like the various settings.
Date published: 2018-04-05
Rated 5 out of 5
by
Piff
from
Nice size oven
Oven is big enough to handle 99 percent of the food I prepare.
Date published: 2018-04-02
Rated 5 out of 5
by
KitchenAid Sheildmaiden
from
So far we love it
Remodeling our kitchen, we had to take out the cook top and double ovens from 1970's so we could replace with a new range. Needed Gas Pipe moved a little and electrical outlets put in as the other appliances were hard wired, we have been without a stove and ovens. With this Countertop Oven and an Induction plate we are still eating at home and not spending extra money in Restaurants. Now just waiting for my KitchenAid Fridge and Range to be delivered and then we will be getting a new KitchenAid Dish Washer!! I will soon have a KitchenAid Kitchen, I love their products!!!
Date published: 2018-03-20
Rated 5 out of 5
by
Karets
from
Best Countertop Oven
We've owned several Countertop Ovens in the past, including Cuisinart and Breville brands. This KitchenAid meets our needs best of all. Not only is it attractive, but it also does the job exactly the way we like it. The "workings" take a little bit to get used to, but once you've got it, all goes well.
Date published: 2018-03-13
Rated 5 out of 5
by
Terrible Terry
from
Easy to use
So pleased with my decision to buy it ! I would do the same all over again !
Date published: 2018-03-06
Rated 4 out of 5
by
Susan4526
from
Good value
I wanted a specific color and Kitchen Aid was the only manufacturer that had cobalt blue.
Date published: 2018-02-27
Rated 5 out of 5
by
JOHN28
from
LOVE THE PRE-SET FEATHERS
I LIVE ALONE SO HAVING THIS SMALL OVEN MAKES IT UNNESSARY TO HEAT UP MY 30" RANGE OVEN SAVING TIME AND MONEY. I LOVE THE PRE HEAT AND EASY TO USE TIMER. IT WOULD BE NICE TO HAVE A OVEN LIGHT AND NOT HAVE TO TURN OVEN ON AFTER PREHEAT. OVER-ALL I AM VERY PLEASED WITH THE PRODUCT..
Date published: 2018-02-19
Rated 5 out of 5
by
Ron.G1
from
Great Little Oven!
We bought it to replace one of a long line of cheapo's and we love it. It's like a small version of a full size range oven. Easy to operate and the convection function is optimum. The highest end quality oven we've ever seen. Pass on all the cheap stuff out there!
Date published: 2018-02-05
Rated 5 out of 5
by
Taffy4me
from
Fantastic
I love this oven. Perfect for everyday use and does not heat up the condo, cutting down on electric bill. I have even baked a cheese cake to perfection. Keep an eye on convection use as to not over bake favorite recipes. I saw someone about stating oven shuts off at cycle end and did not like that. I love that feature and if adjusting for my own recipes I just start over with less time . Of couse it starts with preheating but you want it to for maintaining the temp. Stainless steel sides do get warm but not like a regular toaster oven.
Date published: 2018-01-29