Professional 6500 Design™ Series 6 Quart Bowl-Lift Stand Mixer
Professional 6500 Design Series 6 Quart Bowl-Lift Stand Mixer is rated out of 5 by 238.
The KitchenAid® Professional 6500 Design™ Series 6 Quart Bowl-Lift Stand Mixer features a powerful, 1.0 HP Motor. Horsepower for our mixer motors was measured using a dynamometer, a machine laboratories routinely use to measure the mechanical power of motors. Our 1.0 horsepower (HP) motor reference reflects the horsepower rating of the motor itself and not the mixer's horsepower output to the mixer bowl. This robust motor, the backbone of our new mixer, delivers .4 HP to the bowl enabling your mixer to deliver consistent power to small and large loads with less heat build-up; resulting in years of dependable mixing. When combined with and guided by our new advanced motor control board, this is our longest lasting and most efficient motor yet. Simply put, our new, highly efficient, special purpose motor delivers the power you need when you need it.
Candy Apple Red - KSM6521XCA
Features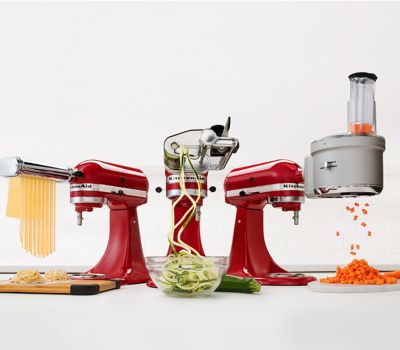 For Everything You Want To Make™
Turn your stand mixer into the culinary center of your kitchen. With over 10 different attachments, you can make everything from fresh pasta to burgers, veggie noodles, ice cream and more.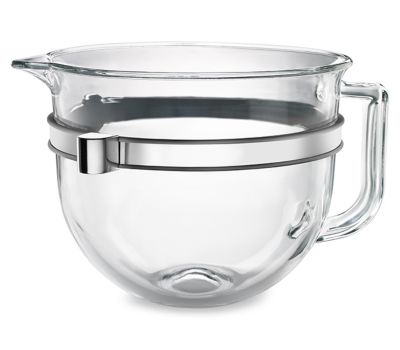 6 Quart Glass Bowl
Offers enough capacity to mix 13 dozen cookies, 8 loaves of bread or 8 pounds of mashed potatoes in a single batch.
Bowl-lift design
Provides sturdy bowl support for stability when mixing heavy ingredients or large batches. The lever smoothly raises the mixing bowl into position for efficient beater-to-bowl contact.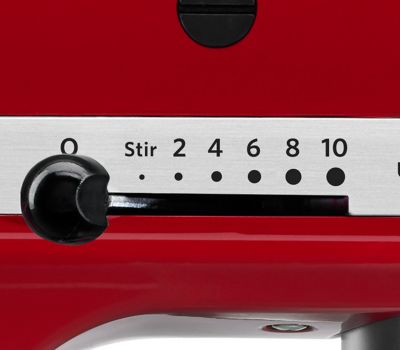 10 Speeds
Powerful enough for nearly any task or recipe, whether you're stirring wet and dry ingredients together, kneading bread dough or whipping cream.

Model KSM6521X includes
(1) F series coated flat beater, (1) F series coated PowerKnead™ spiral dough hook, (1) F series 6 wire whip
Specifications
Configuration and Overview
Wattage
1.0 hp High Efficiency DC Motor
Show More Specifications
Reviews
Rated 4 out of 5
by
Lady4str
from
Really Heavy!
Received this as a gift. It is very heavy, so a weak person should have it placed where you intend to use it. I have not had it long enough to use it much, but I am having trouble adjusting the beater to mix everything in the bottom of the bowl, esp. with the additional stainless bowl I purchased. I'm anxious to see how it mixes bread dough. And, I just purchased the pasta accessories, so that will take some practice. The glass bowl is very heavy, and I noticed that the base of the bowl looked like it had been dropped--chipped area.
Date published: 2018-04-17
Rated 5 out of 5
by
PunksMom
from
I Love My New Mixer
I received the 6000 professional about a month ago as a gift from my husband. I have had a kitchen aid KSM 90 that is about 10 years old and I loved it so now I have two so I am in seventh heaven
Date published: 2018-04-14
Rated 5 out of 5
by
hoopd261
from
Very NICE :)
I bought the Pro 6500 about a month ago and just to say I am a beginner baking cookies and muffins. I find it very easy to use. I JUST LOVE IT :)
Date published: 2018-04-11
Rated 5 out of 5
by
Sjmdietrich
from
Beautiful and powerful
I love the capacity and the power. Please add a stainless bowl!
Date published: 2018-04-10
Rated 5 out of 5
by
Vicky70
from
I Love It!!!!!!
Mixing up double batches is no longer an issue. This machine can handle it.
Date published: 2018-04-10
Rated 1 out of 5
by
Icemanp90
from
New out of the box and broken
I bought this new in 08/30/2016 from the Navy Exchange, just before moving from Guam. WE unpacked the 6Qt Bow-lift mixer and placed on the counter. My wife went to use it for the first time about a month ago. So, guess what happen….? That's right is worked for about 5 seconds and shuts off. Shut off restart and same thing runs for 5 second or there about and shuts off. Looked through the internet and everyone said the same thing unit is bad and needs to be repaired. I have been trying to get kitchen Aid service center in order to get the unit back for repair. This has been very frustrating. AS their service center times and response aren't very helpful. Not sure why though? It's not like they are going to cover the repair. Even though is didn't work right out of the box. I want everyone to be mindful of that point going forward. Check the unit as soon as you get it home. I wish, I had. Anyways this unit sucks and their customer support for repairs sucks as well. I would but it again, nor recommend it. It's really said though, I loved our old mixer from Kitchen Aid the 4Qt flip-top. We gave it to my wife's sister, when I upgrade to this unit. We just didn't have time to test it before moving. Do note I'm giving it a low rating due to, 1. It didn't work out of the Box and 2. there customer service, website, and repair service are not very helpful or customer oriented.
Date published: 2018-04-07
Rated 5 out of 5
by
Redstoney
from
Love the size!
My husband surprised me with this - something I have wanted for a long time. The first thing we made was cookies and it was a breeze! No need to stand and hold the bowl, spinning with the other hand. My daughter has used it many times as she is experimenting in the kitchen.
Date published: 2018-04-05
Rated 5 out of 5
by
Givi
from
Love it!
Never knew baking could be so fun and easy! Looks beautiful on my counters!
Date published: 2018-04-05
Rated 5 out of 5
by
Twitchy britches
from
Wonderful product!!
I bought it three weeks ago, and it's already had quite a workout. I love it.
Date published: 2018-04-03
Rated 5 out of 5
by
elgeredia
from
great features
i bought this three week ago and i am so happy that i did
Date published: 2018-04-02