Food Processor Accessory Kit (For model KSM1FPA)
Food Processor Accessory Kit (For model KSM1FPA) is rated out of 5 by 10.
Take your Food Processor (model KSM1FPA) a step further with the Food Processor Accessory Kit. The accessory kit includes a commercial style dicing kit and storage case designed to hold the dicing kit, slice, shred and julienne discs.
Other - KSMFPAEP
Features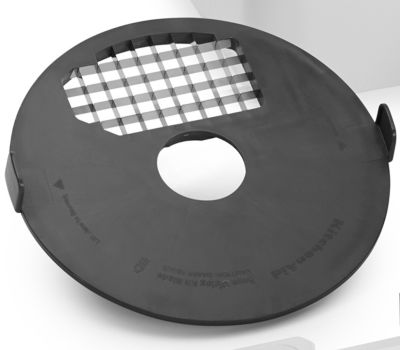 Dice 8 mm uniform cubes
A variety of hard or soft fruits, vegetables or cheeses.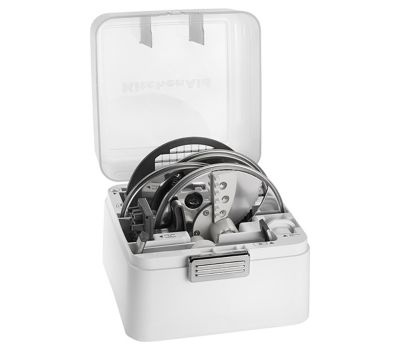 Storage Case
Designed to hold dicing kit, slice, shred and julienne discs.

Model KSMFPAEP includes
(1) Commercial style dicing kit, (1) Storage case
Specifications
Configuration and Overview
Stand Mixer Type
Bowl Lift, Tilt Head
Stand Mixer Capacity
4.5 Quart, 5 Quart, 6 Quart
Reviews
Rated 1 out of 5
by
dmuroff
from
Not worth the money
My husband bought this for me as a gift and it is not worthy of the kitchen aid name. It doesn't work like my actual stand alone (other brand) food processor. Save your money and buy a stand alone processor. So disappointed.
Date published: 2018-04-20
Rated 2 out of 5
by
SimiWi
from
First: Yeah! Then: Nee!
I bought it to make cubes. But the second time I used it all the veggies got stuck. A terrible sound appeared and I was nearly not able to open the lid. Happend with all kinds of veggies... had to stop using it and chopping it by hand.
Date published: 2018-02-21
Rated 2 out of 5
by
YK Seattle
from
Mediocre
After my 11 year old Kitchen Aid food processor's plastic was degrading and chipping away, I thought replacing it with this food processor accessory kit would be enough. I was excited that the accessory can dice, slice and grate - my hands can finally take a break. The attachment's performance with soft fruits (tomatoes, mangos) or vegetables(celery, onions, carrots or potatoes) was ok. However, it failed with dicing sweet potatoes. No matter what I did, it just gets stuck. Removing the stuck sweet potatoes was hard. Using the gadget to push down the stuck vegetables was difficult; I had to do a lot of guessing as to where the sharp grid will fit with the pushing gadget. In the end, I had to manually dice the sweet potatoes. Sigh! Some food gets into the center of the attachment, making it hard to clean. Also locking and unlocking the lid while being attached was a challenge as well.
Date published: 2017-11-03
Rated 5 out of 5
by
tink
from
Love my food processor/dicer!
I had recieved the food processor as a gift and wanted to add the dicing attachment to it to complete it. I'm so glad that I did! It dices everything I have put through it so far. The accesory box that it comes with is awesome too. It gives me a place to keep all the blades for the food processor. It was a good buy and I would definitly recommend it.
Date published: 2017-03-13
Rated 5 out of 5
by
Doreen
from
Food Processor with dicer
I love the dice and slicer Processor. I use them the most. I can dice up vegetables for the next five days and have them ready to eat in the fridge. It is great for soups and stuff where you want a lot of chopped vegetables. The dicer makes them just the right size. Everything goes in the dishwasher after for easy clean up. Thanks Kitchen aid
Date published: 2017-01-03
Rated 2 out of 5
by
Pinenut
from
Display said chops, so disappointed
Bought because it says "chop" only to discover I must buy attachments for my fp attachment. Not only that, the storage kit includes blades I just bought. Going back.
Date published: 2016-12-22
Rated 3 out of 5
by
Cooking Nurse
from
Not too happy!
I received this as a gift for my birthday in September. I was excited to get it. Upon using it I was initially happy but as tone has gone, I'm not that pleased. I love the different attachments especially the dice attachment. The reason this is not a GREAT product is it's not really a processor. As you slice, dice, and julienne your veggies the fall into a bowl. You can not combine the vegetables. So making salsa, pesto and etc is completely out of the question. You will not be able to incorporate the foods you CHOP! Kitchen Aid needs to rename this product as a chopper. It's misleading to the consumer. I'd rather use my dinky $10 food processor.
Date published: 2016-12-08
Rated 4 out of 5
by
Dayle
from
Love it, changed the way I cook
Had this for a year and am happy with it. Yes you have to prep your Veggies but I am ok cutting them to fit in tube when I get such a nice dice. I do have a problem, I lost the little white rubber toothed scraper piece needed for half the blades. How do I buy a replacement?
Date published: 2016-04-10
Rated 1 out of 5
by
Linda
from
Lot of waste
I bought this item over a year ago and am not happy with it. It leaves a lot of the vegetables unprocessed. It also slips, so carots or other harder vegetables are a ... to process. To expensive for what you get.
Date published: 2016-03-14
Rated 5 out of 5
by
Gazzajam
from
Great time saving accessory
We bought this 2 weeks ago and it has been a real treat. We have processed lots of different vegetables and hard cheese with the various attachments. Only downside is that the feed tube could be rounder, you have to cut the food quite small to feed into the tube. I assume this is so we don't overload the cutters with too large pieces of food. Also onions don't do so well on the slicer as it's difficult to feed them level to get onion rings. That being said we are very happy with the accessory and we processed a lot of food in a short amount of time.
Date published: 2015-11-26