Fruit & Vegetable Strainer Parts
Fruit & Vegetable Strainer Parts is rated out of 5 by 24.
Make homemade applesauce, jelly or baby food in minutes with the Fruit and Vegetable Strainer parts, made exclusively for the KitchenAid® Food Grinder Attachment (Model FGA, sold separately).
Other - FVSP
Features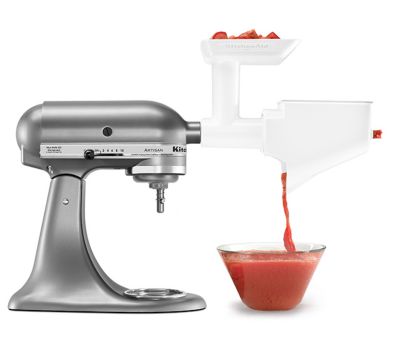 Designed for the Food Grinder Attachment
To strain or puree fruits and vegetables for jams, sauces, baby food and more (Requires model FGA, sold separately).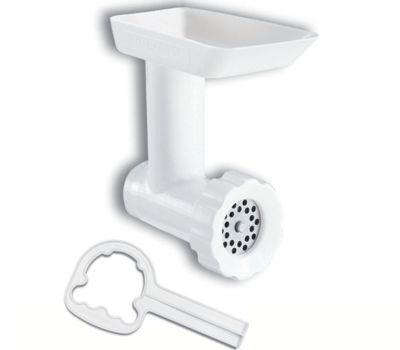 Easy to use
Simply attach to the Food Grinder Attachment (model FGA, sold separately).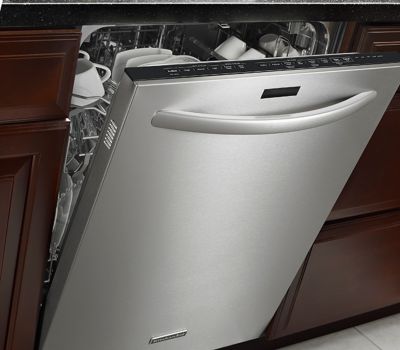 Dishwasher Safe
For quick and easy clean up.
Reviews
Rated 4 out of 5
by
Travelling Cook
from
First use, NOT for juice!
I have owned this for quite some time and never actually used it, it came as part of the package, but I finally found a use that I wouldn't have thought of - I needed a food mill or potato ricer to make Chef Joel Robuchon's puree de pomme (basically super creamy mashed potatoes). My food mill is packed away somewhere, so I put the cooked potatoes (waxy style) through the machine and it performed admirably in the role, particularly considering that's not what it's made for. The downside was, of course, that some of the potato mash did exit through the end of the strainer, which I remedied by covering that with my finger, forcing the potatoes through the strainer. I honestly do not think that I will ever use the attachment as intended (juicing) but for softer foods, it does act well as a food mill. Most of the potatoes did actually exit the straining portion and the result was quite good. Instructions were, as stated above, quite minimal, and information about food/waste exiting the end of the straining portion would have been helpful (amongst other omissions). The build quality is not bad, and it is nice to finally use more of the attachments for this versatile machine.
Date published: 2018-03-13
Rated 3 out of 5
by
Nicholas67
from
Probably a "birth" defect
I was the happy owner of a set grinder/strainer and grater/shredder. I made the huge mistake to use it for extracting juice from some wild cranberries (with bigger pits), after a few moments I heard a very annoyiing sound as the broken pits strained the shaft and it snapped in exactly the same way Jesse's picture shows. I believe that the way it snapped shows a possible defect on shaft making or at least some of the parts made!
Date published: 2018-01-20
Rated 3 out of 5
by
sweetbramble
from
Does the job, but a major flaw
I tried several different fruit strainers before landing on this one. It is, by far, the better of them all. It does the job, but after three uses, the plastic auger is wearing down and it looks as though little plastic pieces are probably going into my sauce. There is nothing to keep the auger in place, so it just rubs around on the inside of the metal grater. Sad
Date published: 2017-10-07
Rated 2 out of 5
by
Duke the home canner
from
Not good for tomato sauce
Purchased this earlier in the year to help with canning this year. Was looking forward to no longer blanching/peeling/coring tomatoes. Unfortunately due to the screen size, all I got was tomato juice. The vast majority of the pulp went out the trash exit, not into the usable bowl. also, whenyou look down the input these is a visible gap where hte corkscrew ends and the drive end, that is space that could be eliminated with a better design. Kitchenaid should offer screens of varying sizes to allow the consumer to determine which size works best for their intended purpose. Good news is it works great as a juicer. I'll try grapes in the near future for making jelly.
Date published: 2017-09-08
Rated 1 out of 5
by
tmbirdsall
from
Not what I was expecting
The instructions are minimal at best. I put it together and started to use it to make applesauce. 'It's easy!' they said, "Super fast!" they said. There was no direction to use a 2nd bowl to catch the dried pulp and seeds at the end of the strainer. Next thing I know, there's a mess all over my counter. Then nothing was coming out anylonger. The end of the strainer was completely plugged up and I had put less than 2 pints jars worth of cooked down apples through. With a mess on my counter and the strainer not working, I called it quits. What would normally have taken me 5 minutes to make and another 5 to clean up with a hand cranked food mill took over 1/2 hour with this gadget. There was wasted applesauce. I wouldn't gift this to someone I really disliked.
Date published: 2017-03-11
Rated 4 out of 5
by
Jesse
from
Great for fruit but purchase a spare shaft for heavy usage
Bought this last year pre-harvest season and was very impressed on how it could handle tomatoes, pears and apples. Pears and apples need to be blanched to soften them up a bit but they go right through. With 5 gallons of fruit, I end up with only about 3-4 cups of waste. Probably 5 times more efficient than anything else I've used, and completed in 1/4 of the time. Granted I send the fruit through the processor 3 times to get as much juice and solids out of fruit as possible. With this I've done ~60 quarts of pear sauce, 50 quarts of apple sauce and at least 300 quarts of tomato based sauce's and soups. Unfortunately today the shaft broke in half and now I'm stuck with my last 9 gallons of pears to process and needing to wait a couple days for a new shaft. Note I gave the design a 3 rather than lower because I don't know the duty cycles the parts were engineered towards and I probably exceeded them. As an engineer I know the balance of designing parts as robust as possible, for the 99 percentile user, while management tries to reduce cost and reducing the robustness to say the 90 percentile user.
Date published: 2017-02-25
Rated 5 out of 5
by
Michael Nails
from
Best fruit and vegetable strainer
This is the best strainer, easy to use and works like a dream.
Date published: 2016-12-09
Rated 5 out of 5
by
Vic
from
Excellent investment!
I've had this for years and while a bit cumbersome to assemble, I wouldn't change a thing. It makes short work of the bushels of tomatoes we harvest every year & applesauce is a breeze. Only had an issue with clogging once & that was my fault for jamming some garlic necks in it.
Date published: 2016-12-03
Rated 4 out of 5
by
Junie
from
Ease of use
I am so excited to have this product. It is so easy to use.
Date published: 2016-12-03
Rated 2 out of 5
by
Old fashioned guy
from
What a mess
While using this very highly anticipated attachment to process home grown blackberries for jam... The ring gave way and the strainer cone, worm, ring and strainer tray flew across the room and my wall was covered with blackberry pulp. Glad I was not standing in the way. Not sure what happened because the ring was on tight. Apparently, after straining maybe a quart of berries, the cone got clogged with seeds and pressure built up. I was standing there and watching seeds come out the whole time, so never knew a clog was forming. Now the strainer tray is broken and I am afraid to use this anymore, especially around my young children.
Date published: 2016-10-29
Demos & Guides
guides
Use & Care Guide
Comprehensive information about your new appliance - from getting started to cleaning and maintenance.