Food Grinder
Food Grinder is rated out of 5 by 152.
Get grinding. Transform your KitchenAid® Stand Mixer into a versatile food grinder that uses the power of the motor to help you tackle a variety of tasks. The coarse grinding plate is great for grinding raw meats for burgers or meatloaf and combining ingredients for homemade salsa, while the fine grinding plate quickly grates hard cheeses and helps you make bread crumbs.
Other - FGA
Features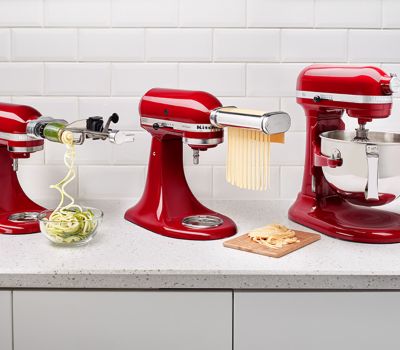 Attaches to Power Hub
Of your stand mixer and uses the power of the motor to run the attachment. Fits all Household KitchenAid® Stand Mixers.
Fine Plate
To grind meats and dried breads.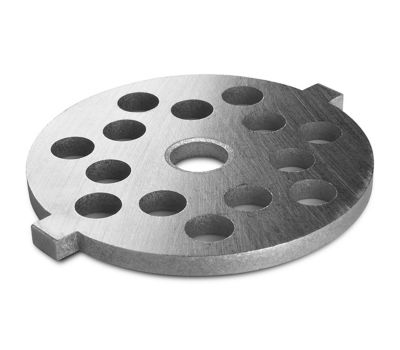 Coarse Plate
To grind firm fruits, vegetables and cheeses.
Reviews
Rated 1 out of 5
by
Don M
from
Housing Cracks
Had my grinder for a few years just took it out and noticed cracks just like everyone else's. I goingto make some sausage afraid to use now Looking to see if I can purchase a new housing for it.
Date published: 2018-01-16
Rated 5 out of 5
by
toddie
from
food grinder
very easy to attach, wood recoment it to anyone received it as a christmas gift
Date published: 2017-12-28
Rated 5 out of 5
by
justboughtit
from
Great grinder!
easy to use, grounds fresh chicken very nicely which is hard to find in all grocery stores.
Date published: 2017-12-22
Rated 1 out of 5
by
Chris2001
from
How to repair your cracked housing!
I too have the cracked housing. I repaired it by first putting masking tape inside to form a mold. Then filling the crack with 100% marine-grade silicone sealant and making sure to fill the crack by using a toothpick tool. After allowing it to cure for 24 hours and removing the masking tape backing from inside, I then permanently surrounded the housing with a steel hose-clamp to reinforce it and ensure no additional cracks develop, and this one gets no larger. Good luck.
Date published: 2017-12-11
Rated 1 out of 5
by
Tlb1
from
Plastic cracks
I haven't used it long and the plastic has cracked and food comes out of the cracks. It's a 50.00 plus tax piece of garbage
Date published: 2017-12-10
Rated 1 out of 5
by
Churchlady35
from
Wish it were sturdier
I have had this grinder for quite a while but early on developed a small crack in the housing. I have continued to use this and each time the crack increases in size or another one develops to the point that presently what I am grinding comes out through the cracks- unusable at this point so will have to trash it.
Date published: 2017-11-22
Rated 4 out of 5
by
GrandmaNita
from
Worked great!
First time I used the grinder attachment and made cranberry orange relish. Worked like a charm with no splashing or mess. Parts clean up easily with hand-washing. Used the finer blade for the relish. Did use frozen cranberries but think I'll use fresh next time for even faster grindiing. No longer will I use the old grinder which has to be attached to a flat surface and makes a mess!
Date published: 2017-11-20
Rated 1 out of 5
by
sdsd1900
from
Plastic Ring Broke
I've used my grinding attachment quite a few times already. Today, when I tried to grind some beef flank, the ring busted. I had to throw away all the ground meat, and not to mention the mess that had to be cleaned up. I can't understand how the plastic ring would just break like that, I was just trying to grind a thing (but long) piece of meat. I'm kind of disappointed with the quality, because I really like the mixer and the grinding attachment. How do I go about getting a replacement part for this ring?
Date published: 2017-11-18
Rated 3 out of 5
by
BrianB65
from
Mine cracked
After 3 or 4 uses, the housing cracked. I have multiple KitchenAid attachments that I like, and was hoping the quality of this one would match the others.
Date published: 2017-11-11
Rated 5 out of 5
by
Sundee 50
from
So easy and simple
Got this about 4 weeks ago. We made ground Turkey, so easy to use. Ground turkey taste so much better than the store.
Date published: 2017-11-05
Demos & Guides
guides
Use & Care Guide
Comprehensive information about your new appliance - from getting started to cleaning and maintenance.