Sparkling Beverage Maker powered by SodaStream® with Mini CO2 Carbonator
Sparkling Beverage Maker powered by SodaStream with Mini CO2 Carbonator is rated out of 5 by 14.
Enjoy a fresh, fizzy beverage with the KitchenAid™ Sparkling Beverage Maker powered by SodaStream®. Simply fill the bottle with fresh water then use the carbonation lever to fizz up to your desired level of carbonation. Next simply add your flavor of choice or enjoy the carbonated water just as it is. A mini CO2 carbonator is included.
Onyx Black - KSS3121OB
Features
Die Cast Metal Housing
Premium and easy to clean, all metal.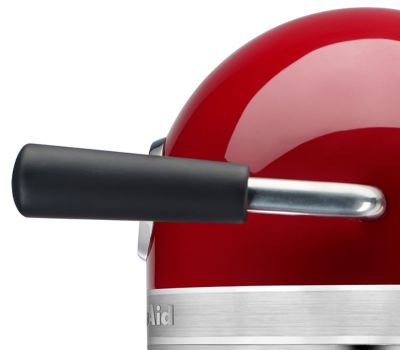 Carbonation Lever with soft grip handle
Four settings, allowing you to add the right amount of fizz to the beverage.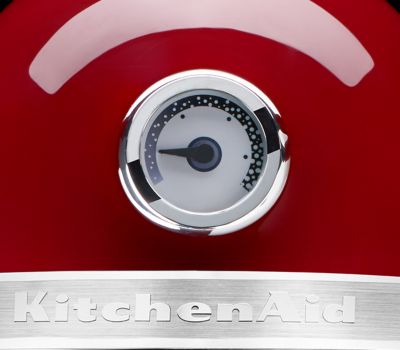 Co2 Gauge
For a precise reading of the carbonation level.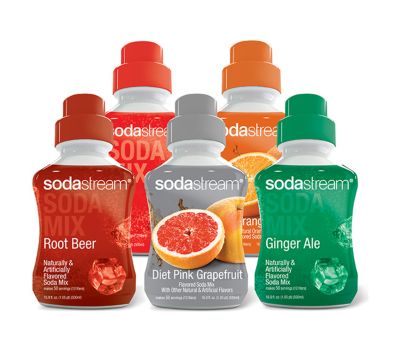 Compatible with SodaStream® Products
Over 60 flavors available (sold separately).

Model KSS3121 includes
Model KSS3121 includes (1) 3 oz CO2 tank, (1) 1L BPA-Free Reusable Bottle
Reviews
Rated 2 out of 5
by
Michelle M
from
Poor Investment
I received the beverage maker as a gift approximately three years ago. It worked magnificently for the first two years. I was very pleased with the product. Suddenly, the bottles are no longer locking into the machine. I purchased new bottles and those do not work either. It seems the plastic mechanism which secures the bottle is malfunctioning and there is no replacement part for it.
Date published: 2018-04-02
Rated 5 out of 5
by
PhilW
from
Solid, Great Carbinator!
I have only been using my carbonator for a few months, but I am very pleased with it. It is solidly built, like a good kitchen appliance should be. The carbonation is the best part. The control lever makes it easy to do the carbonation, and the gauge helps doing it consistently. I had a much cheaper carbonator before but it was flimsy and hard to control so I returned it, bought this KitchenAid and I glad I did.
Date published: 2018-02-05
Rated 2 out of 5
by
GWMO
from
Easy Peasy!
We used to spend so much money on soda water. This amazing device makes it just like we want it, and it is excellent. Well-designed and good looking and makes any bar look incredible!
Date published: 2018-01-30
Rated 5 out of 5
by
Heirway
from
Couldn't be happier
The Kitchenaid Sodastream maker exceeded our expectation. It fits right in with our Kichenaid StandAlone Mixer. My wife is diabetic therefore she needs to reduce sugar and carbs from her diet as much as possible. We use the Kitchenaid Sodastream daily to make Sodastream diet sodas that don't use aspartame. We cannot believe how easy the Kitchenaid Sodastream maker is to use. It takes just a couple of minutes to make a truly satisfying, healthy soda. It is well built, and designed to match our other appliances. Could not be happier.
Date published: 2017-12-14
Rated 2 out of 5
by
ihora
from
Great design, poor inside quality
I imported this product to Europe, as I really love KitchenAid, and I wanted to have this one at home right after its launch. After 2 years, it stopped carbonating - the relief valve is defective. Though outside of the appliance lookes solid, the key inside elements are made from cheap plastics, which does not give much chance for long life of the machine. No I can only throw away, as I do not have chance to get it serviced in my country. Great design, big dissapointment with the quality.
Date published: 2017-12-02
Rated 1 out of 5
by
disappointedagain
from
Dead on arrival
This is really not what I haveexpected from KitchenAid
Date published: 2017-10-28
Rated 2 out of 5
by
Mary
from
Great at first
Made it 9 months before it stopped working. It was great until then. This is my second carbonated water maker. I think I will stop now!
Date published: 2017-09-08
Rated 1 out of 5
by
Rg
from
1 year later needle won't get past one dot
1 year later and relief valve is defective and does not allow pressurization.
Date published: 2017-09-07
Rated 5 out of 5
by
Skippy
from
Great bubbles!
Really like the convenience of having a soda maker in the house. It should be more explicit on the sizes of the CO2 cartridges it will accommodate. Two trips to Bev-mo later- finally got the correct one. Like that there is an exchange discount for the cartridges. Instructions should give a little more info about what to expect regarding the process of inserting the carbonation. Is it really supposed to off gas during the process or is there something I'm doing incorrectly. And there should be info about how to quickly order more bottles. But I use it almost daily and the carbonation stays in the bottle for a long period of time. Great item.
Date published: 2017-02-28
Rated 3 out of 5
by
Jerri
from
Problem after 6 months
Loved this soda machine however after having for about 6 month it now does not work. I have tried three new tanks and it will not carbonate. Very frustrating for the cost and expected it to work longer than six months. Thought the quality was better but am very disappointed since I cannot use anymore.
Date published: 2017-02-16