6-Quart Slow Cooker with Easy Serve Glass Lid
6-Quart Slow Cooker with Easy Serve Glass Lid is rated out of 5 by 25.
The KitchenAid® 6-Quart Slow Cooker with Easy Serve Glass Lid is designed for convenience whether for daily use or at large gatherings. The dual-sided hinged lid easily lifts on either side for simple serving. 24-hour programmability, keep warm function and the digital display complete the slow cookers convenience package.
Stainless Steel - KSC6222SS
Features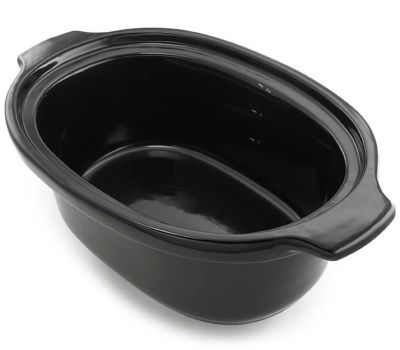 6-Quart Removable, Oval-Shaped Ceramic Vessel
Perfect for small and large recipes, from soups to roasts.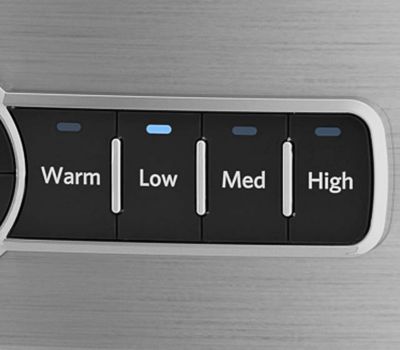 4 Temperature Settings (Low, Medium, High, Keep Warm)
For cooking everything from soups, roasts, stews and so much more. After the programmed cooking time elapses, it automatically defaults to Keep Warm Mode for up to 4 hours.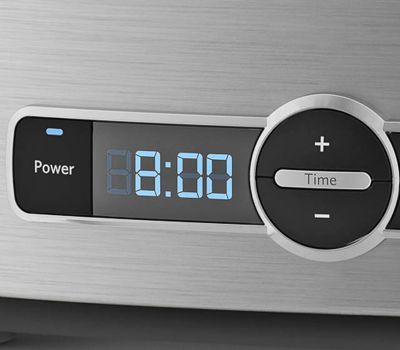 24-Hour Programmability
Program the slow cooker for a specific cooking time up to 24 hours in 30-minute increments. After the time ends, the slow cooker automatically goes into keep warm mode for up to four hours.

Keep Warm
High, medium and low settings for any recipe and keep warm function for up to four hours after finished cooking.

Digital Display
See at-a-glance how much cooking time remains before your dish is ready for serving.

Under Base Cord Storage
Store the cord neatly on the bottom of the slow cooker when not in use.
Specifications
Features
Number of Temperature Settings
4
Temperatures
High, Keep Warm, Low, Medium
Electronic Temperature Sensor
Yes
Food Temperature Alert
No
Show More Specifications
Reviews
Rated 4 out of 5
by
PotRostTim
from
Pork Roast!
Looks great, made a Great pork roast with potatoes and carrots, and onions! Turned out delicious, but took for ever to cook. The easy serve lid, does not seal. At the center edges, across from the handle the lid is 1/2 inch higher than the pot. So it did not seal. Looked up a new solid glass lid, but they are out of stock. Wonder why, bet everyone with the easy serve lid needs a new lid. Love the timer, and temp settings. Glad I kept my old Rival Crock Pot to use until I get a new lid. I now understand why this version is cheaper on Amazon than the solid lid version. So don't waste your time on the easy serve lid model, witch is really not any easier to use. Buy the solid glass lid style version. I think you will be happy with this slow cooker. Will up date when I get a new lid, witch will make the cost the same as the solid glass lid version, but I will have to lids. Have a great day, and enjoy!
Date published: 2018-04-02
Rated 5 out of 5
by
Agustin
from
Best slow cooker I've owned!
I really like this slow cooker! Temps are spot on, heats up fast, and I really like the dial lid design. My only complaint, if I had one, is the rubber seal comes off fairly easy during cleaning and is a slight pain to put back on by yourself. Other than that, great unit!
Date published: 2018-02-05
Rated 5 out of 5
by
leonard paul.
from
so easy to cook with.
1st use was 12lbs.of ribs and i stufed myself they are fantastic.
Date published: 2017-11-11
Rated 5 out of 5
by
Sherri
from
Awesome appliance!
Love love love my new slow cooker. There is only one thing I would change, the rubber ring on the lid. It falls off too easy and I have cut my finger on the edges of the lid trying to dry it, twice.
Date published: 2017-08-13
Rated 4 out of 5
by
Jan
from
Great KitchenAid slow cooker with only one problem
I love my new Slow Cooker! The only problem is, and it is a really annoying problem...the gasket all the way around the lid falls off constantly just about every time I touch the lid. It is hard to get back on because when you get half of it on and try for the other half, the first half starts pulling away. Really? Seems like a great and expensive cooker made by a company like KitchenAid would have a better gasket! I'm ordering an extra gasket because this one is bound to get stretched out from trying to put it on every time it comes off
Date published: 2017-06-23
Rated 5 out of 5
by
Shake_N_Bake
from
Meets all expectations.
I received this as a Christmas gift. I have used it a few times and it has performed well each time. It seems to be built solidly.
Date published: 2017-02-07
Rated 5 out of 5
by
Kathy The Frog Lover
from
Getting started couldn't be easier.
I purchased my Kitchen Aid Slow Cooker to replace 2 older crock pots I had. Neither had a keep warm feature. The older one only offered a knob to select high or low cooking. I decided to cook chili on one of the few cold Florida days. The family enjoyed the chili and I was comfortable knowing it wouldn't over cook. Programing was obvious and simple. I'm looking forward to trying other meals in my new slow cooker.
Date published: 2017-01-13
Rated 5 out of 5
by
DaveyC
from
Great product!
Easy to use, easy to clean and loaded with about every feature you could want in a slow cooker. It is meant to be a simple device after all. I have made chilis, soups and stews without any issues. The hinged glass lid is a nice idea.
Date published: 2016-07-20
Rated 4 out of 5
by
Pete
from
Slow cooker
On my first years I used to make beans at a low setting for 24 hours. The beans were properly cooked through. I'm going to make two more test batches of beans at different settings and times before I add another star to the rating
Date published: 2016-06-21
Rated 5 out of 5
by
TerriM
from
Great slow cooker
This is my first slow cooker (wedding gift) and I love it!! It is very easy to use and the cord wraps nicely underneath so it is easy to store. The lid is nice because you can open when needed without taking off the entire lid, however it only opens on each side so you it can be difficult to reach the middle if you need to. Overall I love this slow cooker!
Date published: 2013-12-17