4-Quart Multi-Cooker
4-Quart Multi-Cooker is rated out of 5 by 174.
Make great cooking simple with this all -in -one cooking system. Over 10 cooking settings for everyday dishes, one pot wonders, gourmet masterpieces and more. Risotto, rice, sear, sauté, simmer, soup, yogurt , boil/steam, slow cook high and low, keep warm (up to 24 hours).
Onyx Black - KMC4241OB
Features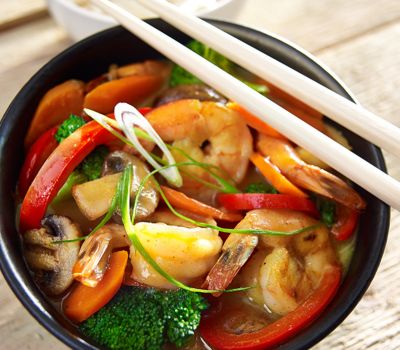 For Cooks of all Levels
With over 10 easy to use settings (4 step-by-step): risotto, rice, sear, sauté, simmer, soup, yogurt , boil/steam, slow cook high and low, keep warm (up to 24 hours).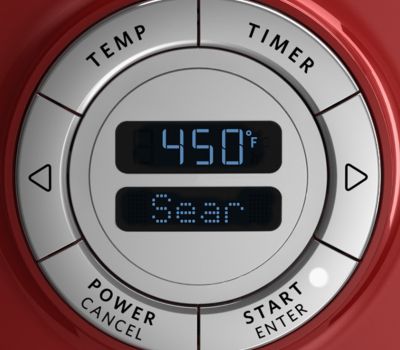 Perfect Results, Every Time
With the precise temperature control and settings, ensuring consistent results for every recipe.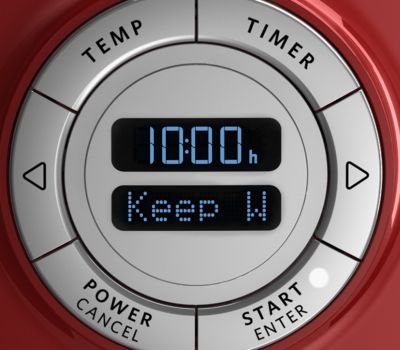 Guided Digital Display
With simple step-by-step instructions for a variety of settings.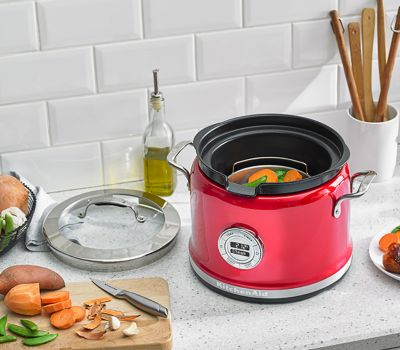 12 Hour Programming
And 24 Hour Keep Warm mode so your recipe is hot and ready just when you need it.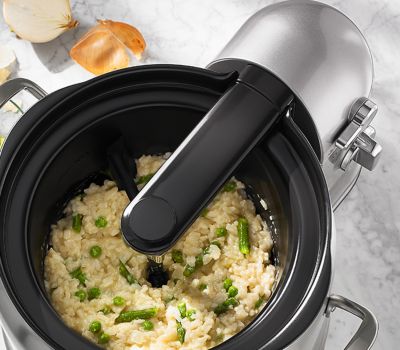 Mix, Flip, Stir and Scrape
Ingredients in your KitchenAid® Multi-Cooker with the optional Stir Tower Accessory (model KST4054, sold separately) for even and thorough cooking.

Model KMC4241 includes
(1) 4-Quart non-stick, ceramic cooking vessel, (1) Glass lid with pour spout, (1) Dual purpose steam basket/roasting rack
Specifications
Features
Lid
Glass with 3 Positions;Closed, Open, or Strainer
Number of Temperature Settings
10
Electronic Temperature Sensor
Yes
Handle
Metal with Soft Touch Grip
Show More Specifications
Reviews
Rated 5 out of 5
by
VictoriaB
from
Excited!
I bought my 4-Quart multi-cooker with the stirring tower on QVC. I have used it to cook beans, a beef roast with carrots and potatoes and chili. Well, I love it!, I'm a widow, living alone, it's a perfect size for me. Lastly, I have gotten so many compliments and even a few "Can I borrow your cooker"
Date published: 2018-04-06
Rated 5 out of 5
by
Bettyboop610
from
Happy
Great cooking addition. Beautiful craftsmanship. Works well
Date published: 2018-02-14
Rated 5 out of 5
by
Debz11
from
Awesome Features and Design
This was brought for me as a Christmas gift and i could not be more please with it. The easy of use and the great functions make this a daily use in our home.
Date published: 2018-02-08
Rated 4 out of 5
by
Jessitsi
from
Great Look!
I love the look of this. It looks sharp when I have it sitting out cooking. However the inside is a bit small if you are looking to cook a roast or something large.
Date published: 2018-02-05
Rated 5 out of 5
by
gamnismn
from
Great options
Love the many options/features that this cooker offers. If you are able to afford it, buy the stir tower to go with it. Worth the money
Date published: 2018-02-02
Rated 5 out of 5
by
Flower Child Susie
from
It does everything but feed you
My multi-cooker was a gift. I work from home and don't often have time to plan a good meal. I use the cooker to make soup, stew and roast meats. I can't tell you how much time I save by using this wonderful appliance. It has a front and center spot in my kitchen. It is very easy on the eyes.
Date published: 2018-01-29
Rated 5 out of 5
by
Even4
from
great For a busy family
I love the cook time/timer feature. I put in steal cut oats before bed, set the timer, and enjoy a warm perfectly cooked healthy breakfast. I also appreciate many cooking options available with a single pot dinner.
Date published: 2018-01-29
Rated 1 out of 5
by
ChefFromMuppets
from
Waste of money, deceptive timer
For all the things this cooker can do, it lacks the capability to simply turn off the cooker when the timer reaches zero. Unbelievable! This alone makes the cooker totally useless for me and I had to send it back. I do like the wide range of other options, but this missing option is a deal breaker. I wish it was communicated more clearly before buying such an expense cooker, like in a red bold blinking font on the website.
Date published: 2018-01-18
Rated 1 out of 5
by
Vcq1
from
Complete Disappointment
I am so very disappointed with this product! Cooking more than 3 cups of white rice is a globby, undercooked mess; the rice at the bottom of the pot is overcooked while the top is practically uncooked! The slow cook works well if I remember to stir it every hour or so! I have only used soft plastic or bamboo utensils yet the inside black finish has started peeling... have we eaten it or did it just wash away? The bottom of the inside pot has burn marks although we have only used it about 10 times since purchasing 4 months ago. Need I go on? The only thing going for this product is that it looks pretty on the counter... I expected much more from this brand and Williams-Somoma.
Date published: 2018-01-13
Rated 4 out of 5
by
CShabby
from
Does what it says
I have only used this for 2 things so far - making a pot roast and a breakfast casserole. Was great to sear the roast and cook as a slow cooker all in one. The only reason I did not give 5 stars, the rack is too small for a decent sized roast so I didn't use it and the settings could be better. If you want to change setting - say to lower temperature, once it reaches that setting, you have to enter start again.
Date published: 2017-12-28