Nespresso® Espresso Maker by KitchenAid®
Nespresso Espresso Maker by KitchenAid is rated out of 5 by 21.
The Nespresso® Espresso Maker by KitchenAid® combines the iconic and premium metal design from KitchenAid with an innovative technology (19 bar pressure system) guaranteeing the incomparable Nespresso coffee quality.
Candy Apple Red - KES0503CA
Features
Easy Loading Capsule System
Compatible with Nespresso pods in over 22 Grand Crus available through the Nespresso Club.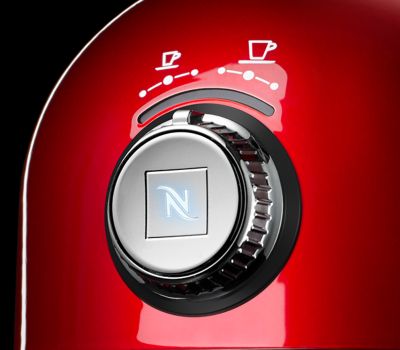 Brew Strength Selector
6 preprogrammed settings for espresso just how you like it.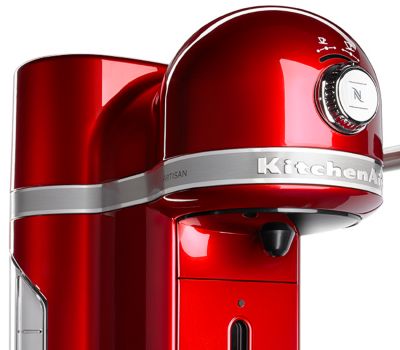 Quick Start Up
Heats up and ready to brew in under 30 seconds.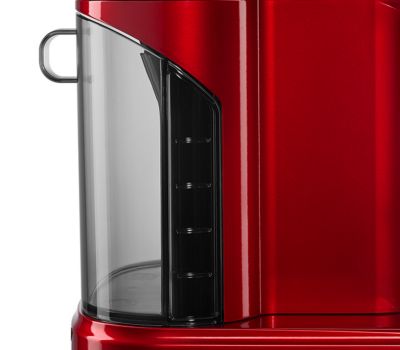 1.3 L Removable Water Tank
To quickly and easily fill with fresh water.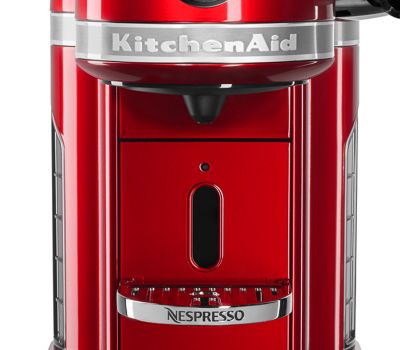 Adjustable Cup Shelf
Accepts large or small espresso cups and folds up for your convenience.

Model KES0503 includes
(1) Welcome set of 16 Nespresso capsules
Specifications
Features
End of Brew/Max Fill Tone
No
Show More Specifications
Reviews
Rated 4 out of 5
by
BBBear
from
Great product but could be a tad better
We love this product. Our first one had some problems after a few months (the coffee strength indicator light started to fade). KA dealt with it immediately and replaced the unit. Great customer service. The second machine is wonderful, too. Nevertheless, there is a feature our original Nespresso Pixie (not from Kitchen Aid) has that would be a huge improvement to the KA version, which costs twice as much. (The Pixie is much smaller. WE loved it and switched to the KA version because it held so much more water.) The Pixie used-capsule container glows gently when the machine is either out of water or the capsule container is full. That is sooo helpful. The KA version does not have that feature. Too often we don't notice (it's tough to see into either the water container or the used capsule container) - and the next capsule gets stuck because it can't drop down or nothing happens because there is no water, also resulting in the "loss" of a container.
Date published: 2018-02-25
Rated 5 out of 5
by
BravoBaker
from
My Favorite New Vice
I got this coffee maker almost 1 month ago. I absolutely love the finish, that Candy Apple red is jaw dropping! I received in the package a welcome pack of 16 capsules and a coupon for my first order of capsules which was a nice touch. This feels like a substantial product like the rest of my kitchenaid appliances. The machine takes like half a minute to heat up and in no time I have a wonderful shot of espresso or even tea, I found some nice third party tea. This is such a lovely convenience that has fast become an essential part of my day. The aroma, and plentiful crema this espresso maker produces is delightful. It is a tad bit loud but not over the top. This product is much nicer than many other single serve, plastic coffee makers available on the market and always gets compliments. My only regret is that I didnt see the pack up with the milk frother before I got this one but its not a big deal.
Date published: 2018-02-06
Rated 5 out of 5
by
Archtop
from
LOVE IT!!
This is my 3rd Nespresso machine in about 10 years. I was happy to replace the last one because it was way too noisy. This one is quiet and stylish. It works as great as it looks.
Date published: 2017-03-10
Rated 5 out of 5
by
Mimer
from
The Best Cappuccinos and Lattes
I have had other Nespresso machines but this one is the best tasting! I also like the variety of coffee that you can use with this machine. It's easy to clean and looks great on the counter
Date published: 2017-02-28
Rated 5 out of 5
by
Alexandre
from
Best Nespresso machine on the market
I've had this machine for a year and half and I really love it. Very robust, stylish and makes great coffees. It looks amazing on our counter top. I had the chance to try other Nespresso machines and no one comes close to this KitchenAid one. Top quality, this is the high end product for Nespresso and it's worth it.
Date published: 2017-01-07
Rated 5 out of 5
by
Jones24
from
Beautiful Coffee Maker
I love this coffee maker, it is easy to clean and makes a great cup of joe.
Date published: 2017-01-07
Rated 5 out of 5
by
KT
from
AMAZING!
Received as a Christmas gift and it's incredible. So easy, quick and creates absolute deliciousness. Love this machine!
Date published: 2017-01-06
Rated 5 out of 5
by
Lily
from
Love!!!
I absolutely love my machine!!! The look and color ( mine is empire red) makes it even better!!! The only thing I would change is the water tank. I would like easier access to it and thicker plastic or make it glass.
Date published: 2016-12-06
Rated 5 out of 5
by
Richard
from
Very solid appliance that produces great expressso
The quality of your drinks will depend on the quality of the capsules that you select and your personal preference. Most of the Nespresso brand capsules are good and a couple are great. There are several other brands that make great capsules too. I found several capsules from Gourmesso that I really like. If you liker green tea you should try the Gourmesso green tea - I was amazed! I have to move the machine away from the wall to fill the water reservoir but I like the looks of this machine I don't think that I would change it even if I could.
Date published: 2016-11-26
Rated 5 out of 5
by
Hotrodder
from
LOVE THE kITCHEN AID NESPRESSO MACHINE AND IT LOOKS GREAT.
I recommend this product to all my friend's and family.
Date published: 2016-10-26