Cold Brew Coffee Maker
Cold Brew Coffee Maker is rated out of 5 by 127.
Treat yourself to a smooth and balanced cold brew at home. The KitchenAid® Cold Brew Coffee Maker is easy to use, pour and clean.
Brushed Stainless Steel - KCM4212SX
Features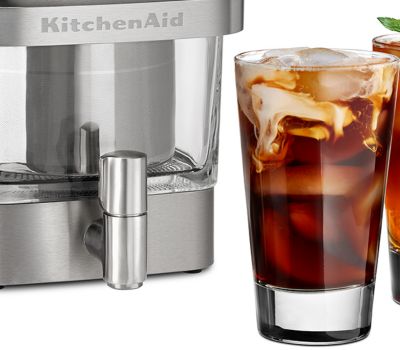 Smooth, rich full-bodied flavor
Simply fill with coffee and cold water, steep, & enjoy.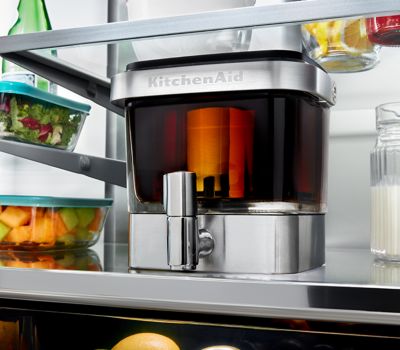 Small Footprint
Ideal fit for any refrigerator or kitchen counter.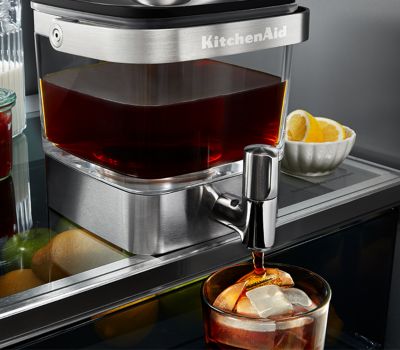 Always on Tap
Built in stainless steel tap to easily dispense your cold brew from your refrigerator and carrying handle for easy portability.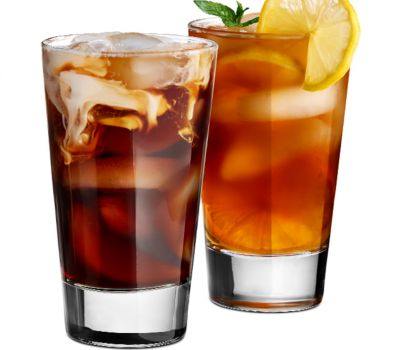 Make up to 14 Servings*
Simply mix 2 oz of coffee concentrate with every 6 oz of your favorite milk, water or ice. This brewer makes up to 28 oz of coffee concentrate that stays fresh in the fridge for up to 2 weeks. *Servings may vary based on coffee or tea type.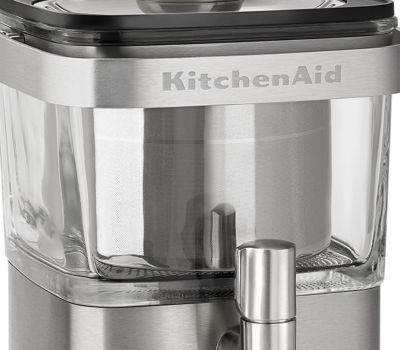 Streamlined Design
Beautiful, streamlined design with glass and stainless steel components to preserve taste, for easy use and cleaning.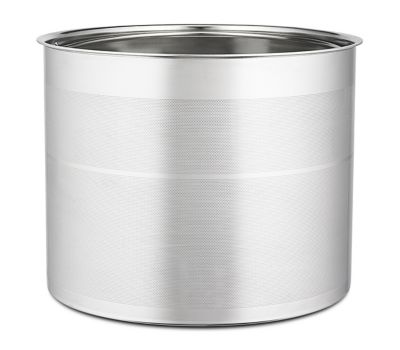 Reusable Stainless Steel Steeper
Allows you to brew the beverage of your choice and is labeled with fill level indicators to take the guesswork out of the brewing process.
Reviews
Rated 5 out of 5
by
Chase72
from
Excellent machine, coldbrew best at home.
I bought this in 2016 and really have mastered making great coldbrew at home. People really need to remember not all coffee will turn out good as coldbrew and I suggest you find a cold brew drink at your nearest coffee shop before you start. When getting coffee make sure it is coarsely ground, pouring water in will be a smooth process. I do use spring water for cold brew and let mine steep for exactly 24 hours. I do like my cold brew strong and cut it with half and half with very little ice and no water...I KNOW I AM STRANGE. This machine is a lot of fun to use and easy to clean and I never put any parts or the cold brew maker in the dishwasher...everything gets hand washed with warm soapy water.
Date published: 2018-04-03
Rated 5 out of 5
by
venus1812
from
10/10 Life changing!!!
I gave this brew coffee to my husband last month and he loves it! He used to make hot coffee and just put tons of ice, but this brew maker was life changing. Very easy to use and the flavor you get it´s really something, you can instantly tell the difference. It fits perfectly in the fridge, has a very neutral yet fancy design. We totally recommend,
Date published: 2018-03-28
Rated 5 out of 5
by
SBANN
from
Love it!
The KA Cold Brew Coffee Maker is very well made and so easy to use. It also does not take up a lot of room in the refrigerator. We love it!
Date published: 2018-03-27
Rated 5 out of 5
by
cbkb64
from
Perfect cold brew
This is an easy to use, made very well product. I would recommend to anyone who loves ice coffee.
Date published: 2018-03-22
Rated 5 out of 5
by
Big Mum
from
Great Product
I bought this beautiful gadget and I love it nice product
Date published: 2018-03-17
Rated 5 out of 5
by
Anonymous
from
Makes Great Cold Brew
This cold brew coffee maker saves me hundreds of dollars. It's easy to use, makes great coffee, and very importantly- is amazingly simple to clean. Got this as a wedding gift and it is easily one of the most frequently used high-end products in our kitchen. Highly recommend!
Date published: 2018-03-16
Rated 5 out of 5
by
Donisda
from
Wow
This is the coolest product, I have been buying ice coffees everyday, until I bought this, the price is very reasonable, I pretty much paid it off in about 2 weeks after making my own at home, great price and value for this product highly recommend if you are purchasing iced coffees, stop, buy this and save money, I think I make better iced coffees at home then have gotten at the stores. Super easy to use
Date published: 2018-03-15
Rated 5 out of 5
by
Reid
from
Awesome Product
First off I will say out of the Cold Brewers out there The KitchenAid is without a doubt the one made the best. It's metal and thick glass. The spout is metal and just feels well made. Product wise I give it a 11 out of 10 (yes you heard me-its better than expected). As for the brew quality-I am loving it and would recommend to any cold brewer! Great output, super easy to use and cleanup is a snap. My only issue if it really is an issue is the capacity. It holds 28 fl. oz and because of the clod brew goodness I always want more! I am amazed that there are not more products that are trying to copy the KitchenAid but suspect all know they can't compete. I have used others in the past and this one gets a gold star.
Date published: 2018-03-14
Rated 5 out of 5
by
Toj439
from
The best
The only con I have about this is that it pours slow. Everything about this unit speaks to its quality. The glass is heavy duty and the mesh filter is the best I have seen with any cold brew system. The whole system comes apart and cleans quickly.
Date published: 2018-03-12
Rated 4 out of 5
by
Chicken Farmer
from
Love the convenience.
This is my second one. The first one had a bad spout and dripped everywhere. KitchenAid followed through and replaced at no cost to me.
Date published: 2018-03-07
Demos & Guides
guides
Use & Care Guide
Comprehensive information about your new appliance - from getting started to cleaning and maintenance.