Pro Line® Series Espresso Maker with Dual Independent Boilers
Pro Line Series Espresso Maker with Dual Independent Boilers is rated out of 5 by 27.
Enjoy premium espresso at home, quickly and easily. Brew espresso and steam milk at the same time with the dual independent boilers, froth milk with the adjustable frothing arm and create latte art with frothing pitcher. Be your own barista today.
Frosted Pearl White - KES2102FP
Features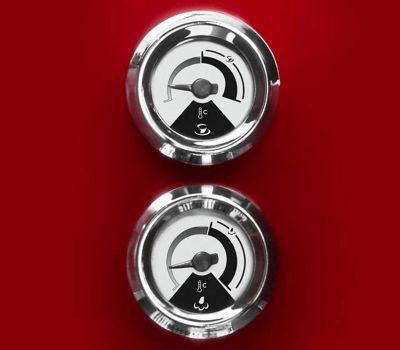 Dual Independent Boilers
To switch from brewing to frothing instantly.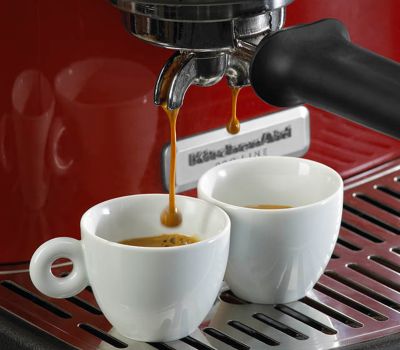 Quick Heating
Reach a boil in less than 6 minutes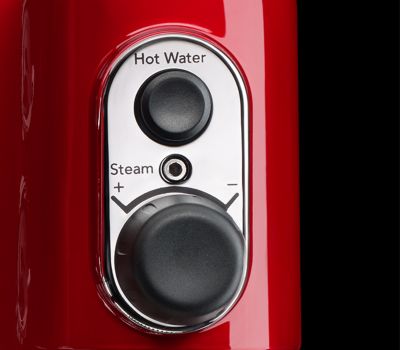 Hot Water Dispenser
Used to make Americanos, tea, hot chocolate and other drinks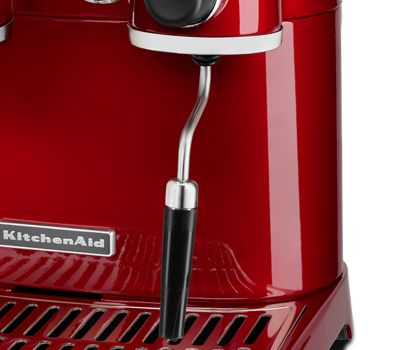 Adjustable Frothing Arm
Swivels horizontally and vertically for convenient use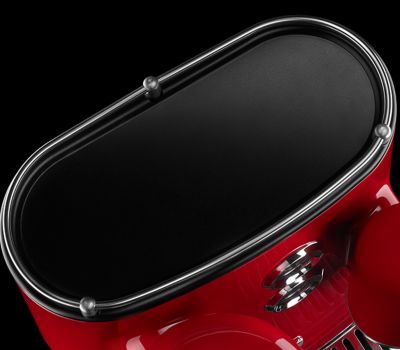 Cup Warmer and Rail
Accommodates 4 to 6 espresso cups

Frothing Pitcher
Specially designed spout allows you to create latte art.
Specifications
Features
End of Brew/Max Fill Tone
No
Show More Specifications
Reviews
Rated 1 out of 5
by
Jcking
from
Loved this machine but it has a short life!
I received this machine as part of the Amazon Vine review program. It received a wonderful review as it makes the best espresso and is reasonably easy to use. The water heats quickly and the reservoir is ample for many cups. Unfortunately, the pump has broken and it will no longer function. Although I used the machine daily for almost a year, I feel that a broken pump after such a short period of time is unreasonable for such a high end product. Had I purchased the machine, I would be substantially disappointed and in the process of claiming a warranty repair.
Date published: 2018-03-11
Rated 5 out of 5
by
Nicole24
from
Great product
We received this as a replacement, it works great!
Date published: 2018-02-15
Rated 3 out of 5
by
Bought a different brand
from
Needs better testing
Sent it back, water leaked from the frother. Water dripped from the portafilter.
Date published: 2018-01-29
Rated 4 out of 5
by
SandyT
from
KitchenAid-Pro Line Espresso Maker
I ordered this product from Sierra Trading Post before Christmas. When it was delivered it was broken. I returned the machine directly to Sierra Trading Post for a refund. Returned home and re-ordered it from them online once again. Once the second machine was received it also was broken. Instead of returning it directly to the store again (which was not close to my home) I decided to contact KitchenAid directly. They were more than happy to help me. They sent me a new machine and a label to return the broken product back to them with no delivery cost to me. So my overall experience with KitchenAid was very good. I had this same espresso machine for over 10 years and loved it. So replacing it with the same product was something I really wanted to do. The new machine is working very well and we enjoy our espresso everyday.
Date published: 2018-01-29
Rated 2 out of 5
by
Ericdeit
from
His third time a charm?
The first unit we bought online looked like it was a refurbished unit and the frother did not work. Exchanged it for another one and after about three weeks it started tripping circuit breakers. Waiting for my third / second replacement. It's been about 1 week since I spoke with customer service and have not received it yet. Starting to wonder.
Date published: 2017-12-02
Rated 5 out of 5
by
roni_ay
from
Love it!!
Amazing machine, incredible quality coffee, and looks like a piece of art on the counter! It takes some practicing to achieve a perfect espresso, but its worth it all!!
Date published: 2017-10-23
Rated 5 out of 5
by
NOLA
from
Warranty
Bought this eight months ago. Simple straight forward operation. Five year warranty is amazing .
Date published: 2017-10-08
Rated 5 out of 5
by
Maz
from
Fabulous frothy cappuccino
With this machine you can make espresso/cappuccino at home
Date published: 2017-08-16
Rated 4 out of 5
by
JasonR
from
Really good machine
This is a great machine. With a small amount of trial and error I was able to dial in great espresso. This machine heats up very quickly, the double boilers are great. The temperature gauge has a "Ready" mark on it. I wish there was a notch for the ideal temp, or at least numbers. Overall a great machine. My wife and son love their lattes and babyccinos. Great looking heavy duty machine. I look forward to waking up firing it up in the morning.
Date published: 2017-08-07
Rated 5 out of 5
by
Maz
from
Best cappuccino!!!!!
This machine works great,looks great and Delivers power to make frothy cappuccino
Date published: 2017-07-04