Precision Press Coffee Maker
Precision Press Coffee Maker is rated out of 5 by 29.
Easily brew up to 25 oz of classic french press coffee with an integrated scale and timer for a precise, full-bodied brew.
Stainless Steel - KCM0512SS
Features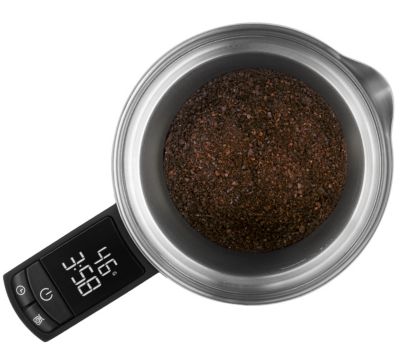 Integrated Scale and Timer
To weigh coffee grounds and water independently in one carafe for precise ratio and brew time.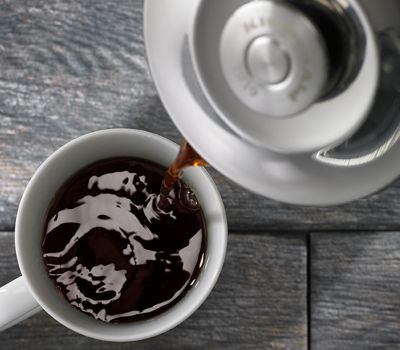 Dual Wall, Stainless Steel Construction
Retains heat, ensuring proper extraction and optimal flavor.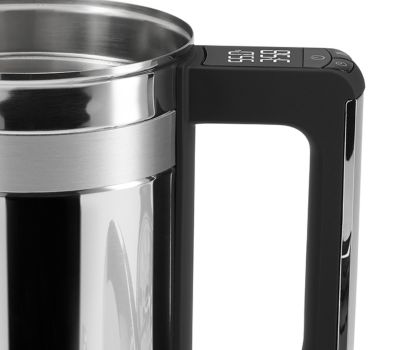 Soft Grip Handle
For a comfortable, easy pour.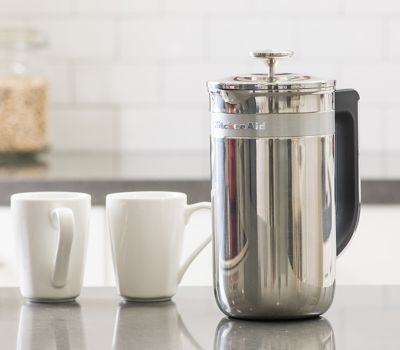 Sleek Profile
Streamlined design is a space saver and great addition to your countertop.

Cordless Design
Scale and timer are powered by (2) AAA batteries.

Model KCM0512 includes
(1) 25 oz Carafe, (1) Plunger assembly, (2) AAA batteries
Specifications
Show More Specifications
Reviews
Rated 5 out of 5
by
Cup of Joe
from
Makes great coffee
It makes great coffee once you find your right combination of coffee grounds to water. It may take longer than a K cup brewer but the results are so much better.
Date published: 2017-10-16
Rated 5 out of 5
by
James Kennedy
from
KtichenAid Perfection
I bought this a year ago and then I ended up selling it online because I got a another coffee maker instead. After a year without this gem, I bought it again (yes!) and I'm never going to look back. This makes the absolute perfect cup of coffee without the hassle. I use illy coffee because I just love the flavour, but any ground coffee of your preference will do. It's super easy to operate and looks great on the counter when not in use. The thermal carafe keeps the coffee hot for your 2nd or 3rd cup. It's a must have for any coffee-holic!
Date published: 2017-08-01
Rated 5 out of 5
by
Smart mom
from
Great features
I received mine as a gift and am so happy with it, the coffee is delicious!
Date published: 2017-06-23
Rated 5 out of 5
by
Drucsy
from
Great design and function
Bought it 2 weeks ago. Using it everyday. Great, simple to use and clean.
Date published: 2017-05-21
Rated 4 out of 5
by
Smart mom
from
Love it, with a small flaw
Though I love it because it makes delicious coffee, it's delicate, the electronic portion of it. It's built in scale and timer are so great, but cleaning it, I have gotten it wet accidentally and it stopped working. KitchenAid's customer service is superb and gave me another immediately. This second one is having same issues. It needs to be waterproof more, I suppose. I do not soak it, but somehow, it's shorting/messing up again. And to send it in again......I'll try and hope to get another, but it all takes time and I'm out time with a coffee maker (my only now) and KitchenAid is out of more $, or product. I'm happy with KitchenAid overall. Thank you.
Date published: 2017-03-01
Rated 5 out of 5
by
Anne
from
Perfect French Pot
Love this coffee pot. Have had it for little over a week. Use it a minimum of twice a day. Have always liked French coffee makers, but ended up breaking the glass ones. Like that this one is stainless steel so I don't have to be as concerned about breakage. Also like the timer and the scale in the handle. I have finally been able to make my best cup of coffee consistently, no matter what brand of coffee I have at the moment. Clean up is easy. Just a quick rinse and wipe. The coffee press unscrews and goes back together easily. It is a bit pricey, but worth it if you really enjoy coffee.
Date published: 2016-12-07
Rated 5 out of 5
by
DDipps
from
Great coffee press
This is an excellent coffee press. can't make a mistake - weighs coffee and water for you for an excellent cup of coffee
Date published: 2016-09-09
Rated 5 out of 5
by
BANDA
from
Excellent purchase
This coffee press is very intuitive and easy to use and of the best quality of all the ones we looked at.
Date published: 2016-08-27
Rated 5 out of 5
by
ddipps1057
from
Used french presses before, but this is great
I have used other french presses to make coffee and I have to say this one makes an awesome cup of coffee. It leaves all the guess work out. I weighs both the coffee and water and has a timer for the steeping!
Date published: 2016-08-21
Rated 5 out of 5
by
Lady di
from
Great Product
I love the features on this coffee press. The Digital scale to measure coffee and water. The insulation to keep my coffee hot and the easy of use. I have tried numerous other presses over the years and this is by far my favorite. Thank You for this product.
Date published: 2016-08-15