Personal Coffee Maker with 18 oz Thermal Mug
Personal Coffee Maker with 18 oz Thermal Mug is rated out of 5 by 237.
A coffee maker just for you. Brew your favorite coffee quick and easy with one-touch operation directly into the included 18 oz. thermal mug or a mug of your choice. Convenient features such as a removable water tank and reusable gold tone filter come standard.
Contour Silver - KCM0402CU
Features
Sleek, Compact Design
Makes this the ideal coffee maker to keep on your countertop, whether in the kitchen, office or any space you choose.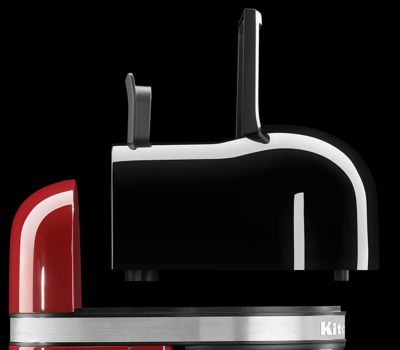 Removable Water Tank with Handle
To quickly and easily fill with fresh water.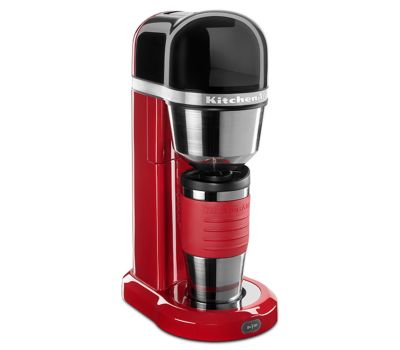 One-Touch Brewing
Simply add water and your favorite coffee grinds, press the ON button and begin brewing in the included thermal mug or cup of your choice.

Model KCM0402 includes
(1) 18 oz. Themal Mug with Lid, (1) Gold Tone Filter
Specifications
Features
Clean Touch Control Pad
No
Cleaning Indicator Light
No
End of Brew/Max Fill Tone
Yes
Full Dispersion Shower Head
Yes
Pause and Pour Feature
No
Programmable Brew Timer
No
Time Since Brew Display
No
General
Power Cord Length (ft.)
2.8
Show More Specifications
Reviews
Rated 3 out of 5
by
Crysbuck1
from
No wasted coffee
I bought this so I wouldn't keep wasting the coffee I made. I do enjoy it a lot. However, I think it still needs a regular coffee filter as I still get fine grounds in my cup.
Date published: 2018-04-17
Rated 5 out of 5
by
bshsps
from
Great Coffee
I love this coffee maker! Coffee is very hot and is made quickly. I like that I can choose how many ounces of coffee to make. The reusable thermal mug is great but since I'm a little older I prefer a handle to hold.
Date published: 2018-04-12
Rated 5 out of 5
by
AOjore
from
Personal Coffee Maker
This coffee maker brews a great single cup. I bought this because It does not require "pods" I can use any ground coffee I choose without the excess litter. In addition it is easy to use and easy to clean.
Date published: 2018-04-07
Rated 5 out of 5
by
MoonDog 54
from
The best coffee maker I have bought !
I'm very happy with my purchase it's the best coffee maker and it's so easy to use !
Date published: 2018-03-29
Rated 5 out of 5
by
Toj439
from
Working great after many years
I have had this unit for so many years I have lost count. It will get a lot of use for a few months and then not get used for a few months. After each lapse it works great without any problems. The thermal mug is a tank. This was purchased initially to replace a Keurig and is now used alongside a Keurig and a Kitchen Aid Cold Brew Coffee Maker.
Date published: 2018-03-12
Rated 4 out of 5
by
Penny P
from
Easy & convenient
I was given one as a present. This one did not work so was sent a replacement quickly by Whirlpool & have no complaints on the one that arrived.
Date published: 2018-03-07
Rated 3 out of 5
by
Shay37!
from
Easy, simple.
I made this purchase because I wanted this product to replace of my Keurig. I figured that since I was purchasing the entire line of Kitche Aid, this would be a great purchase as well. I first learned that you have to measure exactly what is going into a cup. It will overflow until all water has filtered; There is no auto stop. I learned this the hard way.....So make sure you use the Thermal Mug to measure the amount. The water filter can hold more than the Mug and is marked for oz desired. The thermal mug is durable but the top does not suction secure nor snaps on. I support it with my hand; Not a chance I am willing to take. The actual brewing of the coffee of choice is perfect.
Date published: 2018-03-05
Rated 5 out of 5
by
ALLD1VA
from
Best lil coffee maker
This is my second Kitchenaid coffee maker and this selection is the best ever! Coffee taste great in minimal time too!
Date published: 2018-03-05
Rated 5 out of 5
by
gsm7873
from
Love this
I bought this for myself for Christmas. I love it. I replaced my big Keurig with it. It's so nice and sleek and looks great on my counter
Date published: 2018-02-22
Rated 1 out of 5
by
butterfl
from
disappointed and : dismayed
I got this little guy one because I love love Kitchenaid but it failed in under 3 months. I am very dismayed at KitchenAid on this item. I have always held Kitchenaid to a very high standard and this I was so disappointed in. Why I love my other Kitchenaid products this one has made me rethink about using any more product . Here I was pushing my husband to redo our kitchen with Kitchenaid appliances
Date published: 2018-02-21