Precise Heat Mixing Bowl
Precise Heat Mixing Bowl is rated out of 5 by 24.
Temper chocolate, proof bread dough, make fondue, soups, yogurts and more with the KitchenAid® Precise Heat Mixing Bowl. (Designed exclusively for use with KitchenAid® Household Stand Mixer all 4.5 Quart or larger tilt-head models, or as a standalone unit).
Other - KSM1CBT
Features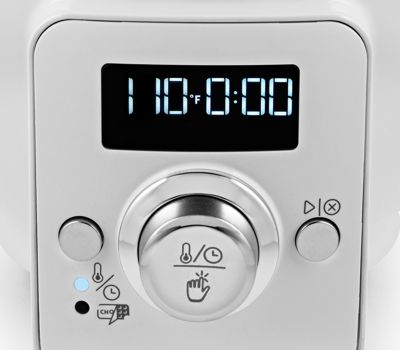 Precision Temperature Technology
Select any temperature from 70° to 220° F (21° to 104° C) in two degree increments.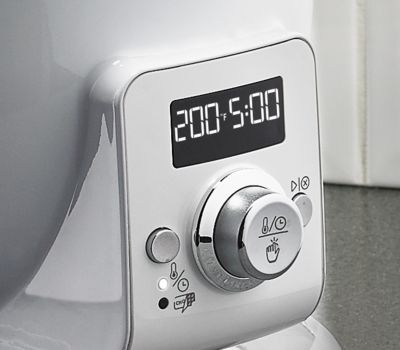 Digital Display with Timer
Shows temperature and timer for up to 10 hours.

Easy View Glass Lid
To monitor progress while in process.

Easy to Clean
Removable cooking bowl and lid are dishwasher safe while the base should be wiped clean with a cloth. The flex edge beater, wire whip and dough hook should be washed by hand in hot, soapy water.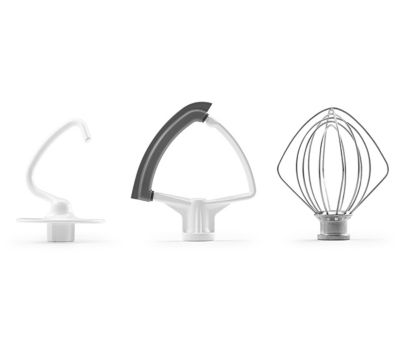 Model KSM1CBT includes
(1) Flex Edge Beater, (1) Wire Whip, (1) Dough Hook
Specifications
Configuration and Overview
Stand Mixer Type
Tilt Head
Stand Mixer Capacity
5 Quart
Reviews
Rated 5 out of 5
by
Mdahl
from
Easy to use
I got this as a Christmas present and absolutely love it. My house can be a little chilly to raise bread on the counter in the winter time but this bowl makes it super-easy.
Date published: 2018-01-29
Rated 1 out of 5
by
Hikefarm
from
Only for old models?
Got this but it doesn't fit on my 6 qt mixer. Bummer. Looking for a new mixer but can't decide which ones are compatible.
Date published: 2018-01-10
Rated 5 out of 5
by
Allan44
from
Perfect Accessory
I go this as a Christmas gift, thankfully before Christmas so I could use it for making my desserts... Allowed me to multitask and not have to stand over a hot oven stirring. Really love it.
Date published: 2018-01-01
Rated 1 out of 5
by
CocoCooks
from
Design Flaw! ONLY BOTTOM OF BOWL IS WARM!
There are 2 major problems with the KitchenAid chocolate tempering machine. 1) The tempered chocolate only stays warm at the bottom of the bowl, so if you want to dip shortbread cookies or anything else in the chocolate, the chocolate becomes too thick and cool at the top for the cookies to pass through. I wish the sides of the bowl also stayed warm. There is a very small heating element at the bottom of the unit. The top 2/3 of the KitchenAid bowl is cool to to the touch and, thus, the top 2/3 of the chocolate mixture remains cool too at a the recommended 88 degree temper holding setting. 2) The KitchenAid recipe for tempering chocolate calls for starting with 22 ounces of chocolate in the heating bowl. My chocolate never fully melted, even after 1 hour and continuous stirring there were lots of lumps. I had to take the semi-melted chocolate out of the KitchenAid machine and warm the chocolate to the desired temperature on the stove. I really do not see the use for this machine. It is an expensive waste of time and and effort! For the price, it should stay warm on all sides of the work bowl! I would not recommend this product to anyone. After using it I was both tired and wanted to throw it against the wall!
Date published: 2017-12-01
Rated 5 out of 5
by
Critters mom forever
from
Excellent temperature control adn easy to use
My husband bought this to make products with beeswax and it works very well to gradually melt the wax and mix in the other ingredients. Easy to use and cleans easily. A good investment for a small home business working with wax.
Date published: 2017-11-19
Rated 5 out of 5
by
sigdog
from
Indispensable for melting
I was able to easily prepare my special recipe white chocolate. Reliable and fairly easy to operate if you read the directions
Date published: 2017-07-15
Rated 4 out of 5
by
Lyn
from
Terrific Idea!
I saved the catalog I saw this in and bought it 6 months or so later and happy I did! Great concept to have a warming bowl that attaches to the mixer or will stand alone. It is good for fondue and excellent for keeping chocolate warm to drizzle on cookies or candy dipping. Kitchenaid is fabulous!
Date published: 2017-06-14
Rated 5 out of 5
by
yogurt maker
from
I LOVE THIS HEATING BOWL!!
I hesitated buying this bowl as I felt it was expensive. After using it, I feel it's worth every penny. I've only used it for yogurt, but I've used it consistently and frequently since I purchased it approximately one year ago. It's made it so easy!! I absolutely love it and would highly recommend it. I'm wondering if the slow heating mentioned by previous reviewers is partially due to not preheating the unit as mentioned in the instructions. As I recall, for yogurt, they recommend preheating and letting the milk reach room temperature before heating. I found this does make a difference in reaching the desired heating temperature. I feel being able to use the unit without attaching it to the mixer makes it much more versatile and user friendly for using it for multiple purposes. At first I would have liked the unit to be larger, however, after using it repeatedly for yogurt, I found it the perfect size to put a half gallon of milk and simply set the timer. I'm looking forward to experimenting with other things as making candy etc. I agree with the reviewer who mentioned the bowl locking system. It's a little hard to lock. Also, I feel the temperature alarm should be louder as it is very low. As with all new appliances, it takes a while to get use to, but once you understand how it works, it's very easy to operate.
Date published: 2017-05-25
Rated 5 out of 5
by
Juice
from
Amazing
I love this bowl, I have used it several times to melt candy melts in and chocolate for dipping. I have used it to melt and heat dips as well, I'm looking forward to trying it to proof dough as well.
Date published: 2017-05-17
Rated 5 out of 5
by
Juice
from
Amazing
I love this bowl. I have melted chocolates and dipped strawberries, I have used it to melt candy melts in, I have used it to proof bread doughs several times! One of my new favorite gadgets to go with my mixer
Date published: 2017-04-24
Demos & Guides
guides
Use & Care Guide
Comprehensive information about your new appliance - from getting started to cleaning and maintenance.