4 Cup Pour Over Cone
4 Cup Pour Over Cone is rated out of 5 by 8.
Manually brew a cup of pour over coffee with this 4 cup cone. Simply add your standard wedge shaped cone filter and grounds and pour a slow, steady stream of water over the bed of coffee.
Onyx Black - KCM0460OB
Features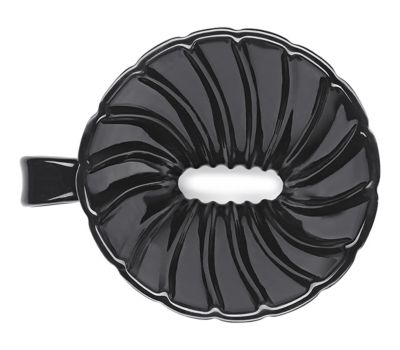 Rib Pattern
Designed for well-balanced, controlled and steady flow to allow for optimal brewing and flavor extraction.

Ultra Durable
Made from vitrified ceramic to resist staining, chipping and cracking. Dishwasher safe.

Balanced Flavor
With the ceramic construction which helps maintain water temperature during the brewing cycle.
Reviews
Rated 5 out of 5
by
DarkRoast
from
Up your coffee game!
Just got my Kitchen Aid pour over coffee cone infuser 2 weeks ago. Have been using it regularly. Overall, it is a great item. Replaces a seriously inelegant, ugly plastic cone that had no aesthetic or style. Function: works fine. Allows coffee to infuse at an optimal rate. The ceramic is durable and, because it functions as a bit of a heat sink, it insures that coffee will be closer to the optimum temperature of 195 degrees rather than a destroying 212 degree temperature. Best for brewing one or two larger cups of coffee. Looks very good and complements better quality tableware.
Date published: 2017-12-28
Rated 5 out of 5
by
DrMatt
from
Great cup of Coffee
Overall, great cup of coffee produced with light body and Great flavor that is not over brewed or bitter. I will lest the pros and cons that my wife and I have after the first 2 weeks of use: Pros: 1) very quick brew time with an organic compostable #4 filter (approximately 30 seconds to complete after addition of hot water 2) Produces coffee with a light body, kind of like tea, that highlights the flavor notes of the beans you are using without over brewing 3) Ceramic construction! I have a ceramic french press that I use daily as well, and coffee just tastes better out of ceramic to me. The ceramic is very heavy and durable as well 4) Easy to clean, pull filter, soap and rinse. Cons: 1) Need to have a supply of filters (although I am not sure how well a metal re-useable filter would work) 2) Starting price point of $39.99 is a little on the higher end after comparing similar pour over cones 3) No Measuring increments on the unit, if filling an individual cup (which can easily be modified by filling the cup you are using with water and pouring into an empty kettle) Overall, I found the cons to be minor in general, and when my wife (who is a much harsher critic than me) consistently says how good the coffee is, it is definitely doing something right.
Date published: 2017-12-19
Rated 5 out of 5
by
Delbert
from
So simple to use
Simple with sterling results. Then cleanup is a snap as storage and preparation for the next go around of fresh pour-over coffee.
Date published: 2017-12-18
Rated 4 out of 5
by
Mills
from
Pour Over Cone Review
The KitchenAid 4 cup pour over cone is not a new innovation or concept. However what it does do well is offer anyone the opportunity to make a cup of coffee with a time tested and proven method. It's hefty and appears to be made of a quality ceramic material. The paint/coating is also very durable. This was my first attempt at personally making a pour over style cup of coffee. With that being said, I feel like the included instructions were severely lacking. A couple of details that would have been helpful would be the proper temperature to brew the coffee at and how much grounds to use per amount of water. This can easily be overlooked if you're in a rush. After some research, I found the recommended temperature to be 200°F and 55g of coffee per liter of water. For the first cup of coffee I made with it, I used a medium grind. I also poured the heated water slowly through the pour over cone to maximize the contact time. This definitely requires some patience. In the end the final cup produced was phenomenal. I can't believe I have waited this long to make a pour over brew. I was offered this pour over cone as a promotion, but I do feel that the advertised price is a bit high for what you get. However, if you have the patience and desire to make pour over coffee then I think this can justify the price. It proves to make some of the most flavorful coffee I have ever made and I expect it to last through the years.
Date published: 2017-12-11
Rated 4 out of 5
by
steve214
from
Quality Item
This is a heavy duty pour over. Great quality for sure. I accidentally dropped it in my sink and it didn't even chip. I can see this lasting a long time. I love that the bottom is wide open instead of having holes, that and heavily ribbed walls lets the coffee flow at the right speed, great feature and makes great coffee. So even though this thing may last longer than me, $40 for a pour over just seems like too much to pay even if you can afford it. Other than the price, 5 stars all the way. I did receive this item as a promotion and i'm glad i did, i use it every morning now and my Hario is getting dusty.
Date published: 2017-11-29
Rated 5 out of 5
by
Smyle_Maker
from
A great cup of coffee without the mess!
I received this 4 Cup Pour Over Cone to try out and write a review. I typically make my coffee with a french press so I was curious how this would compare in taste. It was very simple to use, sturdy in construction and made a great tasting cup of joe! I will definitely use this as my alternative when only wanting a single cup of coffee. Easy to clean and doesn't take up much space.
Date published: 2017-11-24
Rated 5 out of 5
by
Catamount18
from
Durable Pour Over Makes a Great Cup
I am familiar with conventional drip coffee makers and French press. I was interested to try this pour over cone. The cone is a sleek looking ceramic. There is a 5 year warranty from chipping or cracking, if you feel the ceramic is prone to such things. The substantial, solid feel of the cone makes me think it won't chip or crack. The bottom spout is wide enough to fit a small or large mug. This was my first time with a pour over, so I followed the directions, which was a sequence of pictures. Put ground beans in a cone filter, fitted in the pour over cone, swirl with steaming water. Even with the steaming water, the cone never got hot. The coffee was better than a conventional drip. The clean up was quick and easy. This is great for a single person who makes a cup at a time.
Date published: 2017-10-31
Rated 4 out of 5
by
Cgrace12
from
A good cup of coffee.
I received this coffee maker and found it an easy way to brew a good cup of coffee. I had a gold filter cone from an old coffee maker that works really well. We grind our own beans and the same grind I use in our drip maker works fine.
Date published: 2017-10-30