2 Cup Pour Over Cone
2 Cup Pour Over Cone is rated out of 5 by 9.
Manually brew a cup of pour over coffee with this 2 cup cone. Simply add your standard wedge shaped cone filter and grounds and pour a slow, steady stream of water over the bed of coffee.
Onyx Black - KCM0260OB
Features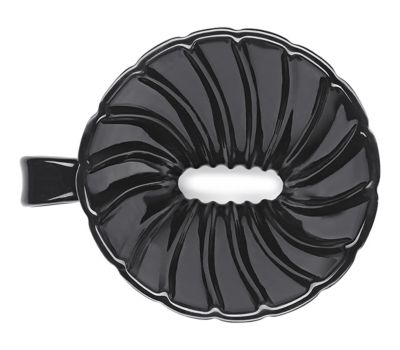 Rib Pattern
Designed for well-balanced, controlled and steady flow to allow for optimal brewing and flavor extraction.

Ultra Durable
Made from vitrified ceramic to resist staining, chipping and cracking. Dishwasher safe.

Balanced Flavor
With the ceramic construction which helps maintain water temperature during the brewing cycle.
Reviews
Rated 5 out of 5
by
Epic Coffee
from
Solid Pour Over Coffee Maker
Kitchenaid reached out to me and asked for a review on their pour-over cone. I was happy to do so.
Date published: 2018-01-22
Rated 5 out of 5
by
LWinLV
from
Great for the office
I've been using this in my office for about a month. I really like it because I find that K-Cups are wasteful and not as good of quality of a pour. To me this is a perfect solution for times when you need/want coffee, have hot water, and no access to a typical coffee maker. I had no issues with it fitting any of my mugs, but some may have issues if they have an oversized wide opening mug.
Date published: 2018-01-11
Rated 5 out of 5
by
jamil21
from
Easy to Use - Fast
I've been using this pour over cone and love it. It is very easy to use and fits a perfectly on different sizes of cups. Makes a great cup of coffee fast.
Date published: 2017-12-12
Rated 5 out of 5
by
Birdie123
from
Nice design.
This pour over coffee maker has a nice and simple design. Perfect for my workplace where I can take advantage of a filtered hot water dispenser. This uses cone filters as opposed to my home coffee maker which uses a basket style filter. a one piece design with a solid build. Looking forward to a lot of use at work.
Date published: 2017-12-06
Rated 4 out of 5
by
Peteandterry
from
Simple one cup coffee
I got this for free from kitchen aid to try. Works very well for one cup. Just pour hot water and your coffee, and no messes to clean, and don't have to wash the coffee pot or filter, just for one cup. So as long as you're just wanting a cup.... It's great. Also great for tea! I'm thankful I have this for the times I just want a cup and not a lot.
Date published: 2017-11-28
Rated 5 out of 5
by
Coffee King!
from
Love that it's not plastic
Easy and efficient. Waste less coffee and water. Great taste every cup. Cheaper than kcups- and, again, avoid possibly toxic plastic pods as you save money.
Date published: 2017-11-10
Rated 4 out of 5
by
TandL
from
Perfect for a single cup.
Quick and easy to use when you only need to brew one cup. Sturdy construction and versatile for a variety of mugs. Brewed coffee is on par with an Aeropress or percolator, but perhaps drains too quickly compared to a Chemex. Definitely superior than a traditional drip machine.
Date published: 2017-11-06
Rated 5 out of 5
by
Suzy
from
works great!
I am not a pour over coffee expert but I do know and enjoy an excellent cup of coffee which is just what you get with this cone. I already had and have used a Melita pour over so that's what I can compare it to. What I like about the KitchenAid over the Melita is the solid ceramic construction. There is no viewing hole which helps to keep the steam in and your cup of coffee nice and hot.
Date published: 2017-10-31
Rated 5 out of 5
by
Rick0403
from
Serious Pour Over Coffee Fans Only
Serious Pour Over Coffee Fans ONLY I've had this KitchenAid - 4 Cup Pour Over Cone for about six weeks and it has become indispensable in my Kitchen. Like the KitchenAid coffee grinder I also own, I don't see anytime in the future I would be without it. Why? Like other kitchen tools I use daily I not only want it to last, I want it to mimic the best of all of them. 1) It's sturdy, 2) It's more functional than any other cone I've used, and 3) I don't have concern myself with plastic getting into my coffee. It's a cone, you ask? What's to rave about? When you purchase it and hold it in your hand, you'll notice some things immediately. The weight of the cone means it's not falling off your cup, looking into the cone notice the spiral pattern inside directing coffee to the bottom of the cone, and the large gap at the bottom releasing the freshly brewed coffee. Compare the space at the bottom to the plastic cones with three holes drilled in the plastic and it's obvious---once brewed, let the coffee get out. If there is one thing I would recommend recommend on later versions, it's a thumb holder above the finger hole to add a bit more stability when moving the cone. What a great addition to my kitchen the KitchenAid - 4 Cup Pour Over Cone. No, if you asked, I wouldn't give it up.
Date published: 2017-10-30