Coffee and Spice Grinder
Coffee and Spice Grinder is rated out of 5 by 12.
Grind coffee beans for up to 12 cups of coffee. Or turn your blade coffee grinder into a spice grinder. The accessory kit was designed exclusively for the KitchenAid® Blade Coffee Grinder and includes 2 stainless steel grinding bowls with optimized blades, storage lids and a sprinkle lid.
Onyx Black - BCG211OB
Features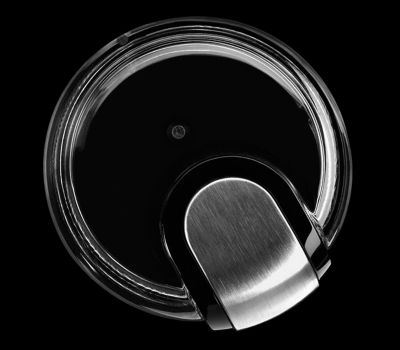 One-Touch Control
Simply push down on the cover to begin grinding and release to stop. The clear cover allows you to easily see the consistency of grinds.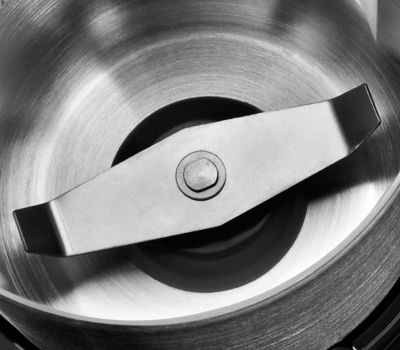 Stainless Steel Blade
Offers durability and powerful performance, quickly grinding enough whole coffee beans to make up to 12 cups of coffee.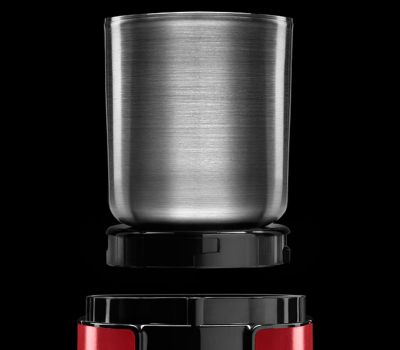 Removable 4-Oz. Stainless Steel Bowl
Features measurement markings on the inside, to grind beans for 4, 8, 10 or 12 cups of coffee. The bowl is removable, to easily transfer grinds to your coffee maker.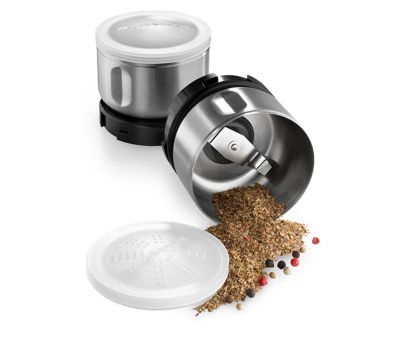 Stainless Steel Spice Grinding Bowls
For spices such as coriander and cumin.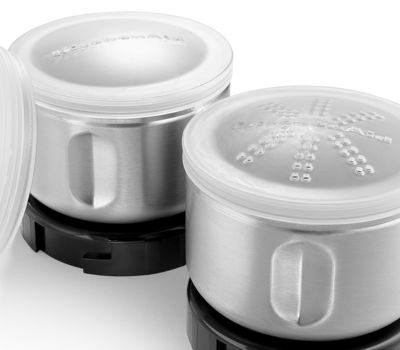 Convenient Features
Such as measurement markings and lids to store your favorite ground spices. Dishwasher safe.

Model BCG211 includes
(1) Coffee and spice grinder, (2) Spice grinding bowls, (1) Shaker top, (2) Air tight storage tops
Reviews
Rated 5 out of 5
by
Madacada
from
Excellent! Extra spice cups is a great idea
Extra spice cups is a great idea. Great quality! Grinds beans and spices very well.
Date published: 2018-02-27
Rated 5 out of 5
by
Tapping Murna
from
Nice looking appliance!
I thought it work smoothly in grinding coffee beans to the consistency I like - not too loud either. Attractive design - fits with other Kitchen Aid products. Liked the fact that it came with separate grinding bowls - one for coffee and 2 for grinding spices.
Date published: 2018-02-21
Rated 5 out of 5
by
Sheryl
from
Live the look and the details
So happy to have had the opportunity to use this product. I love to make dips for parties and with the Kitchnaid grinder I am able to make the dip smooth and flavorful
Date published: 2018-02-18
Rated 5 out of 5
by
lucy G
from
little powerhouse
i received this grinder for review ...my first impression out of the box was that it is very attractive and well built! I just love it!! Its great for coffee bean grinding! Grinds very uniformly!! The three different size grind canisters with measurements.. and lids ..are a real plus!I've no complaints! I even made powdered sugar!!
Date published: 2018-02-10
Rated 5 out of 5
by
Linda 71
from
Kitchen Aid Coffee and Spice Grinder
I use mine to grind up herbs for soup and even tea to make a cup
Date published: 2018-02-01
Rated 5 out of 5
by
LJPinNYC
from
Love it!
Fast, efficient grinder. Use it mainly for coffee, but also to grind flax seeds or whole cardamom once in a blue. It's great that it has multiple grinding cups so if the cup I used to grind my coffee is still dirty, I can just grab the second cup and grind my flax seeds. Definitely recommend if you're looking for grinder to satisfy all of your coffee, seed, and spice grinding needs.
Date published: 2018-01-31
Rated 4 out of 5
by
Marinersgirl
from
Nice Little Appliance
I was provided this product free of charge in exchange for my review. Overall, I like this coffee and spice grinder. We do not drink coffee in my house, so I will review the product as a spice grinder. The motor is quite powerful. We used the grinder to grind some cinnamon. It was a little difficult because of the size of the cinnamon sticks. It worked well once the pieces were smaller. I do not think cinnamon sticks were the best spice to try. We used the coffee grinder piece to grind whole wheat. It worked quite well. It is small, so we were not able to do a lot at one time. However, it was fun and easy for my daughters to use. The biggest difficulty I had was in keeping the lid on the spice grinder cups. It could have been that I was using them wrong, but the lid kept popping off. Maybe with more practice, it will get easier. I look forward to getting more whole spices and grinding them on my own. And because it is so easy to run, my daughters are able to help. It is a great learning tool for them as well.
Date published: 2018-01-20
Rated 5 out of 5
by
alan47
from
Very Easy to Use-Great for both coffee and spices
Great for making small amounts of coffee as well as a full pot. Clean up is a snap. I have an old KitchenAid coffee grinder which I have saved. This new one is much quieter, easier to cleaner, and more versatile.
Date published: 2018-01-03
Rated 5 out of 5
by
Emelia
from
coffee and spice grinder
I received this before christmas and it really came in handy for meal planning and alot more
Date published: 2018-01-03
Rated 5 out of 5
by
chocolate fanatic
from
The best coffee and spice grinder ever!
This has so many great features. The best is that I can remove the cup and blade to completely wash it out. Other grinders can only be wiped clean and the residual taste of many different types of coffee is left behind. The added fact that this is also a spice grinder is a fantastic bonus.
Date published: 2018-01-02