Tri-Ply Copper 10-Piece Set
KitchenAid Tri-Ply Copper 10-Piece Set is rated out of 5 by 19.
Our Tri-Ply Copper Cookware combines the unrivaled conductivity of copper with the heating efficiency of aluminum and the durability of stainless steel. This premium set includes: 8" Skillet, 10" Skillet, 1.5-Quart Saucepan with Lid, 3.0-Quart Saucepan with Lid, 3.5-Quart Sauté with Lid, 8.0-Quart Stockpot with Lid
Satin Copper - KC2PS10CP
Features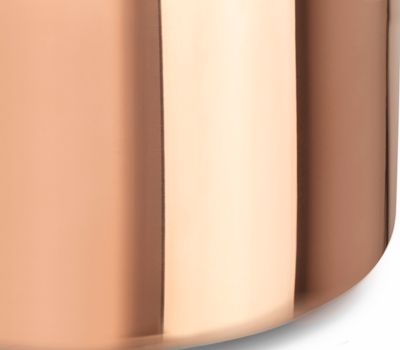 Beautiful Copper
A blend of beauty and performance: the polished pure copper exterior provides efficient, even heating. (Hand wash cleaning only)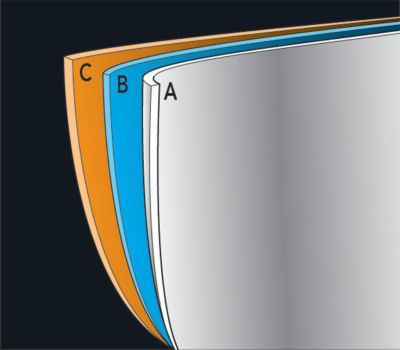 3-Ply Copper Design
Our 3-Ply Design gives you precise even heating. The layers include: ##A. 18/10 Stainless Steel; ##B. Aluminum; ##C. Copper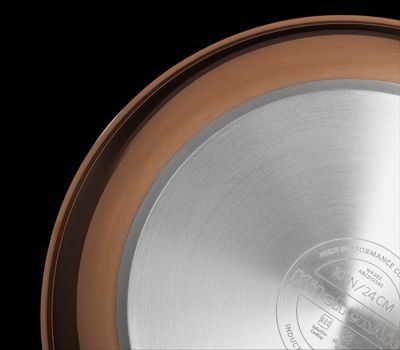 Copper with Induction Technology
Revolutionary induction technology on a copper exterior body. Its 18/0 magnetic stainless steel base stays flat on all cooktop surfaces, including electric, gas, and induction.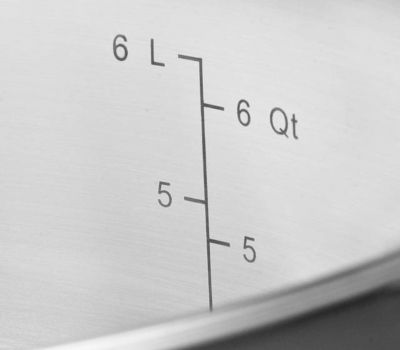 Etched Measurement Markings
Etched Measurement Markings make it easy to measure quantities for soup and sauce recipes.

Riveted Stainless Steel Handle(s)
This sturdy handle lets you take the pan from stove to table with ease.

Easy Pouring Rim
Each pan has a curved edge to make pouring easier and neater.

Oven Safe up to 500°F
To prep, finish or reheat food in the oven.
Specifications
Features
Handle
Riveted Stainless Steel
Interior Finish
Stainless Steel
Laser Etched Logo
Laser Etched
Lid Type
Domed Tempered Glass
Reviews
Rated 1 out of 5
by
Cilisi
from
"Copper" washes off and discolors; bottom scratches cooktop
I used these beautiful and expensive pots to make our first supper yesterday in our newly renovated kitchen. They scratched the KitchenAid cooktop and completely discoloured after a single use. I am attaching photos of the frying pan. I am beyond disappointed in KitchenAid. Their quality control should have used the pots at least ONCE before putting them into mass production and the company should have been recalled as soon the defects were noted. Leaving them on the market is a blight on Kitchen Aid's reputation.
Date published: 2017-10-03
Rated 1 out of 5
by
Spearce
from
discoloured and copper coating came off of one
We have had this set for less than one month and the colouring has changed significantly. On one of our frying pans the copper coating has come right off.
Date published: 2017-09-27
Rated 3 out of 5
by
S Lucas
from
Look horrible after only 3 months
It took us a long time to decide which parts we were going to purchase and decide to go with the KitchenAid copper pot because of the look and KitchenAid having a fairly good name. We've been quite disappointed as they have quickly become discoloured and look horrible. I thought maybe it was a bad batch but looking at the reviews it sounds like it's a common problem with these pots and pans.
Date published: 2016-11-22
Rated 1 out of 5
by
Stacysunshine
from
Broken Hearted
I received this as a, wedding gift. The very first use my pan became discolored. The handle on the lid is very loose and coming off. There was also a dent in the side of one of the pans. This, was the only cookware set I received and I am really, dissapointed. I may of just gotten a bad batch... Im not sure. I purchase everything kitchen aid and im hoping I just got a bad set and not all the cookware comes a mess.
Date published: 2016-09-27
Rated 1 out of 5
by
NPRIZ
from
Great looker but simply not worth it.
We got this as a wedding gift and fell in love instantly!! They look amazing and are weighted perfectly. My mother and mother in law both have commented that they are looking to purchase a set of these next time they need to replace theirs. Fast forward to now and we are not as excited. The copper never cleans up. I have used a few different "polish and cleaners" and the pans still show signs of burns and discolor. The tipping point was today and we placed our pan into the oven that was set at 350. Within minutes the pan was completely discolored. Please save your money. Unless you are buying to never cook with and display only, pass on this set.
Date published: 2016-09-04
Rated 5 out of 5
by
Rod
from
Copper , cookware ,
I have just received a set,of copper cookware , very very nice very well made much more nicer than the 7ply,that I have much better than it like the handles rivit,not welded , and are 3ply,all the way up the sides , not thin like the 7ply , thanks ,
Date published: 2016-08-24
Rated 5 out of 5
by
Janet W.
from
I love this cookware!
I have always loved copper cookware and wanted a set for sometime. The Kitchen Aid copper cookware met all my expectations. The cookware is beautiful to look at and I love the measurement markings on the inside of the pan. The glass lids allow you to see the food as it is cooking without lifting the lid. As for cooking, I found that the cookware heats up quickly and evenly. Clean up is a breeze with an occasional swipe of copper cleaner to keep the copper shiny. I would highly recommend this cookware.
Date published: 2016-08-16
Rated 2 out of 5
by
Ruby Red
from
Beautiful to look at, but noy easy to cook with.
I was thrilled to see this beautiful copper set -- until I used them. The copper discolored badly on the 1st use, even though I had carefully followed instructions. I even called Kitchenaid; they suggested I not cook with high heat. Come on, I'm not supposed to boil water on high heat?! The pots are more conductive than my 40-year old pots, but not worth it. The exteriors look horrible, and I refuse to polish pots after every use. I love my Kitchen Aid mixer, but the pots & pans miss the mark.
Date published: 2016-07-19
Rated 4 out of 5
by
Kitchen Goddess
from
Not Just A Pretty Face--This Cookware Is Hot!
Although I got this cookware for home use, I also cook professionally. I really liked the even heating and how it sits level on my range. This set was a nice mix of pieces for stovetop and oven. I liked the overall quality, and I especially liked the handles--they are well-balanced with the weight of each pan. With a little care, the copper pieces look impressive hanging from my pot rack.
Date published: 2016-06-28
Rated 5 out of 5
by
kristen's too-too sullied flesh
from
Let Me Talk to You About Grilled Cheese Sandwiches and Soup
I wanna talk about grilled cheese. I know this is silly; this is, after all, excellent quality cookware. However! The first thing I ever learned to cook was a grilled cheese sandwich when I was eight years old. It's fair to say that in the ensuing years I've made at least a bajillion of them, and I honestly thought there was nothing new to add. I've used my trusty ole vintage cast iron, griddles, panini presses, low budget skillets, you name it. I figured my trusty staple was as good as it was gonna get. I was wrong. So, so wrong. My husband asked incredulously, "Did you use the new cookware?" when I handed him a gorgeous sandwich. He bit into it without hearing my answer and smiled beatifically. "Babe, whatever you did different? Do it again." Well, I used my new copper cookware is what I did. I don't have an induction stove, just plain ole electric, but something about the skillet in this set just upped my grilled cheese game, and I'm telling you. I cooked it exactly the same way I always do. As for the other pieces, they're all perfect as well. My chicken soup--another staple around here--worked perfectly in the stew pot. And braising things in that saute pan was so good--I hadn't quite found the perfect pan for sauteed Brussels sprouts and kale until now. The cooking is so nice and even that I really wish I had an induction stove so I could test it out, take these beautiful pans out for a spin. The only downside? Hand wash only. That's okay, I like to baby my cookware anyway, and it cleans incredibly well (especially since burning things in them is just not an option, that's how evenly these pans cooks). The manual instructed me to use a special mixture to shine up the copper in case it splotched a little. I did just that--and it worked perfectly. All in all, I am utterly enamored of my new cookware, and I have to keep a close watch on my mother, who has been eyeballing the smaller skillet with envy. I'd recommend this set to both amateurs and pros alike.
Date published: 2016-06-01
Demos & Guides
guides
Use & Care Guide
Comprehensive information about your new appliance - from getting started to cleaning and maintenance.