Ice Cream Maker
Ice Cream Maker is rated out of 5 by 81.
Make up to 2 quarts of fresh ice cream, sorbet and a variety of other frozen desserts quickly and easily. (Fits Stand Mixer models KSM6573C and KSM7).
Other - KAICA
Features
Ice cream, gelato or sorbet
Makes up to 2.0 quarts of our your favorite frozen treat in 20-30 minutes. Allow your ice cream bowl to freeze at least 24 hours prior to use.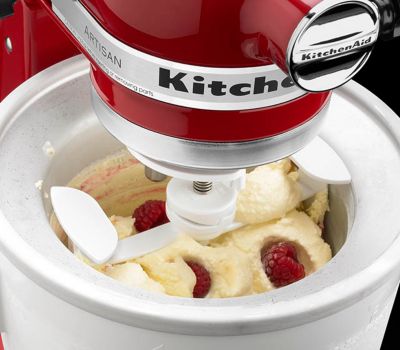 Thorough ingredient incorporation
With the dasher which rotates inside the bowl to spread, scrape and mix.

Easy to Clean
With warm soapy water.
Reviews
Rated 1 out of 5
by
chris21
from
not good!
After several uses it started leaking blue fluid, would not recommend!
Date published: 2018-04-03
Rated 3 out of 5
by
Tawnytabby
from
Absolutely fantastic until it started leaking.
We absolutely loved using this attachment to make a variety of homemade ice cream treats, so it was very disappointing that it started leaking it's blue blood all over our freezer and cabinet. We will need to purchase another one... but at this cost--and given that our problem does not seem to be unique--I think I will try a different ice cream maker unless I hear that KitchenAid has solved this problem. Sorry, KitchenAid, you heartbreaker, you!
Date published: 2018-02-28
Rated 1 out of 5
by
MikeInMaryland
from
Leaked blue fluid after two uses.
Received this as a wedding gift. After two uses, it started leaking blue liquid in the freezer as I froze it overnight in preparation for use. I've otherwise kept it stored in its original box with styrofoam padding. Extraordinarily disappointing.
Date published: 2018-02-22
Rated 1 out of 5
by
Diana317
from
Leaking blue liquid
I got this as a birthday gift last year and didn't get a chance to use it until yesterday. Its been stored in its original packaging in the kitchen all this time, and after hand washing it, I noticed my drying rack had blue liquid all over it and it was leaking from the small knob! There are no cracks or anything, and it's never been dropped or mishandled. I'm so disappointed that I never even got to use it.
Date published: 2018-02-07
Rated 2 out of 5
by
So sad
from
It worked great.....until the leak
I've used mine several times with good results until it started leaking blue stuff. Now it sits in my garage and I'm screaming for ice cream.
Date published: 2018-01-27
Rated 5 out of 5
by
Wesanator
from
Best tool ever
Bought this for my wife for Xmas. She was so excited. She couldn't wait to see it work. So after some reading she tried simple vanilla from a recipe online. Well she got scared she didn't cook it long enough and ended up burning it a bit and after freezing the flavor was horrible. So read read read have alot of patients and follow directions on recipes. She has turned out some of the best freaking ice cream, since then, if adding ingredients freezer them before adding, freeze storage containers, cool the custard completely before freezing. Patients this is not quick but if you make a few bases they store for up to 4 days, then you can quickly make cream.
Date published: 2018-01-13
Rated 1 out of 5
by
Whitney02
from
Leaking blue liquid from small back knob
I have had a a kitchenaid professional 600 for a few years now and love it. I recieved the ice cream machine as a gift and have only used it once. I was cleaning my cabinet out and noticed it has now leaked blue liquid all over and completely ruined my cabinet. Beyond disappointed. Wish I had read the reviews before asking for one and not have had a $100 serving of ice cream. Kitchenaid really needs to address this ongoing and common problem.
Date published: 2018-01-10
Rated 1 out of 5
by
SusanD2001
from
Hate it , worthless.
I was excited but the stupid thing doesn't stay on, have tried over and over again, once ice cream gets slightly thick it falls off. Threw it away really disappointing, what's waste. A bummer because we have been thrilled with the meat grinder attachment as well as the mixer itself.
Date published: 2017-12-10
Rated 5 out of 5
by
Fishsticks
from
One of my favorite accessories
I am really surprised at the low rating. I bought mine the first year it came out and use it monthly or more without any issues. I love it! The only attachment I use more is my slicer/shredder. I keep the ice cream bowl in a non self-defrosting deep freeze so it is always ready for me. i wonder if the non defrosting freezer is why ai have no leaking issues. But regardless, I could not be happier. I love ot and would and do highly recommend it.
Date published: 2017-11-24
Rated 5 out of 5
by
Sweetz
from
Easy to Use
I've had nothing but great experiences with my ice creak maker. I purchased mine in April of 2017 and I've used it about 4 to 5 times since then. This is my first ice cream maker so I can't compare it to any other brand or model. I keep it stored in the freezer at all times just in case I want to make some sorbet at a moments notice. Its made me want to experiment with other flavors and fruits to see what else I can come up with. So far, I've only made strawberry and mango sorbet on different occasions. There has been no leaking of fluids thus far but I will be on the look out after reading all the bad reviews (crosses fingers). The warranty department is very responsive with other attachments I've had to call about in the past. Maybe Kitchenaid has an extended warranty after the year is up for attachments with a history of defects after the first year. Not sure, but definitely a great idea. I purchased mine on sale, so if something happens to it, I still saved money lol. The only draw back is that I wish I could make more than 2 qt. because this stuff is so dang good. I put the mango sorbet in my fruit smoothie to substitute ice... it was heaven!
Date published: 2017-11-21