18" Width Drop-Down Door 35-lb. Storage Capacity
Ratings
Perfect for those who entertain often, this automatic icemaker is a genuine blend of style and convenience. With a sleek design and the ability to produce up to 50 pounds of ice in a 24 hour period, this icemaker ensures that you have a steady ice supply - even when entertaining large groups of people.
Below are only the articles for your model.
Search within results:
Parts
To buy replacement parts for your appliance, > See parts.
Accessories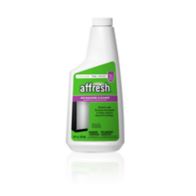 Part # 4396808
Get great-tasting ice from your ice machine with affresh® Ice Machine Cleaner: #1 Recommended by1: Whirlpool and KitchenAid brands. Designed to clean inside all freestanding ice machine makes and models, affresh® Ice Machine Cleaner delivers a specialized clean with its nickel-safe formula that helps r
Read More
MSRP: $13.99
Part # 1901A
This sensational Condensate Water Pump is designed to remove excess water resulting from melting ice up to 10 feet high.
MSRP: $508.99
May Be Built-In or Freestanding
May Be Built-In or Freestanding
35 Pound Capacity Lighted Storage Bin
35 Pound Capacity Lighted Storage Bin
Factory-Set Cube Size (3/4" x 3/4" x 3/8")
Factory-Set Cube Size (3/4" x 3/4" x 3/8")
Additional Features
Clean Touch™ Controls
Clean Touch™ Controls
Easy Access Storage Bin with Ice Scoop
Door Activated Ice Compartment SpillGuard™ Feature
Door Activated Ice Compartment SpillGuard™ Feature
Drop-Down Door
Drop-Down Door
Electronic Clean Cycle
Electronic Clean Cycle
Adjustable Front Levelers/Rear Rollers
Adjustable Front Levelers/Rear Rollers