15" Width
Right-Hand Door Swing
25-lb. Storage Capacity
Ratings
Perfect for those who entertain often, this automatic icemaker is a genuine blend of style and convenience. With a sleek design and the ability to produce up to 50 pounds of ice in a 24 hour period, this icemaker ensures that you have a steady ice supply - even when entertaining large groups of people.
Below are only the articles for your model.
Search within results:
Parts
To buy replacement parts for your appliance, > See parts.
Accessories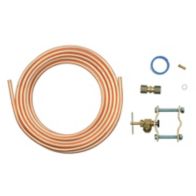 Part # 8003RP
This kit includes everything you need for easy installation. It fits most refrigerators and provides water to ice makers, ice and water dispensers, freestanding ice makers, humidifiers, and evaporator coolers. Packaging includes a 15 ft. Copper Water Supply Line, 1 Saddle Valve and Coupling Union, and Teflon® Tape
MSRP: $26.99
Accessories
Architect® Series
Architect® Series
May Be Built-In or Freestanding
May Be Built-In or Freestanding
Right Hand Door Swing
Right Hand Door Swing
Additional Features
Zero-Clearance Door Swing
Zero-Clearance Door Swing
25 Pound Capacity Lighted Storage Bin
25 Pound Capacity Lighted Storage Bin
Makes up to 50 pounds of ice cubes every 24 hours
Makes up to 50 pounds of ice cubes every 24 hours
Factory-Set Cube Size (3/4" x 3/4" x 3/8")
Factory-Set Cube Size (3/4" x 3/4" x 3/8")
Clean Touch™ Controls
Clean Touch™ Controls
Easy Access Storage Bin with Ice Scoop