15" Width Right-Hand Door Swing Factory Installed Drain Pump Architect® Series
Ratings
Generate up to 50 pounds of crisp, clear ice in a 24-hour period with this sleekly designed Architect® Series ice maker available in built-in or freestanding.
guides
Warranty Information
A complete description of your warranty coverage, and contact information for service and support.
Use & Care Guide
Comprehensive information about your new appliance - from getting started to cleaning and maintenance.
In order to read a PDF file, you must have Adobe Acrobat reader installed on your computer. You can download the latest version at the Adobe website.
Below are only the articles for your model.
Search within results:
Parts
To buy replacement parts for your appliance, > See parts.
Accessories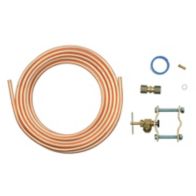 Part # 8003RP
This kit includes everything you need for easy installation. It fits most refrigerators and provides water to ice makers, ice and water dispensers, freestanding ice makers, humidifiers, and evaporator coolers. Packaging includes a 15 ft. Copper Water Supply Line, 1 Saddle Valve and Coupling Union, and Teflon® Tape
MSRP: $26.99
Accessories
Architect® Series
Architect® Series
Factory Installed Drain Pump
Factory Installed Drain Pump
May Be Built-In or Freestanding
May Be Built-In or Freestanding
Additional Features
Right Hand Door Swing
Right Hand Door Swing
Zero-Clearance Door Swing
Zero-Clearance Door Swing
25 Pound Capacity Lighted Storage Bin
25 Pound Capacity Lighted Storage Bin
Makes up to 50 pounds of ice cubes every 24 hours
Makes up to 50 pounds of ice cubes every 24 hours
Factory-Set Cube Size (3/4" x 3/4" x 3/8")
Factory-Set Cube Size (3/4" x 3/4" x 3/8")
Clean Touch™ Controls
Clean Touch™ Controls