Pro Line® Fully Integrated Console Built-In
Ratings
With its attractive design and heavy-duty performance, this built-in Pro Line® compactor is the ultimate appliance for reducing household trash. (Less garbage means less to take out, and it's better for the environment, too.) The 5:1 compaction ratio reduces trash volume by up to 80%, while the exclusive Solid Pack™ feature constantly crushes and compresses trash with 2,100 pounds of solid force - even when it's not turned on - with much less trash as a result. It's also extremely quiet, with a highly effective odor management system that features a simultaneous filter and fan pairing for consistently clean-smelling air.
Below are only the articles for your model.
Search within results:
Parts
To buy replacement parts for your appliance, > See parts.
Accessories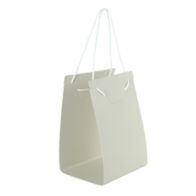 Part # 13030RP
Use the 15" Compactor Bag Caddy to easily lift and remove full trash compactor bags for discarding. Simply place the reusable caddy in the trash bin before placing a new compactor bag in the bin, and use the easy-grip handles to remove the bag once full.
MSRP: $14.99
Pro Line® Series
The Pro Line® Series is a complete and coordinated suite of premium, professional appliances that showcase the design of your home and your passion for cooking. At first glance, you'll appreciate the bold design that blends the authenticity of commercial-grade appliances with a robust scale and clean lines that welcome the professional cooking experience.
1.4 cu. ft. Capacity
Built-In Undercounter Installation
Additional Features
Flush with Cabinet Design
Frameless Wrap-Around Stainless Styling
5:1 Compaction Ratio
Reduces trash volume by up to 80%.
Convenient Toe-Bar Drawer Opener
Configuration and Overview
Show More Specifications