Vegetable Sheet Cutter Attachment
Vegetable Sheet Cutter Attachment is rated out of 5 by 32.
Reinvent classic meals and inspire your culinary creativity with fresh fruits and vegetables. The KitchenAid® Vegetable Sheet Cutter Attachment produces thin sheets of zucchini, apples, cucumber and other fruits and vegetables. From substituting pasta and wraps with vegetable sheets, to reinventing snacks and sweet dishes, the options are endless.
Other - KSMSCA
Features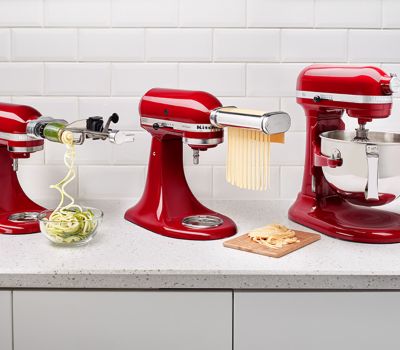 Attaches to Power Hub
Of your stand mixer and uses the power of the motor to run the attachment. Fits all Household KitchenAid® Stand Mixers.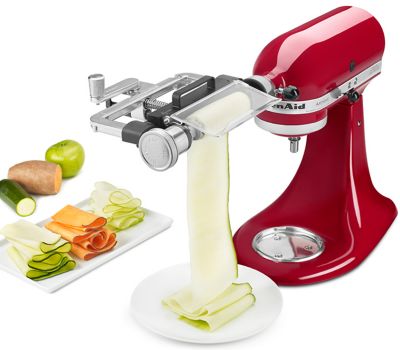 Use more fresh fruits and vegetables
Create sheets of zucchini, apples, cucumbers and other fruits and vegetables, and inspire fresh versions of everyday dishes.Two blades allow you to produce thinner or thicker sheets, depending on your preference or recipe.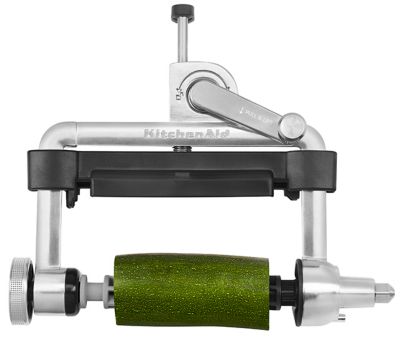 Premium Metal Construction
For durable long lasting performance, and when attached to the stand mixer, provides stability and ease of use.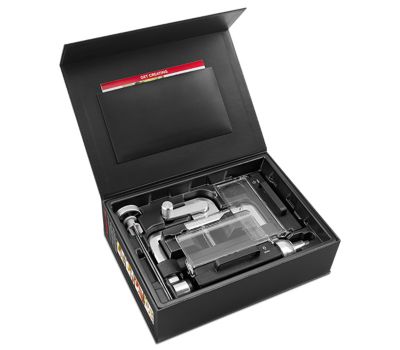 Storage Case
The KitchenAid® Vegetable Sheet Cutter is packed and organized inside its own storage case, designed for easy access and simple storage.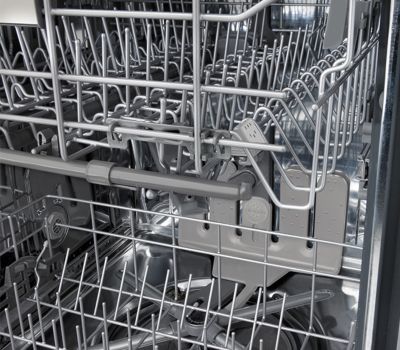 Dishwasher Safe
Both blades, adapter, skewer and food holder are dishwasher safe on the top rack. The body can be wiped clean with a warm damp cloth.

Model KSMSCA includes
(1) Thin Blade, (1) Thick Blade, (1) Zucchini/Cucumber Adapter, (1) Food Holder (1) Food Skewer
Reviews
Rated 5 out of 5
by
Hutta
from
incredible edible's!
WOW! Yes, this is a fantastic addition to my kitchen aid mixer attachments. I Love it and so do my grandbabies!
Date published: 2018-01-03
Rated 5 out of 5
by
Cranberri99
from
Performed as expected and a clever device
This was the only KA stand mixer I've been tempted to try and it worked just as expected. A relatively firm apple worked well and was just plain fun to eat as a rollup (a fun way to give kids a treat). An average sized firm zucchini (thick blade) worked well but it takes a bit of practice to make sure it is firmly attached. The butternut squash worked well also using the thin blade. I used the bits that did not convert into sheets for making baked veggie chips. (That takes a bit of practice too.) First recipe was a zucchini/butternut squash video, more or less to one of the videos on KA website. The use of tomato sauce make it WAY too much liquid. I'd try tomato paste or allow the zucchini to sweat off the water according to other recipes. Otherwise it was a successful recipe that I'll try again with adjustments. I'm looking forward to partnering this new kitchen toy with a dehydrator. Thank you KitchenAid engineers!
Date published: 2017-12-29
Rated 5 out of 5
by
Kim K
from
Great Features
I got this for Christmas and I love it. I made apple rollups today and my 3year old loved them. It was easy to use and worked great. My next purchase will be the spiralizer.
Date published: 2017-12-28
Rated 5 out of 5
by
Angiels1
from
Easy Healthy Eating
I bought the vegetable sheet cutter attachment for myself for Christmas. It was very easy to use and meal ideas are healthy, easy and endless. My first meal was zucchini and squash lasagna. I replaced all noodles with zucchini and squash. I rolled the zucchini and squash with a ricotta filling that had sautéed spinach and mushrooms. It was flavorful and healthy. I also made a cucumber and cream cheese appetizer. Can't wait to make an apple dessert in the coming weeks!
Date published: 2017-12-28
Rated 3 out of 5
by
AK17
from
Nice idea, but ...
This product is only as good as the quality of the vegetables you are preparing. Use large zucchini (wider than they are long) to yield enough to actually make a pan of lasagna. Veggies that are less than firm will fall apart on the skewer after the initial contact with the blade. Keep in mind that the max length for anything you work with on this attachment is about 4.5 to 5 inches meaning you might have a decent size chunk of vegetable left over after trimming down; that and the sizable core left on the skewer after sheet cutting could be enough for you to use in another recipe. Only use the first 3 inches of skewer with hard veggies, but be careful when you do. No success with butternut squash, so I'm skeptical about how it would handle a sweet potato. Unfortunately I won't find out anytime soon because my skewer warped during my failed attempt with the butternut squash. Visited the site today to locate a replacement skewer, but that part is not offered for purchase. Hopefully, it is covered under the warranty and can be replaced. Overall, the sheet cutter attachment would be a much better value if it came with an extra skewer that was shorter and more solid to use on hard veggies.
Date published: 2017-12-27
Rated 5 out of 5
by
Ljj sat
from
Love it! Need recipes.
Just got this and am making zucchini lasagna. Works great. Make sure to use the soft veggie attachment.
Date published: 2017-12-11
Rated 4 out of 5
by
Nola64
from
Great attachment!!
I gave this 4 stars because it a little complicated but once you figure it out, you will start thinking of different ways to use it.
Date published: 2017-12-08
Rated 4 out of 5
by
Megan
from
Awesome device!!!
I have been sheet cutting all sorts of items. Yams, parsnips, rutabagas, pretty much anything I can find in my produce department that looks like it might slice well. I am experimenting with mixtures and have to say everything I've tried has come out well. A single potato can create a yard-long slice or more!! My only gripe (and the reason I didn't give it 5 stars) is that the vegetable holder could be more sturdy. A couple of the prongs snapped off doing the rutabaga, and so far I have not heard back from Kitchen -Aid about a replacement part. I can still do most items,
Date published: 2017-12-08
Rated 1 out of 5
by
Ivette
from
Bad product
I bough thes week and i sender back to the companay oh Gad that not workin like they show at the video so sad.
Date published: 2017-12-06
Rated 1 out of 5
by
DJFlower
from
Disappointed
Tried today for the first time. Went through two zucchini and nothing but mush. Both were too long so I had to cut them in half. That's four pieces that did not work. The cutter just turned inside the zucchini and created mush. The blade NEVER cut any zucchini. The main reason I bought this was for zucchini lasagna. Not interested in other vegetables. I will return this for sure. VERY DISAPPOINTED IN KITCHEN AID.
Date published: 2017-12-04
Demos & Guides
guides
Use & Care Guide
Comprehensive information about your new appliance - from getting started to cleaning and maintenance.