Gourmet Pasta Press
Gourmet Pasta Press is rated out of 5 by 39.
No longer settle for pre-packaged pasta when making it fresh is easy and tastes so much better. Powered by the KitchenAid® Stand Mixer, the Gourmet Pasta Press makes six different types of fresh pasta from scratch quickly and easily; Spaghetti, Bucatini, Fusilli, Rigatoni, Small Macaroni and Large Macaroni. Made in Italy.
Other - KSMPEXTA
Features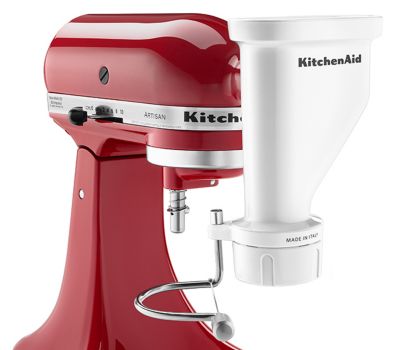 Powered by your KitchenAid® Stand Mixer
To make quick and easy work of fresh homemade pasta in your kitchen using the Gourmet Pasta Press Attachment. Fits all Household KitchenAid® Stand Mixers.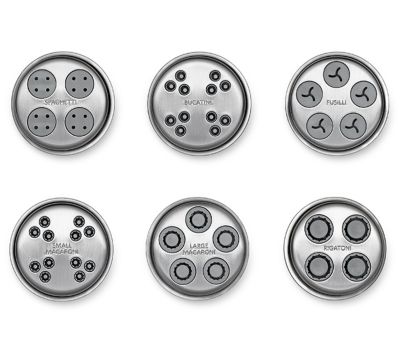 6 Quick Change Discs
Offers great versatility all in one - allowing you to make fresh spaghetti, bucatini, rigatoni, fusilli, large macaroni or small macaroni simply by changing the pasta disc.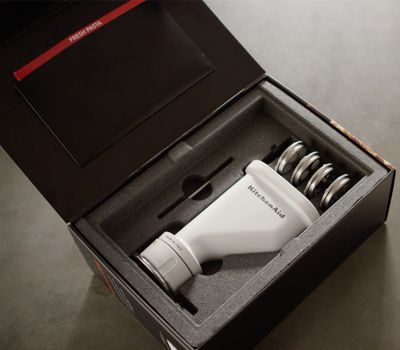 Storage Case
The pasta press and all its parts are neatly organized inside its own storage case for easy access every time.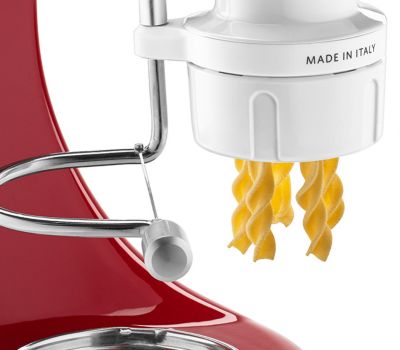 Built-In Wire Cutter
For complete control over the length of your pasta.

Model KSMPEXTA includes
(1) Pasta press, (1) Dough pusher, (6) Pasta discs and (1) Stainless steel cleaning tool
Reviews
Rated 4 out of 5
by
life
from
Great machine
Gave it a four giving it room to grow to five. Like the plastic case on top to keep all the discs in one place. Working the dough to the right consistency is the trick to make great pasta. Don't give up.
Date published: 2017-12-07
Rated 3 out of 5
by
MoonWa
from
I liked it...until the inside gears started making
I had used this for about 6 months without any trouble, it worked flawlessly. Then after 6 months, the unit start make a squeaking sound. I'm guessing that the internal gears need food safe grease but I'm hesitant to open up the unit to see what is inside.
Date published: 2017-11-27
Rated 5 out of 5
by
aspong8
from
So fun!
It's so fun and easy to make pasta! I love my new pasta press - very easy to use and makes good pasta. There are six different kinds to choose from, which is also a great perk. Attachments are a bit of a pain to clean, but not a huge deal if you let the pasta dry first, like the instructions say to do.
Date published: 2017-11-06
Rated 3 out of 5
by
Maypackage
from
Not my Favorite
I purchased this a 1-1/2 years ago. Have tried it a couple of times and not really happy with it. I tried it with several varieties of pasta. Can't seem to get the tubes to stay hollow. It would on one end by not the other. I tried changing the speed, changing the doughs, adding more flour and still not satisfactory. I tried the fusilli shape. I only had 3 that came out with the amazing twist I desired. This was waaaay to much effort for less that satisfactory results. Then the clean up. Yuck. What a mess. I need to go and purchase another box of toothpicks. I wanted this to work so badly...
Date published: 2017-10-30
Rated 5 out of 5
by
ATL-Foodie
from
Easy to make AMAZING fresh pasta
I received this as a gift and cannot say enough about it! I saw this product on the show Master of None and wanted it. I used the recipe that came with the attachment and made Bucatini and it came out perfectly! I cannot wait to try all of the other shapes. I would recommend this to anyone who wants to make homemade pasta - it is easy to use and produces wonderful and consistent pasta!
Date published: 2017-10-23
Rated 5 out of 5
by
Roger
from
Have wanted this for a long time
have wanted this for a long time good price great product love it
Date published: 2017-08-08
Rated 5 out of 5
by
The Pasta Maker
from
Fresh Pasta
Machine makes great pasta, love making the various types. Getting ready to experiment and try some different styles and flavor of pasta.
Date published: 2017-07-29
Rated 4 out of 5
by
Beachcomber
from
Storage box and missing parts
I was given the KSMPEXTA as a gift, when unboxing there was no brush or plastic storage housing on top of the attachment. I have viewed several videos and all of them show these parts as included. When I research the KitchenAid website it mentions that the box it comes in is to be used for storage; I put the box out for trash and had to retrieve it. The box is large, most kitchens don't have extra storage space. Also had to research videos on disassembly and cleaning.
Date published: 2017-07-17
Rated 5 out of 5
by
Cookie
from
Excellent results with the first try!
solidly built and high quality, you can tell this was well made in Italy. clean-up was simple, just follow the instructions regarding which parts can besubmerged in water and those that cannot.
Date published: 2017-06-15
Rated 4 out of 5
by
'Kenzie
from
Kitchenaid Pasta Press KSMPEXTA
I have wanted this attachment for such a long time, I was beyond excited when I finally received it in the mail. The recipe was easy, the attachment was very easy to figure out, and the whole process was fun and exciting. It does make very tasty pasta. I will continue to use this over and over again. My only complaint so far is trying to clean the dough out of those pasta discs. Those little wholes are not easy to clean out. Even with that problem, I still love this attachment and would buy it any day. Highly recommended for the pasta loving families like mine!
Date published: 2017-04-23
Demos & Guides
guides
Use & Care Guide
Comprehensive information about your new appliance - from getting started to cleaning and maintenance.