Gourmet Pasta Press
Gourmet Pasta Press is rated out of 5 by 47.
No longer settle for pre-packaged pasta when making it fresh is easy and tastes so much better. Powered by the KitchenAid® Stand Mixer, the Gourmet Pasta Press makes six different types of fresh pasta from scratch quickly and easily; Spaghetti, Bucatini, Fusilli, Rigatoni, Small Macaroni and Large Macaroni. Made in Italy.
Other - KSMPEXTA
Features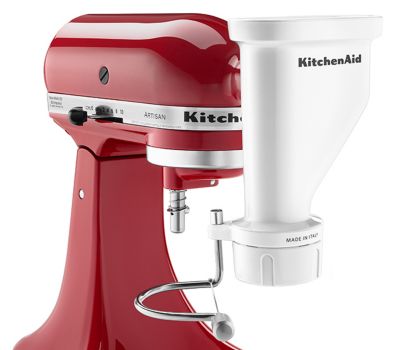 Powered by your KitchenAid® Stand Mixer
To make quick and easy work of fresh homemade pasta in your kitchen using the Gourmet Pasta Press Attachment. Fits all Household KitchenAid® Stand Mixers.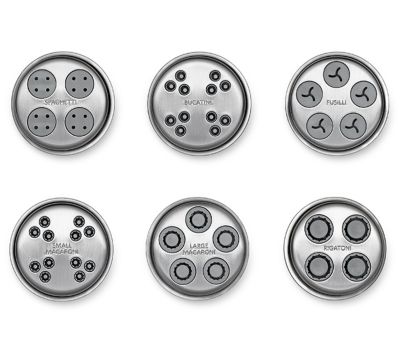 6 Quick Change Discs
Offers great versatility all in one - allowing you to make fresh spaghetti, bucatini, rigatoni, fusilli, large macaroni or small macaroni simply by changing the pasta disc.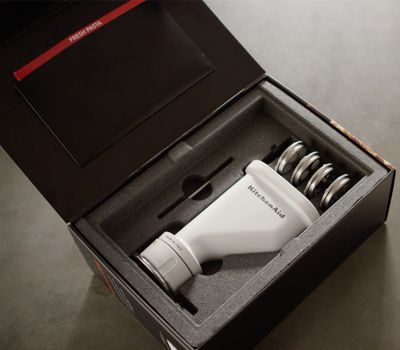 Storage Case
The pasta press and all its parts are neatly organized inside its own storage case for easy access every time.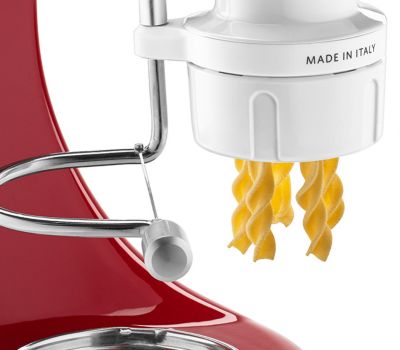 Built-In Wire Cutter
For complete control over the length of your pasta.

Model KSMPEXTA includes
(1) Pasta press, (1) Dough pusher, (6) Pasta discs and (1) Stainless steel cleaning tool
Reviews
Rated 2 out of 5
by
Binx
from
Fusilli Attachment & Rigitoni Attachment
I got the Gourmet Pasta Press as a Christmas gift, I already own the (3) piece one, which I love using for fettucini, & flat sheets of pasta & angel hair pasta, but I wanted the gourmet one especially for the fusilli & rigatoni,, the fusilli doesn't come out like pictured comes out in straight pieces, as for the rigatoni, it's to thick. For such an expensive product, and to be disappointed in the performance.
Date published: 2018-04-04
Rated 4 out of 5
by
DeeDee27
from
Good Product, Takes Some Getting Used To!
Got this for Christmas this year and I'm pretty happy with it, we have used it about 5 times so far. I was using pasta flour from Bob's Red Mill - don't do that, follow the Kitchenaid recipe. The Bob's recipe made the dough too watery. It's fun to use it with my boyfriend,but it can totally be done by yourself as long as you make the walnut sized dough balls first. The pasta is tasty and it's well worth the time it takes (as compared to just popping store bought pasta in boiling water).
Date published: 2018-02-28
Rated 2 out of 5
by
Chongo
from
Recipe is wrong
I bought this attachment a few years ago and never had an opportunity to use it until last year. I followed the Basic Egg Noodle recipe and discovered an error. 31/2 Cups sifted flour do not weigh 830 grams. They weigh 490 grams. Despite multiple calls to KitchenAid I was unable to get any satisfaction regarding the recipe. I finally made the recipe based on the correct weight and have had good success. I would like it if they had additional plates. My husband prefers angel hair pasta, that I make with my hand crank machine. As far as good value, really...no. It's more a high priced toy for adults. The hand crank is much more cost effective and just as much fun.
Date published: 2018-01-29
Rated 5 out of 5
by
Mbell
from
Great product!
I bought the pasta press almost a month ago. I followed the recipe provided and it made perfect spaghetti noodles. It was simple to use and the pasta was amazing. No more boxed pasta in this house!
Date published: 2018-01-29
Rated 5 out of 5
by
April Woodruff
from
Pasta Press
Have had the Pasta Press for about a month and love this, I am gluten free and have a lot of trouble finding pasta, now I am able to make my own.
Date published: 2018-01-29
Rated 5 out of 5
by
Oberg00738
from
Great pasta maker
I got this for my birthday and had used it couple of times and loving it ..a little hard to clean but well worth it if you like fresh homemade pasta
Date published: 2018-01-02
Rated 5 out of 5
by
SusE
from
My Most Favorite Attachment So Far...
I have had the Pasta Press for 4+ years now and I love it! The primary purpose that I purchased my Kitchenaid Stand Mixer after my daughter enjoyed fresh homemade pasta at a friend's house, she raved about it, could not stop talking about it. I had contemplated purchasing a Kitchenaid mixer, my mother got hers in the 70's, made coleslaw with it nearly every night. It wasn't until I wanted to make homemade pasta that I actually purchased one. I also have the pasta rollers and ravioli maker but my favorite is the Pasta Press. It's easy to use, it took me a few tries to get the consistency just right with the pasta dough but I enjoy having fresh homemade pasta, I kept with it and I love it! Love how easy it is to use. It gives me options for the types of pasta I can enjoy.
Date published: 2017-12-26
Rated 1 out of 5
by
PastaLover
from
Replacement Parts Non-Existant
I never considered looking at a kitchen gadget based on the availability of replacement parts. I purchased this Pasta Press about a year ago, and the day I bought it I washed it and left the pieces out to dry. I came back a couple hours later to find a curious cat must have knocked the Rigatoni plate off the counter and into the jaws of my dog ... who immediately thought it a chew toy. As fate would have it, Rigatoni is the ONLY dang reason I bought this gadget, but the plate was "out of stock" at the time. I just checked back and all the replacement parts for this press are STILL "out of stock" ... but the Rigatoni plate is "No Longer Available". Needless to say, the press and all the surviving plates just went into the Goodwill box as it's useless to me now. I will opt to just by the pasta from the store. Can get a lot of Rigatoni for the cost of this gadget.
Date published: 2017-12-21
Rated 4 out of 5
by
life
from
Great machine
Gave it a four giving it room to grow to five. Like the plastic case on top to keep all the discs in one place. Working the dough to the right consistency is the trick to make great pasta. Don't give up.
Date published: 2017-12-07
Rated 3 out of 5
by
MoonWa
from
I liked it...until the inside gears started making
I had used this for about 6 months without any trouble, it worked flawlessly. Then after 6 months, the unit start make a squeaking sound. I'm guessing that the internal gears need food safe grease but I'm hesitant to open up the unit to see what is inside.
Date published: 2017-11-27
Demos & Guides
guides
Use & Care Guide
Comprehensive information about your new appliance - from getting started to cleaning and maintenance.