Professional 6500 Design™ Series 6 Quart Bowl-Lift Stand Mixer
Professional 6500 Design Series 6 Quart Bowl-Lift Stand Mixer is rated out of 5 by 177.
The KitchenAid® Professional 6500 Design™ Series 6 Quart Bowl-Lift Stand Mixer features a powerful, 1.0 HP Motor. Horsepower for our mixer motors was measured using a dynamometer, a machine laboratories routinely use to measure the mechanical power of motors. Our 1.0 horsepower (HP) motor reference reflects the horsepower rating of the motor itself and not the mixer's horsepower output to the mixer bowl. This robust motor, the backbone of our new mixer, delivers .4 HP to the bowl enabling your mixer to deliver consistent power to small and large loads with less heat build-up; resulting in years of dependable mixing. When combined with and guided by our new advanced motor control board, this is our longest lasting and most efficient motor yet. Simply put, our new, highly efficient, special purpose motor delivers the power you need when you need it. SALE OFFER: Limited time offer. Excludes Parts & Accessories. Not valid with any other offers or mail-in rebates.
Candy Apple Red - KSM6521XCA
Features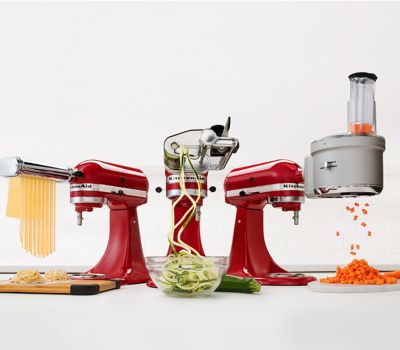 For Everything You Want To Make™
Turn your stand mixer into the culinary center of your kitchen. With over 10 different attachments, you can make everything from fresh pasta to burgers, veggie noodles, ice cream and more.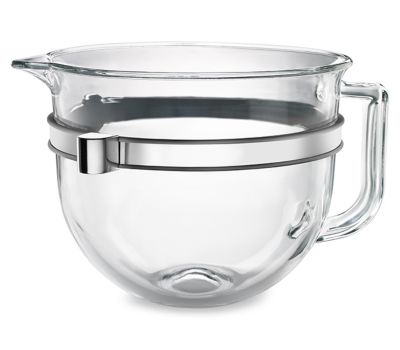 6 Quart Glass Bowl
Offers enough capacity to mix 13 dozen cookies, 8 loaves of bread or 8 pounds of mashed potatoes in a single batch.
Bowl-lift design
Provides sturdy bowl support for stability when mixing heavy ingredients or large batches. The lever smoothly raises the mixing bowl into position for efficient beater-to-bowl contact.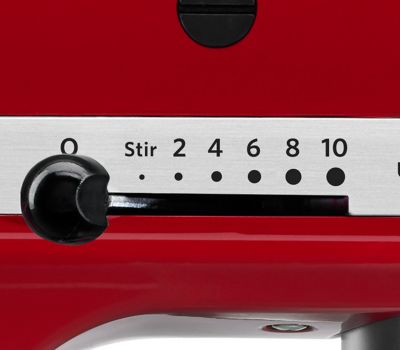 10 Speeds
Powerful enough for nearly any task or recipe, whether you're stirring wet and dry ingredients together, kneading bread dough or whipping cream.

Model KSM6521X includes
(1) F series coated flat beater, (1) F series coated PowerKnead™ spiral dough hook, (1) F series 6 wire whip
Specifications
Configuration and Overview
Wattage
1.0 hp High Efficiency DC Motor
Show More Specifications
Reviews
Rated 5 out of 5
by
Jmhats
from
Great performance
I got this last year for Christmas and it is going strong. I highly recommended this. Definitely got what my husband paid for. And all the attachments are a lifesaver and time saver
Date published: 2017-12-09
Rated 5 out of 5
by
Anonymous
from
Great Mixer
My second KitchenAid mixer. Love it more than the first. Best one ever.
Date published: 2017-12-08
Rated 5 out of 5
by
B123
from
Built like a tank
I don't own this mixer but i own its predecessor for 27 years and they are built to last. I recently had to take mine apart because the accessory drive wasn't working because it had frozen to the housing stripping the drive gear, new drive gear 15 dollars and hub gear also about 14 dollars. What caused the issue was the grease turning into concrete welding the hub gear to the housing which I had to use a torch on to free. I have many other Kitchen Aid appliances the oldest 1970 all made in the USA and they have all preformed flawlessly. This is the first repair I have had to make, ever, they just keep on working. I own none of the new Chinese kitchen aid products but some of the stand mixers like the one above are still made here in the USA
Date published: 2017-12-01
Rated 1 out of 5
by
Kerri L
from
Motor issues
I had used my mixer about four times when the motor started sticking. I could manual get it unstuck and after a few rotations it would stick again. I called my sister who owned the same model and she said hers had done the same thing. I would not recommend anyone buy this model. Epic failure.
Date published: 2017-11-26
Rated 5 out of 5
by
Shele1991
from
This is the BEST purchase I have ever made!
I love this mixer. I use it ALL the time. It's so powerful that it whines a little when it's running hard, but it has stood up to every test I have put through. Endless cakes, cookies, breads, among other things. If you're a seeious home cook/Baker, I highly recommend a kitchenaid stand mixer. This is my most prized kitchen possession.
Date published: 2017-11-25
Rated 5 out of 5
by
Mary on island
from
All that I hoped for
My old Kitchen Aid mixer was perfect for over 50 years but it finally needed to be replaced. I avoided it as long as I could because I didn't think new one would be as good. But it is even better. Does all that the old one did and it does it more quietly.
Date published: 2017-11-25
Rated 5 out of 5
by
easum
from
Workhorse in our kitchen
We've had this mixer for awhile now and it is the workhorse in our kitchen! We use it for everything from normal mixing to juicing tomato's to make homemade ketchup. I loved it so much I bought my Mom-in-law one for Christmas and she could make cookies again with ease (arthritis had made it almost impossible for her to hand mix very stiff dough that a smaller mixer couldn't handle but this one does it with ease!
Date published: 2017-11-23
Rated 1 out of 5
by
Jolie
from
I hate this mixer
My family gave me this mixer for christmas last year. I was so excited to use it and immediately started pulling out my favorite recipes. The first thing for which I used it was whipping egg whites---not bad---till I turned them out of the bowl and found the bits at the bottom that weren't incorporated in the whip. Okay...I did something wrong...so, I did it again. Same thing. Rats! I moved on to banana bread, a family favorite. Fairly simple, average recipe, eggs,flour, two bananas,etc. Butter goes in at room temperature to cream with the sugar---easy right? It would be easy if the machine's highest speed was 30% faster! Or even if the beater actually reached the bottom and edges of the bowl...nope. Consequently, I have to stop the machine every thirty seconds to scrape down the sides and pull down the bowl to get under the beater and still didn't get the light-almost -white color that it should be. I hate this machine.
Date published: 2017-11-06
Rated 5 out of 5
by
Donna12
from
Love the lift mechanism.
Glad I bought the mixer wish there was also a smaller bowl for it
Date published: 2017-11-02
Rated 5 out of 5
by
Grammy Sus Loves to Bake
from
A baker's delight!
Perfect for the serious baker! A powerful workhorse!
Date published: 2017-10-19