Artisan® Mini 3.5 Quart Tilt-Head Stand Mixer
Artisan Mini 3.5 Quart Tilt-Head Stand Mixer is rated out of 5 by 237.
Mini Mixer. Powerful Performance. The Artisan® Mini tilt-head stand mixer makes up to 5 dozen cookies in a single batch, with the same power as the full size KitchenAid® tilt-head Stand Mixers while being 20% smaller, 25% lighter. KitchenAid® Artisan® Mini compared to the full size KitchenAid® tilt head Stand Mixers.
Empire Red - KSM3311XER
Features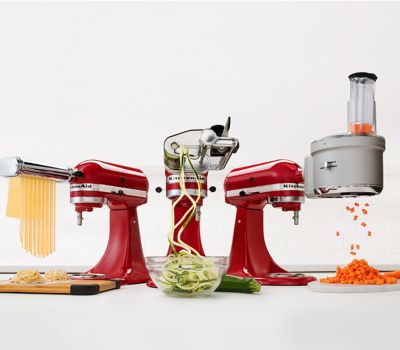 For Everything You Want To Make™
Turn your stand mixer into the culinary center of your kitchen. With over 10 different attachments, you can make everything from fresh pasta to burgers, veggie noodles and more.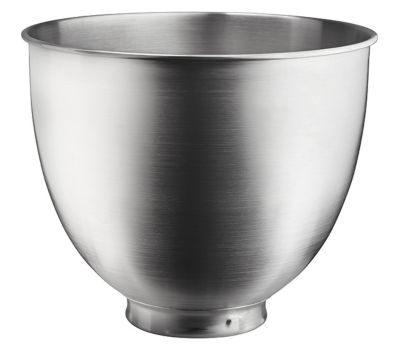 3.5 Quart Brushed Stainless Steel Bowl
Enough capacity to mix up to 5 dozen cookies, a loaf of bread, a batch of guacamole, pulled pork and more.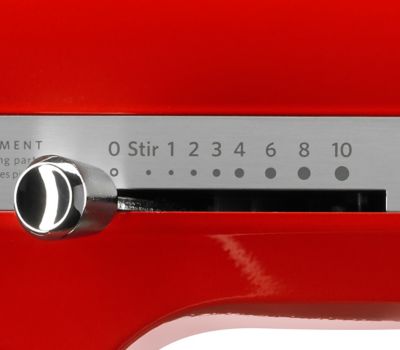 10 Optimized Speeds
Powerful enough for nearly any task or recipe, whether you're stirring wet and dry ingredients together, kneading bread dough or whipping cream.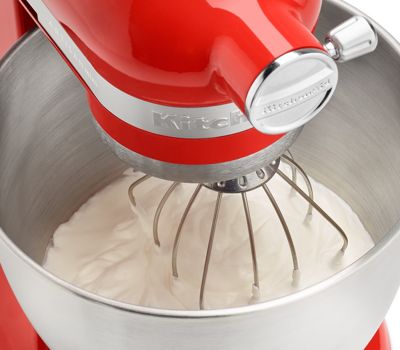 Soft Start®
Helps to avoid ingredient splash and flour puff by starting at a lower speed.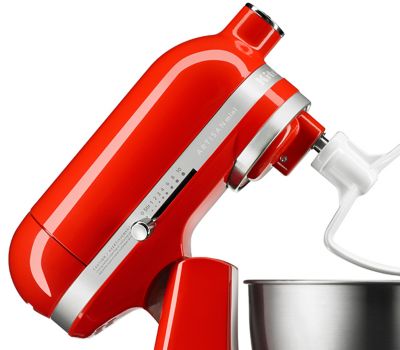 Tilt-Head Design
Allows clear access to the bowl and attached beater or accessory so you can easily add ingredients for a recipe. Locking the head into place during operation keeps the beater-to-bowl contact close and efficient.

Model KSM3311 includes
(1) Coated Flat Beater, (1) Coated Dough Hook, (1) Wire Whip
Specifications
Configuration and Overview
Design
Bowl Finish
Polished Stainless Steel
Includes
Included Accessories
6 Wire Whip, C - Nylon Coated Dough Hook, Nylon Coated Flat Beater
Show More Specifications
Reviews
Rated 5 out of 5
by
Chaser
from
Can't believe I went this long without it!
I've been eyeing a Kitchenaid mixer for the longest and finally I got one! OMG! How did I make this long without it!? It's getting harder and harder to hold a hand mixer because my hand will go numb, so a standing mixer is awesome to me! When I heard that Kitchenaid was releasing the minis, I had to get one. Don't quite know how big or heavy the others are, but this work perfectly for me. It still feels a bit heavy to me when I'm moving it to my kitichen table, but the ability to let something mix while I start on something else is just something I won't get over! Now, it is a bit difficult to pour things into the bowl with measuring cups, so my next purchase would be the pouring shield. But this is awesome for the that baker/cook in your life!
Date published: 2018-03-21
Rated 1 out of 5
by
Naomi17
from
Makes cooking easier
I was given my mixer for a wedding present. I had been wanting one for quite some time so I was really excited to use it. It makeshift such a difference in the kitchen. No matter what meal you are cooking it saves you time and powers through like a work horse. From making mashed potatoes, to shredding chicken, to making muffiins, to cakes & cookies it makes it all easier.
Date published: 2018-03-19
Rated 5 out of 5
by
Mmk512
from
Amazing Kitchen Necessity
This mixer has changed my life. My dough turns out perfect every time I use it. I also am able to eat healthier by spiralizing my veggies myself. This mixer is a marvel!
Date published: 2018-03-19
Rated 4 out of 5
by
Ken is my name
from
Awesome ... and still killing counter space
I'm loving it, but as I'm considering buying other attachments to expand it's utility, I recognize it may never get off the counter (because I'll use it so often).
Date published: 2018-03-13
Rated 4 out of 5
by
Corgi Girl
from
Attachments are awesome
I've had my mini for several months now. I wanted to buy a KitchenAid mixer primarily for the spiralizer & sheet cutting attachments. I found them a bit tricky to master, but I love them. I struggled over whether to buy the mini or the regular size mixer as I rarely bake and we are only a 2 person household. Based upon reviews, I settled on the mini. It would take up less space on the counter & function fine for my small household usage. For those with the same questions, I'd just like them to know that I wish I'd bought the full size model now. The gap between where you can add ingredients to the bowl is so tight. It is almost impossible to add stuff while the mixer is running. I know there is a shoot you can buy to add ingredients, but then that's just another attachment to clean. In the corner where I keep mine, the bigger version would make little difference. The mini is cute, but for function go for the full size!
Date published: 2018-03-07
Rated 5 out of 5
by
annecast
from
Little Workhorse!
I bought this mini and found it has a quiet motor AND really works hard. It's perfect for making household batches of bread, cookies, and whipping meringue. So far, I am impressed - and it's so cheery in this color!
Date published: 2018-03-07
Rated 5 out of 5
by
Wirekat
from
Love all the attachments
Never use my little hand mixer again!! Love this mixer!
Date published: 2018-03-05
Rated 5 out of 5
by
sbacna41
from
Perfect size!!
My husband and kids gave me this for Christmas and it's the perfect size! It does everything I need and want it to do and more!! Absolutely love it!
Date published: 2018-03-04
Rated 5 out of 5
by
Classy Mary
from
Great mixer
Love the mixer, and that is light and easy to move.
Date published: 2018-03-03
Rated 4 out of 5
by
Razzx3
from
Great space and functionality for small family
It has worked we for a family of 2. Have to adjust the head height a bit depending on what mixer you are using. Takes up hardly any space so we just leave it on the counter.
Date published: 2018-03-02