Food Processor with Commercial Style Dicing Kit
Food Processor with Commercial Style Dicing Kit is rated out of 5 by 417.
Dice, slice, shred and julienne your favorite fruits, vegetables and hard cheeses. Powered by the KitchenAid® Stand Mixer, the Food Processor with Commercial Style Dicing Kit will have you processing in no time. The exclusive ExactSlice™ System allows you to slice from thick to thin with one slide of the lever. This attachment even works great to quickly and easily make cauliflower rice, a low carb favorite and alternative to traditional rice.
Other - KSM2FPA
Features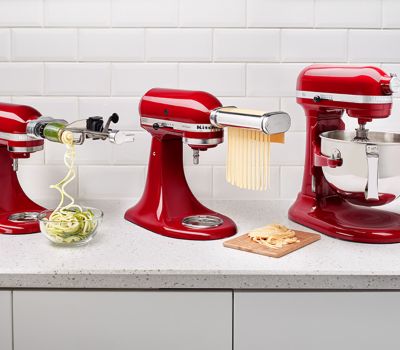 Attaches to Power Hub
Of your stand mixer and uses the power of the motor to run the attachment. Fits all Household KitchenAid® Stand Mixers.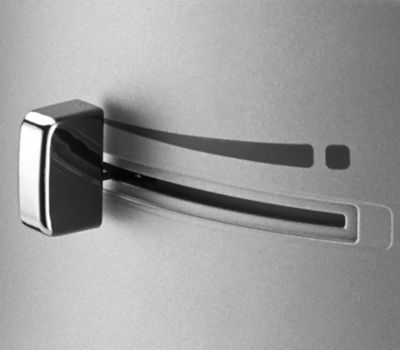 Exclusive ExactSlice™ System
With an external adjustable slicing lever to go from thick to thin with one slide of the lever.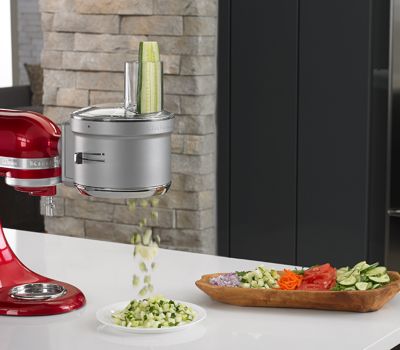 Dice, Slice, Shred or Julienne
8 mm cubes, thick to thin, fine to coarse or long thin strips of a variety of fresh fruits, vegetables or cheeses.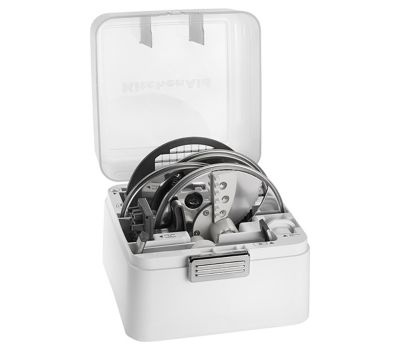 Storage Case
Designed to hold dicing kit, slice, shred and julienne discs.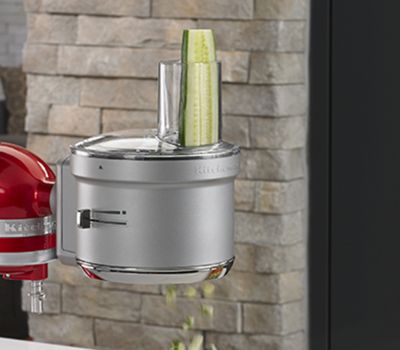 Wide Feed Tube
Accommodates various sizes of food for less prep work.

Model KSM2FPA includes
(1) Slicing Disc, (1) Shredding Disc, (1) Dicing Kit, (1) Julienne Disc, (1) Storage Case
Reviews
Rated 5 out of 5
by
Cheyenne
from
Great features!
I purchased this a few weeks ago and used it over a dozen times. Each time it worked flawlessly.
Date published: 2017-12-05
Rated 5 out of 5
by
Barbara Anne
from
Easy to use
I hesitated to buy this but as ever so happy I did. I love to cook but hate peeling and cutting veggies. I peeled some potatoes and put them in to dice them. At first I could not get the machine to work. What could be wrong? Well once I realized I forgot to put the blade in the problem was solved. Potato diced in a flash. Also I cannot stay in the room with a peeled onion. They bother my eyes so much I cannot open my eyes. Again problem solved. Peel, dice right into the pan put on stove and cook. No more burning, running eyes. I just love this product!
Date published: 2017-12-01
Rated 1 out of 5
by
4EqltyMom
from
Very disappointed!
I bought this to help me with the constant dicing I do on a daily basis in my vegan kitchen. I thought this product would help cut down on my time in the kitchen prepping, but sadly, every time I pull it out, I wish I had just used a cutting board and knife. It's cumbersome and I never feel like it is stable on the kitchen aid mixing base. If you try dicing anything harder than an onion, forget it. The unit makes this awful knocking sound and refuses to work. Unfortunately, because I bought this more than a year ago, I can't do anything with it. Waste of money.
Date published: 2017-11-26
Rated 5 out of 5
by
Blessed Mom of 3
from
Cut Thanksgiving Prep Time Drastically
Just bought this and it arrived in time to use for Thanksgiving. I used the fine shredding blade for crumbing cornbread for dressing and the dicing blade for my celery and onions. I usually use a blender to crumb my bread and have to blend small amounts and dump, but with this attachment, I was crumbing the bread as fast as I could get it in the feed tube. It seriously took longer to wash the veggies than it did to dice them. I the dicing blade was perfect for this use, but I think I might like to have a dicing blade that would make larger pieces for other uses. Can't wait to try the other disks after Thanksgiving. I would like it if the storage case would hold the entire attachment instead of only the blades. The dicing blade is a little hard to clean, but that happens with any dicing blade.
Date published: 2017-11-23
Rated 5 out of 5
by
reproman
from
Works as advertised
Bought this to avoid the tedious task of dicing onions, celery, sweet peppers. I am tired of the bagged frozen hash browns that never seem to brown. We will now be making and freezing our own seasoned the way we wants without the things we don't. Way to go KitchenAid - keep up the innovation ***** rating.
Date published: 2017-11-22
Rated 2 out of 5
by
toledo
from
does not puree
This product does not puree or dice. It only slices.
Date published: 2017-11-18
Rated 2 out of 5
by
Emilyjohn
from
Lasted 3 years
Bought in October 2013. Worked very well under very occasional use. Then, after 3 years, the gears let go. I've been unable to find a replacement assembly for this kit. No way will I pay $250 for a whole new kit that could break at any time under light use.
Date published: 2017-11-13
Rated 5 out of 5
by
rlorenz77
from
Best attachment I ever bought for my Mixer!
I love this attachment. It saves me tons of time in preparing meals. The only thing I would like to see, is a fine dicing attachment at 1/8" in size. Hint, Hint
Date published: 2017-11-05
Rated 5 out of 5
by
Scrap45
from
Excellent Dicing
I bought this for the chopping feature, it works very good. A lot faster and easier than chopping by hand, and the pieces are of uniform shape.
Date published: 2017-11-05
Rated 5 out of 5
by
jkalinin
from
easy to use
best kitchen Appliance I bought in a long time. Making my life so much easier faster prep more time sitting down enjoying family
Date published: 2017-10-30